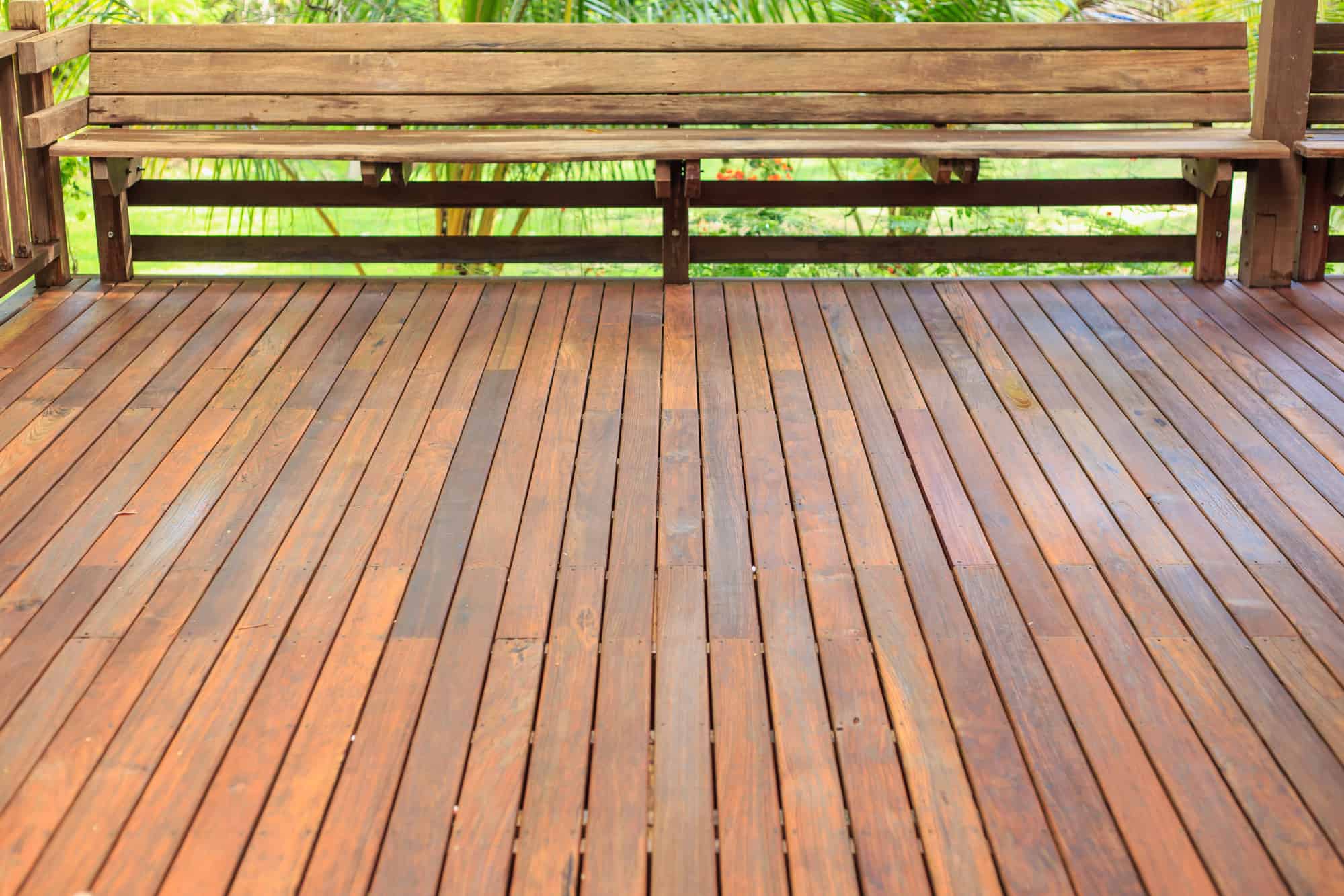 Cleaning your decking is essential not only to keep it looking its best but also to keep it well maintained. Clean decking can massively improve the overall appearance of your home, turning your outdoor area from an unloved space to a well maintained area for entertaining or spending time with family. The best deck cleaner is going to be the solution that you need to ensure that your outdoor space is always looking its best!
A good deck cleaner is going to do much more than just leave your deck LOOKING good, but will help to make sure that it is FEELING good too! Deck cleaners help to remove moss, algae and debris from your wooden decking which can cause it to rot and warp over time. This will help to improve the quality of the wood and the length of time that you can expect it to last! It also helps to stop the surface from becoming slippy and dangerous!
Our Pick Best Deck Cleaner – Smartseal Deck Cleaner
SmartSeal Deck Cleaner - NO PRESSURE WASHING REQUIRED! Concentrated, fast acting decking cleaner that removes lichen, green algae and dirt on wooden decks. (5 Litre)
🧼 Smartseal Deck Cleaner is a 𝗛𝗶𝗴𝗵 𝗣𝗲𝗿𝗳𝗼𝗿𝗺𝗮𝗻𝗰𝗲 cleaner for decks formulated to remove green growth, algae and lichens from decking and other external wooden surfaces
🪵 𝗥𝗲𝗺𝗼𝘃𝗲𝘀 𝗧𝗵𝗲 𝗡𝗲𝗲𝗱 𝗙𝗼𝗿 𝗣𝗿𝗲𝘀𝘀𝘂𝗿𝗲 𝗪𝗮𝘀𝗵𝗶𝗻𝗴, which can be extremely damaging to your decking. Pressure washing may leave marks, 'striping' and even damage the integrity of the wood
🌳 Contains active elements including a potent biocide specially designed to 𝗞𝗶𝗹𝗹 𝗢𝗳𝗳 𝗚𝗿𝗲𝗲𝗻 𝗚𝗿𝗼𝘄𝘁𝗵 and organic matter on decking and even garden furniture
🧹 Application is very easy, and should be worked in with a brush or stiff broom, then left on the surface for 1 hour. This is definitely a DIY project that can be 𝗖𝗮𝗿𝗿𝗶𝗲𝗱 𝗢𝘂𝘁 𝗕𝘆 𝗔𝗻𝘆𝗼𝗻𝗲
🆕 Most ingrained grime or dirt should be wiped out with one coat applied, but you may want to consider a second application if you are looking to achieve a '𝗚𝗼𝗼𝗱 𝗮𝘀 𝗡𝗲𝘄' look
Last update on 2023-01-31 / Images from Amazon Product Advertising API / As an Amazon Associate I earn from qualifying purchases
In A Hurry?
We understand the frustration in wanting to get started on a job but not being able to! If you are ready to start doing your annual treatment on your deck but have decided to do the job properly and use a deck cleaner first then don't let us stop you! Here are all the key features you need to think about before you buy!
Types of Deck Cleaner
There are two main types of deck cleaner that you will be able to choose from….standard cleaners or stripping cleaners. They are both designed to do completely different things so you need to be sure that you are buying the right one.
Standard deck cleaners are designed to literally just clean your decking – and they will do a good job of it too. Made with strong enough ingredients to get the job done, but gentle enough to not damage the decking and varnish that is already there, these cleaners are perfect for anyone that has a decked area that is in good condition and recently painted, but that has become covered in dirt and debris, or possibly stained! They are perfect for removing soil, moss, algae, stains or lichen from your decking so will leave your patio looking like new and make them MUCH safer to walk over.
The second type of deck cleaner is a stripping deck cleaner. These deck cleaners will still clean your patio area like the ones mentioned above, but they are designed to do much more than this. Containing stronger more caustic ingredients, these cleaners will keep working after they have removed the debris from your patio area. They will also remove most surface paint or varnishes from your decking area, leaving them ready to sand and paint afresh. This is fantastic if you are wanting to change the colour of your decking, if it is looking particularly tired, or even better if you are just wanting to do your annual maintenance right so it is longer lasting! These are also known as a prepping cleaner, for the simple reason that they will help to prepare your decking for painting! The only real issue with a stripping deck cleaner is that you are going to have to be ready to then treat your wooden decking again as it will be exposed to the elements until you do!
Cleaning Process
Different deck cleaners work in different ways to get the job done – which means that you are going to have to apply them in different ways! This is important to check for, not only because you need to know the level of work that you are getting yourself into, but also because applying your cleaner wrong could lead to you damaging your decking!
Step 1 – The first application of the deck cleaner is essential to ensure the job is done properly. You need to check how much solution you are going to need and dilute this with water (for most cleaners). Some can simply be poured onto your decking using a watering can or a jug whereas others will need a special spraying tool (like a paint sprayer) to ensure an even coverage. There are even some cleaners that need to be added to a pressure washer – so you will need to have one of these to hand to get the job done.
Step 2 – Scrub or Soak – Some deck cleaners are going to need scrubbing into the top layer of your decking which is going to mean much more work for you, but it will allow the deck cleaner to get on with its job much quicker! However, other deck cleaners will just need to be poured onto the deck and given time to do their thing.
Step 3 – All deck cleaners are going to need a certain amount of time to get the job done. This is definitely important to check for as during this time you aren't going to be able to walk over your deck safely without affecting the job that is done! Some will need a few minutes to do their job whereas others will need leaving for a couple of hours!
Step 4 – To avoid damage to your decking you are going to need to rinse off your deck cleaner once the job is done. For some this will simply be one rinse with a watering can whereas others will need a much more thorough job, particularly if the ingredients are stronger.
Which Deck Cleaner Should I Choose?
Once you know the type of cleaner that you need and the different surfaces that you are wanting to clean, along with the cleaning process that is going to suit you and the amount of work that you want to put in, here are some of the key aspects you need to choose between when shopping around.
Ingredients – The first thing to check for is the main ingredients that are in your deck cleaner. The main one that you are going to find is bleach as this is going to be capable of removing most of the debris and dirt from your patio. You will find that stronger bleach or higher concentrates of bleach will be found in more stripping deck cleaners.
Environmentally friendly – If you are conscious of the environment or maybe you just aren't wanting to kill all of the plants in your garden when washing off your deck cleaner, then you may need to choose a deck cleaner with something other than standard bleach. Oxygen bleach is a good choice for keeping your pets, young children and plants safer!
Neutral pH cleaners – We will go into more detail in this further in the article but if you don't have the time to use a brightener after your cleaner then look out for a deck cleaner with as neutral of a pH level as possible to avoid long term damage to your decking.
Concentration ratio – All deck cleaners are going to need diluting but the ratio that this involves determines the value for money that you are going to achieve! The less solution and the more water – the better value for money!
Effectiveness – Look at the strength of your cleaner and its effectiveness. Some will claim to be able to get a perfect finish from your wooden decking after one wash, whereas others claim that they need a couple of applications to get the job done!
Best Budget – Pro-Kleen Ready to Use Deck Cleaner
Pro-Kleen 260735 Ready to Use Simply Spray & Walk Away Green Mould and Algae Remover (1 x 5 litres) Patio, Fencing and Decking Cleaner, Multi
The best-selling simply spray & walk away green mould and algae remover patio cleaner is now available in a ready to use formula
Ideal for outdoor and indoor surfaces including patios, fencing, roofs, Upvc windows, boats, caravans, motor homes, sheds, decking and driveways and most outdoor surfaces
Non-acidic, contains no bleach, no shelf life, biodegradable and children and pets need not be excluded from treated areas (once dry)
Retreatment May be required on heavily affected areas
For best results and optimum coverage, spray on with a low pressure garden sprayer then walk away Start to see results in a few days that last for months.
Last update on 2023-01-31 / Images from Amazon Product Advertising API / As an Amazon Associate I earn from qualifying purchases
Extra Deck Cleaner Features
If you are wanting the best value for money and the best deck cleaner to keep your deck safe whilst cleaning it then these are the features you need to look out for. We found them in only the best deck cleaners!
Powder or liquid – The two main types of deck cleaners that you will find are either liquid solutions that can be diluted in water or powder/granular cleaners that need to be mixed with water to make the cleaning solution. Powders are usually going to last longer and be easier to store but liquid cleaners are more guaranteed as you aren't relying on dissolving etc.
Protective coating finish – If you are purchasing a standard deck cleaner without the stripping feature included then it is definitely worth looking out for cleaners with a polymer coating which will cover the planks and offer extra protection until you are next treating your decking.
Plant/aquatic life friendly – If you have plants, shrubs or a pond near your deck area then you are risking damaging those for the sake of keeping your deck clean and neat. Look out for cleaners that specify they have gentle natural ingredients. Remember when you wash off your deck cleaner if ANY gets into the soil then this has the potential of being soaked up by the roots of your plants.
Brightener – A brightener is designed to neutralise the pH levels of your deck area after you have used a deck cleaner. It is always worth purchasing one of these alongside your deck cleaner. Many deck cleaners, varnish and oils can alter the pH level of your decking so that it is too acidic or alkaline. This will cause your wooden planks to warp and rot sooner than necessary! Brightener solutions will neutralise this level so that your wooden decking can be long lasting!
Material compatibility – Look to see which types of decking your cleaners can actually work with. Some will only be suitable for work on wood whereas others will be able to be used on types of PVC, vinyl and composite.
Best of the Rest
Last update on 2023-01-31 / Images from Amazon Product Advertising API / As an Amazon Associate I earn from qualifying purchases
Roxil 100 Green Mould, Algae & Lichen Killer - 5L - Restore the appearance of your Patio, Deck, Fence or Paving
✔️ Kills & Disperse Mould, Algae, Lichens and other biological growth. Versatile formulation usable on Patios, Decking, Driveways, Fences, Sheds and other hard surfaces.
✔️ Biodegradable, Long lasting protection - up to one year; Biostatic effect - locks into the substrate minimising regrowth.
✔️ Highly Effective - In our side-by-side tests Roxil 100's results surpassed other competing liquids and concentrates.
✔️ Fast Acting - Visible results after just 1-2 Days. 1 litre will cover approximately 5 m² depending upon the overall porosity of the substrate to be treated.
✔️ Ready to Use Application with Brush or Sprayer, no dilution necessary. For best results leave Roxil 100 at least 24 hours before washing off.
Last update on 2023-01-31 / Images from Amazon Product Advertising API / As an Amazon Associate I earn from qualifying purchases
Sale
ULTIMA-PLUS XP MY1356 Patio Cleaner & Green Mould And Algae Remover,Blue
Ultima-Plus XP is a max-strength formula killer that both wipes out green mould and algae and forms a protective barrier that stops it from growing back keeping your hard surfaces clean for months after treatment
You can use Ultima-Plus XP on your patio, paving, decking, tarmac, stonemasonry, bricks, wood, corrugated asbestos, greenhouse glass, and more
100% safe: biodegradable. PH8. Non-caustic, no acid, no bleach and is totally safe for use around children & pets once the area has dried
Penetrates your outdoor surfaces creating an invisible barrier which will help to prevent re-growth for up to 6 months
Just one bottle makes up to 25L – covering a huge 200 square metres. This makes this patio cleaner superb value for money with it covering a large area - perfect for patios and driveways!
Last update on 2023-01-31 / Images from Amazon Product Advertising API / As an Amazon Associate I earn from qualifying purchases
If you suspect that you may need a little more power than standard deck cleaners, then it may be that you need a pressure washer instead! If this is the case then here are the best pressure washers that we have found.
Frequently Asked Questions
How long should a deck cleaner last?
This really depends on the area around your decking. If it is a high traffic area leading to the rest of your garden then it is going to become much dirtier quicker simply from muck on the bottom of shoes. You will also find that a decking area that is under trees will mark easier from the sap and leaves falling. However, if you opt for a good quality deck cleaner with a polymer coating then you should be able to expect it to last up to around 12 months.
How fast should a deck cleaner start to work?
For many deck cleaners, particularly ones that need you to scrub them into the surface, you will actually be able to see a difference in your garden within around 10 minutes. This will then progressively improve over the course of the treatment, whether you are leaving it for an hour or overnight! However, we actually found that many cleaners actually continue to brighten a decking area over the coming days even after they have been rinsed!
Do I need to use a deck cleaner before I stain my wooden decking?
You don't HAVE to use a deck cleaner before you stain your wooden decking, but there are MANY reasons why you definitely should. To start with, it helps to remove all dirt and debris from your decking so that you can be sure your new staining will look neat and even. This will also mean that although you have to spend more time preparing, you will actually get the job done quicker! Not only this, but if you choose a deck cleaner that strips off the old varnish or paint then you are going to have your woodwork prepared ready for the job at hand! The best deck cleaners will actually open up the pores of the wood so that they are ready to soak up and store the stain or varnish that you are treating with!
Do deck cleaners work?
Yes! The best deck cleaners work really effectively in removing dirt, algae and moss from almost all decking! This is a quick and easy way to remove dirt from your decking without damaging the wood itself. One thing to note however is that tougher grime which has been left for a considerable amount of time could need a tougher treatment with a pressure washer.
Performance

Features

Ergonomics

Value