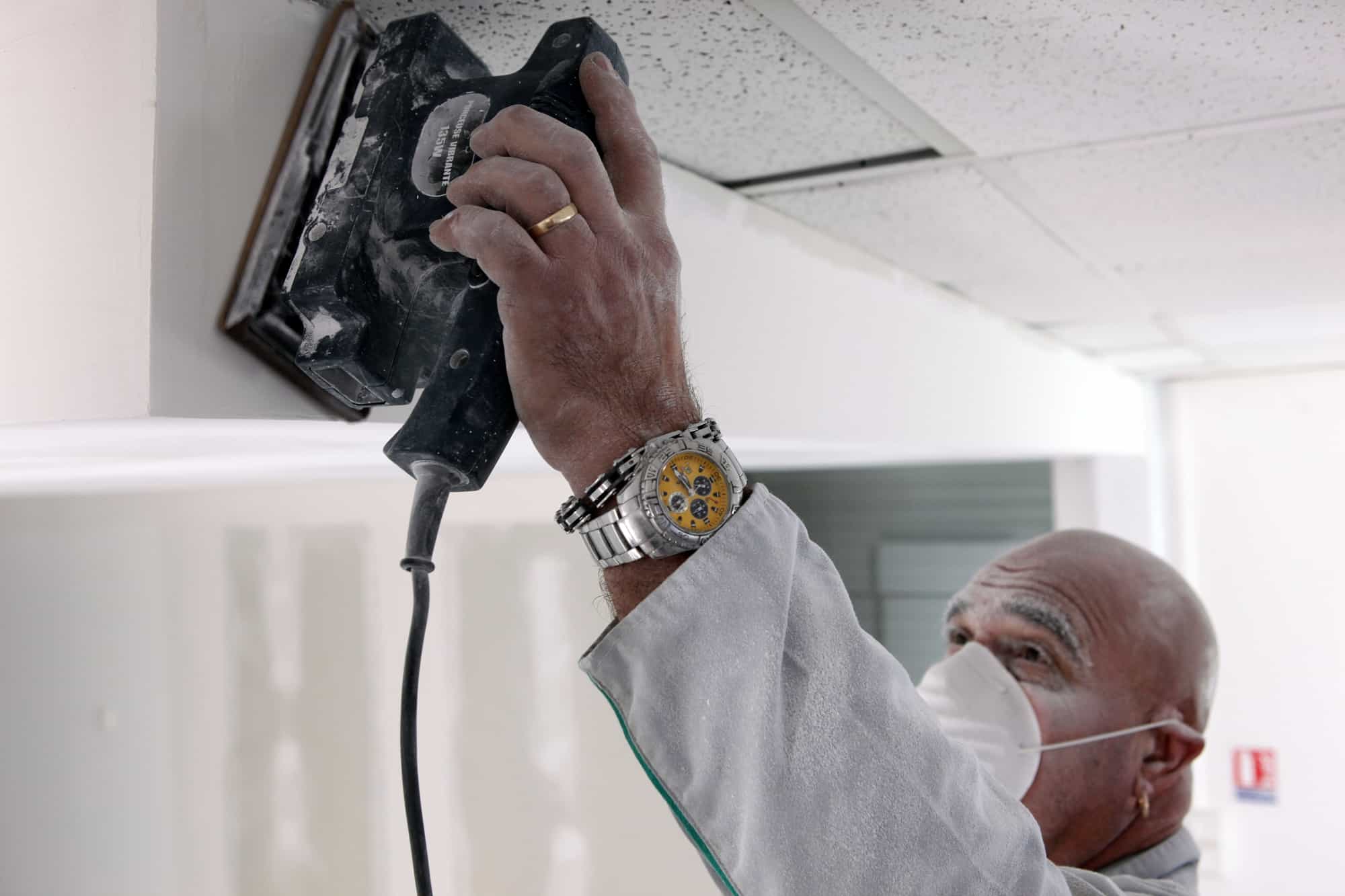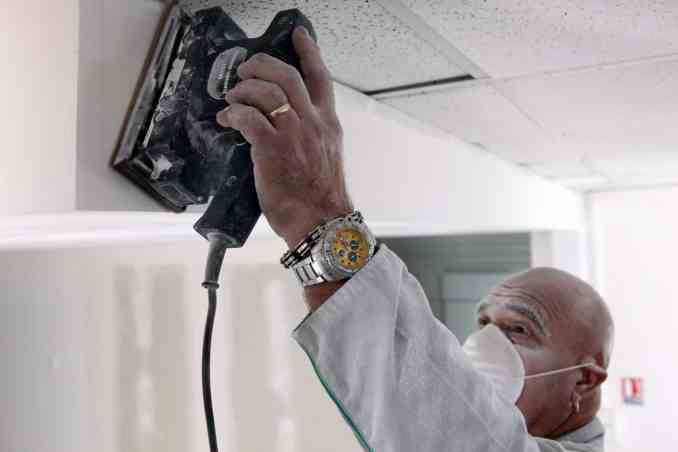 A drywall sander is specifically designed to be used vertically instead of horizontally, and overhead as well! This means that you will be able to sand down various walls, such as plasterboard with great ease every time! If you are completing a home renovation or maybe just know that you have a lot of decorating to complete then you really can't go wrong with a drywall sander. A drywall sander is designed to provide you with a neat and smooth finish when you are fitting drywall. As the gaps between drywall have to be filled with plastering materials, a drywall sander is essential to smooth all of that over when dry! It will also make lightwork of sanding the walls that you are preparing so that you can be sure to create that professional finish every time when decorating!
There are many design features that make a drywall sander so good at the job that it does, from dust extraction to telescopic poles, these tools really are worth the investment. Keep reading to find out more about our best drywall sanders, and the product features you need to be looking for when making your purchase.
Best Pick – Evolution Telescopic Dry Wall Sander
Sale
Last update on 2021-09-20 / Images from Amazon Product Advertising API / As an Amazon Associate I earn from qualifying purchases
Only Got 5 Minutes
Sick of being nagged to get on with the decorating? Have a big project booked in and you've left it to the last minute? Or just fed up of the less than adequate finish you are left with when decorating? Then look no further….this is the speedy part of the article with the most important information you need!
Drywall Sander Features
Here are the main features that you need to consider before purchasing a drywall sander – these will make or break your sanding experience, and the finish that you achieve at the end of the job!
Speed
One of the main things that you need to consider when purchasing a drywall sander is the speed at which it will be able to work – this is measured in RPMs (Rotations per minute) and is quite literally the number of rotations that the head of the sander can complete in that minute! It goes without saying that the higher the RPM, the quicker you will be able to get the job done, so this really depends on what you personally need! If you know that you have a lot of walls to get round (or are a professional decorator) then time is money and the higher the RPM the better! However, a lower RPM will allow you to work with softer materials.
Most RPMs that we found ranged from around 600RPM all the way up to 1700RPM.
TOP TIP: Look out for drywall sanders that have variable speeds. This will allow you to work with more precision and care to improve the finish that you achieve! Variable speeds will also make it easier to work with different surfaces depending on the amount of sanding that you need to do.
Pad Size
The surface area of the pad (the part that actually does the sanding work) is definitely going to impact on how quickly you can get the job done! A larger pad size will allow you to cover a larger area in a shorter amount of time, which reduces the amount of effort that you have to put into getting the job done. However, a large pad size will also make it more difficult to get into those hard to reach, smaller nooks that almost all homes have! This means that you may need to opt for a second, smaller sander to get to these areas!
Pad sizes range from around 7 to 10 inches. It is important to check whether the pad size is compatible with standard sanding discs! Many drywall standards will work with the standard size pads available on the market, but some don't, which means you will find it much more difficult to replace the pads and may have to stick to the manufacturers own, which are often more expensive.
TOP TIP: Some drywall sanders come with a set of discs included with different levels of coarseness! This will allow you to get started as soon as you get the product home, and saves you money in your initial outlay!
Weight
There is quite a difference in the weight of drywall sanders depending on whether you opt for a telescopic model or not, but either weight is an important factor that you need to consider. When you are sanding you are going to be holding the sander at quite an unusual angle to your body, which can greatly increase fatigue if the tool is heavy. Most handheld models range from as little as 2kg up to 6kg, whereas telescopic models go all the way up to 15kg. In general, the heavier the model the more heavy duty it is in the jobs that it will be able to complete, but it is still important to check over the weight of each model.
Dust Extraction
Anyone who has ever sanded before will know the amount of dust and debris that builds up when you are working! So if you are using a drywall sander that is going to be lifted above your head it is even more important that you think about dust extraction – otherwise you are looking at some seriously clogged up lungs and throat after you have finished working…let alone the mess that you are going to have to clear up!
But, there are many different options that drywall sanders opt for which will affect not only their capabilities in dust extraction but also the price that you are going to have to pay! Some come with the option to connect to other dust extraction units, which are usually the best in terms of the dust extraction they are able to offer as they are working with a machine specifically designed for the job, however this means you are essentially paying out for two machines, not one, plus will increase the weight that you are working with.
Other drywall sanders will have inbuilt dust extraction which can be connected to a vacuum, this is a much cheaper option and can be almost as effective as more professional models – but are considerably cheaper!
For almost all models, it is important to consider the length of the hose, as this will affect your flexibility in the distance that you can move from your dust extraction method (whether this be a vacuum or a specialist machine).
TOP TIP: If your drywall sander comes with dust extraction included then it may be worth looking at the size of bag that is included. You are going to want upward of 15 litres, otherwise you will find yourself waiting a considerable amount of time emptying the bag constantly!
Handle Length
The handle length will impact on the size of space that you can work with, so is an important factor to consider. Some will have handle lengths so long that you will even be able to sand the ceilings of the room that you are working in! Handles range from around 3.5ft all the way up to 6ft, which is a massive difference in the height of room that you will safely be able to work in. It is worth considering, however, that the longer the handle, the harder the machine will be to angle and maneuver, so there is such a thing as too long!
This is where drywall sanders with telescopic handles can be useful as they will allow you to adjust the length of your handle depending on the area that you are working in – so greater control and accuracy when working close by, but equally the flexibility to reach those high up spaces!
Drywall Sander Kit
The last key aspect that you need to consider when purchasing a drywall sander is the kit that it actually comes with. Some drywall sanders can seem very reasonable in price but then offer just the machine, meaning that you have to spend quite a bit of money making additional purchases. Here are some of the things that you should look out for as being included in your purchase:
Carry case
Dust extraction hose
Sandpaper of different grit levels
Assembly tools
Dust collection bag
Best Budget – TACKLIFE Handheld Drywall Sander
Additional Drywall Sander Features
There are always going to be additional drywall sander features that are worth considering when you are making your purchase. If you are wanting to achieve the best finish (and have the easiest time getting the job done) then keep reading!
Flexible heads – Some, more professional, drywall sanders will have flexible heads that allow you to adjust the angles at which you work. This will really help you to get into those hard to reach places whilst you are working and reduce the amount of sanding by hand that you need to do!
Comfort grips – Chances are you are going to be using your drywall sander for an extended period of time, which means that you need to opt for a model that has comfort, ergonomic grips which will reduce fatigue.
Sandpaper connectors – It is important that attaching your sandpaper to the head of the sander is quick and easy to do! Most do this using velcro but others use a hook mechanism. Whichever you opt for, make sure that it will be compatible with discs that you can purchase and that they can be switched easily whilst you are working!
Compatible with different surfaces – Some drywall sanders will also be able to work on some types of flooring, helping you to sand and polish old flooring to leave it looking brand new! This will massively increase the amount of jobs that you can complete with your drywall sander.
Brushless motors – Brushless motors will usually last longer and be more effective than other motors.
LED Light – Some drywall sanders have LED lights that will illuminate the area that you are working in. This is particularly helpful for those hard to reach, darker corners of the room.
Easy set up – One of the main things that you want to consider is how easy it is to set up your drywall sander. Some come in many smaller parts that all need connecting, or have hose connectors that won't be compatible with your vacuum so this is all worth checking or you will spend more time setting up than actually doing the job.
Edging and corners – If you know that you have plenty of corners or edges to work with then look out for models that will allow you to remove sections of the head so that you can sand right up to the edge of the wall (just make sure to get some practice in before doing this as it is easier said than done!).
Best of the Rest
Evolution Power Tools 069-0001 Hand Held Dry Wall Sander, 225 mm (230 V)
Powerful 1050 W motor with variable speed
Integrated dust extraction and weighs only 2.8 kg
Sanding head is sprung loaded and the sanding pad flexible, allowing efficient operation on walls and surfaces
Eight sanding discs, belt clip, dust bag and hose included
2 years limited warranty (only valid if purchased in the UK)
Last update on 2021-09-20 / Images from Amazon Product Advertising API / As an Amazon Associate I earn from qualifying purchases
Einhell 4259930 TC-DW 225 Drywall Polisher, 600 W
Powerful and high-quality drywall sander with metal bevel gear and rotational speed regulation for numerous sanding tasks for interior fittings.
Comfortable operability by means of the ergonomic T-grip, spring-loaded brush rim and telescopic handle adjustable infinitely up to 165 cm.
Large sanding disc with practical velcro system and practical dust suction system for best possible cleanliness.
Foldable handlebar for a quick set-up and dismantling and sturdy foot for the protection of the hose from bending.
Delivery inclusive 6 sanding discs and in a practical transport and storage case.
Last update on 2021-09-20 / Images from Amazon Product Advertising API / As an Amazon Associate I earn from qualifying purchases
Frequently Asked Questions
What warranty will you get with a drywall sander?
Most drywall sander manufacturers offer between 2 and 3 year warranties. However, some offer extended warranties if you register the product online, which is well worth doing. Remember that this warranty will almost always only cover you for factory defaults with the product, not wear and tear or damage.
What sandpaper do you use on drywall?
We would recommend using 120 or 150 grit sandpaper for working on your drywall. It is always best to start with a more coarse sandpaper and then work to a softer sandpaper as you are getting towards the end of the job. If your drywall is newly completed then always work with a slightly smaller grit level around 100-120 grit level!
Do I need to get my drywall sander serviced?
It is well worth getting your drywall sander serviced every 6 to 12 months depending on how often you are using the machine. You need to consider more regular servicing if your drywall sander comes with dust extraction included. These services will help to keep the motor running effectively and remove any dust or debris that has got into places that it shouldn't have – failing to do this will cause the machine to heat up more quickly and reduce its life expectancy!
Performance

Features

Ergonomics

Value