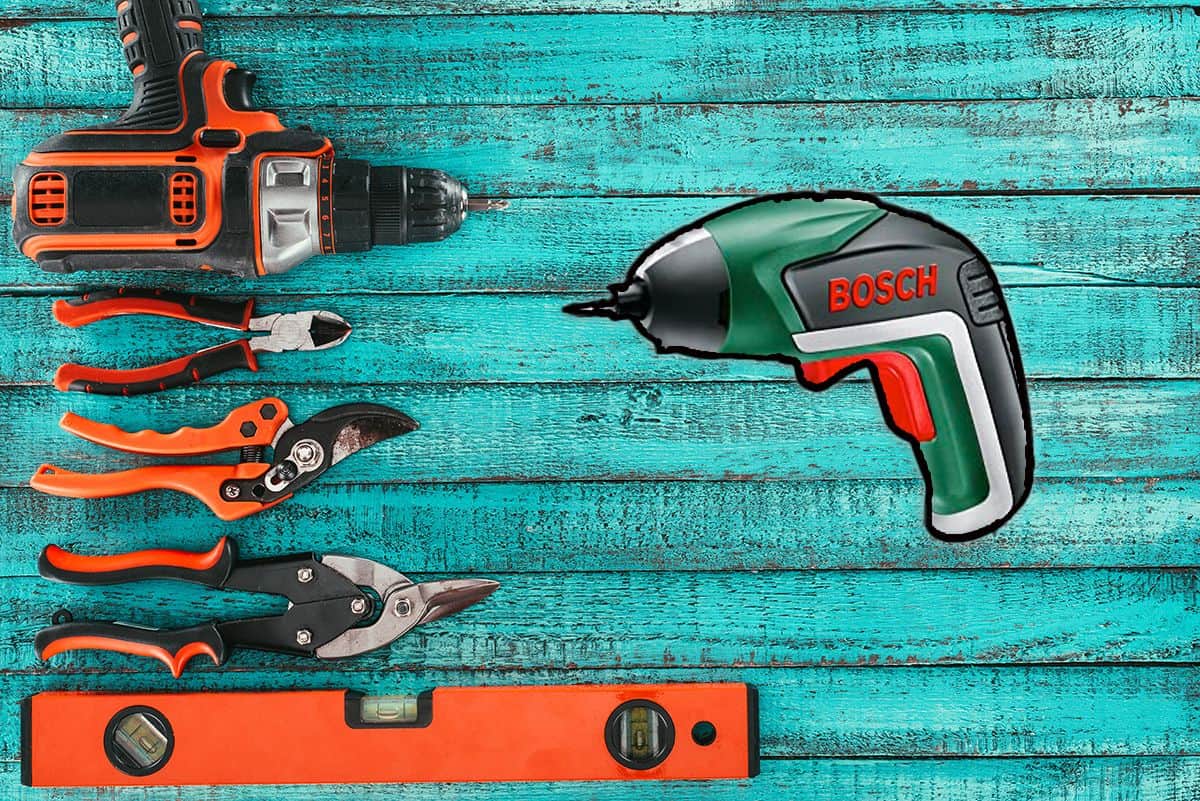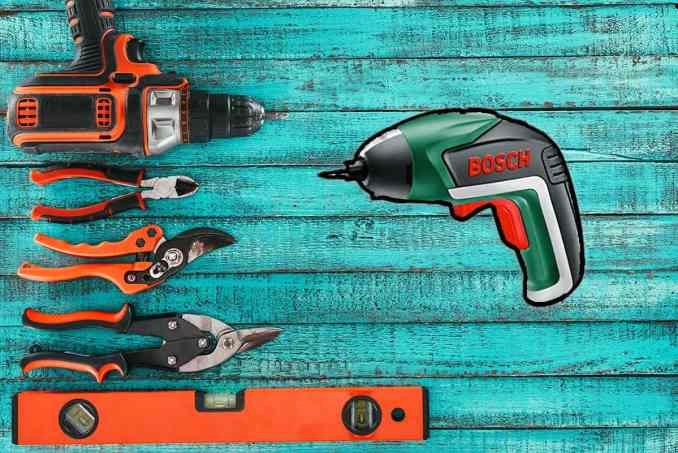 "If it ain't broke, don't fix it!"
Very true, and in fact no one has ever claimed a manual screwdriver is 'broken'; it's just an electric model makes tightening and loosening screws a whole lot easier!!
An electric screwdriver gets a screwing job done far quicker than a manual screwdriver, with increased precision yet much less effort! We all know that using a manual screwdriver for a prolonged period can be extremely uncomfortable and put unnecessary strain on muscles, nerves and tendons caused by repetitive movement and overuse. With an electric screwdriver, all you're required to do is to hold it steady and let the motor do all the hard work!
Best Pick – Electric Screwdriver
Sale
Bosch Home and Garden Cordless Screwdriver IXO (5th generation, 3.6 V, in case)
Cordless screwdriver with forward/reverse operation
Micro - USB charging system with reduced charging time of 3 hours
Integrated spotlight or stray light option improves visibility of the work piece
Direction and charge indication for convenience and easy use
Powered by lithium ion technology with 15 percent more runtime versus previous model
Last update on 2022-06-20 / Images from Amazon Product Advertising API / As an Amazon Associate I earn from qualifying purchases
Electric screwdrivers are ideal for light DIY projects around your home and garden, such as assembling flat-packed furniture, hanging pictures, fitting door hinges or tightening/untightening the screws and brackets of existing fixtures and fittings. Whether it's cordless or corded, pocket or drywall, the best electric screwdrivers all share one common feature – they'll complete a task quickly and efficiently whilst being compact, portable and easy to store.
Only got 5 minutes
Electric screwdrivers vary according to brand, model, quality and performance. As with any DIY tool, you get what you pay for, so it's worth avoiding cheap, budget, entry-level models as they tend to have limited torque output, unsteady rotation and low battery-use time. By spending a few more pounds, you should be able to find yourself a decent electric screwdriver with a good torque output (at least 3Nm) and for cordless models, one which comes with a lightweight, long-life, Lithium-ion battery.
Before you start shopping around for an electric screwdriver you need to consider what you intend on using your electric screwdriver for and for how long; having this clear in your mind will help you determine the best type of electric screwdriver for you.
What will you be using your electric screwdriver for?
The best cordless electric screwdrivers will be capable of drilling into a range of light materials such as MDF, plasterboard or plastic. The denser the workpiece, the more torque power you'll need so, if you intend on working with harder materials such as masonry, ceramic and hardwoods, your best option is likely to be a mains-powered electric screwdriver, or a cordless model with a high battery power.
How long will you be using your electric screwdriver for?
If you're planning on carrying out some lengthy DIY projects, or have the tendency to spend hours in your garden shed or workshop, you'll be wanting an electric screwdriver that's suitable for prolonged periods of use – a lightweight and ergonomic design should ensure maximum comfort; if you intend on opting for a cordless model, pay particular attention to the battery-use and battery recharge times.
Cordless Vs Corded
When it comes to choosing the best electric screwdriver for you and your DIY needs, you'll need to consider which power source is best suited to you and your DIY needs – cordless or corded.
Cordless electric screwdrivers
Cordless
Power
Power is measured in volts (V)The majority of electric screwdrivers have a voltage of 3.6V The higher the voltage, the greater the torque strength A higher voltage will be necessary if you intend to work with dense materials such as hardwood or masonry, and a battery with a high Ah rating for extended periods of use
Pros
Mains power source isn't required so no restrictions on movementNo trailing cable Good for working in those hard to reach placesEasily portable Compact design
Cons
Will have a limited run time Tend not to be as powerful as corded models You'll need to allow for recharge time
Battery capacity of cordless electric screwdrivers
The best cordless electric screwdrivers will come with a Lithium-ion battery. This type of rechargeable, lightweight battery has become increasingly popular due to its impressive power capacity (energy density), and low self-discharge rate – on average, a lithium-ion battery loses just 5% of its charge per month, compared to a 15-20% loss for nickel-metal hydride batteries.
Lithium-ion batteries also have no memory effect, which means that they don't have to be completely discharged before recharging.
Although we can't yet claim they're environmentally-friendly (as is the case with all batteries) they do promote many sustainable actions and are less damaging to the environment when compared to a corded electric screwdriver, which ultimately relies on the burning of fossil fuels.
Key points to consider when it comes to the battery:
The higher the battery's Ah rating, the longer the battery will last
Some manufacturers use the same battery for all cordless devices in a particular range so consider what battery-powered devices you already have
Chargetime – you want a quick charge time if you indulge in DIY regularly or foresee that you'll be using your electric screwdriver for fairly long periods of time
Best Budget – Electric Screwdriver
Sale
Hi-Spec 27 Piece Red 4.8V Electric Cordless Power Screwdriver Set. Rechargeable Battery Screwdriving with 23 Popular Bit Sizes for The Home & Office
MAKES SCREWDRIVING NOT BORING: Add a splash of colour with the Hi-Spec Red 4.8V Electric Cordless Power Screwdriver. Whether at home or in the office, its lightweight and comfy grip makes undoing screws fast and easy, assembling flat pack furniture rapid, and tightening loose fixtures and fittings a breeze. NB. Not suited for drilling usage
SIMPLE & USEFUL: Just swap out the different driver bits at the chuck head, securely held by a small built-in magnet, to match whatever screw needs to be turned. Press the large trigger control, with forward and reverse directions, for both quick tightening and loosening. Turn on the front LED light to brighten up dark or covered working positions
RECHARGEABLE BATTERY: A handy top-button lights a row of LEDs showing the current battery level. The battery's 600mAh NiMh capacity is charged in 3-5 hours with the included wall mains charger. This powers a single speed of 180rpm and 2Nm of turning torque matching everyday screwdriving tasks
HANDHELD CONVENIENCE: Control is easy with no long power leads to tangle up and a comfortable weight of 322g / 0.7lb. It's compact size fits snugly in the palm and housed in a lightweight plastic shell with a black soft-feel grip for comfort. A useful handle strap allows convenient hanging and storage
BITS ACCESSORY SET: Complete with the most commonly found home and office screwdriver bit sizes and types, made from hard-wearing and rust-resistant Cr-V steel alloy: Slot/Flat, Phillips, Hex/Allen, Pozidriv, and Torx. Also included are two mild steel bits for cleaning out holes in soft woods and plastics
Last update on 2022-06-22 / Images from Amazon Product Advertising API / As an Amazon Associate I earn from qualifying purchases
Corded electric screwdrivers
Corded
Power
Power measured in watts (W)Plugs directly into the mains electrics The higher the wattage, the more power is available
Pros
Constant power supply means you can use confidently without worrying the battery will run out, or have to waste time waiting for a recharge Well-suited to both light and heavy-duty DIY projects
Cons
Trailing lead is a potential trip hazardMay need to use an extension lead
Performance
When comparing models of electric screwdrivers, the technical specification should provide a useful overview of performance and capability.
Torque
Torque is a measure of power and, along with no load speed, defines the performance of an electrical device, specifically how much rotational force the tool is capable of exerting. Torque is measured in newton metres (Nm).
Most standard electric screwdrivers intended for domestic use have a torque value ranging between 3-5 Nm. The higher the torque, the easier the electric screwdriver should be to use, even on dense materials.
The best electric screwdrivers will have a range of torque settings, which can be adjusted to suit varying densities.
No load speed
No load speed is the speed at which the unloaded motor runs and the bit rotates. It is measured in revolutions per minute (RPM). The best electric screwdrivers will have variable speed settings which offer greater flexibility when it comes to working with materials of varying density. Electric screwdrivers tend to have a no load speed of between 200 – 600 RPM.
The greater the torque and no load speed, the more power and force the electric screwdriver will exert.
Motor type
The best electric screwdrivers will use brushless motors as they're far more energy efficient than their predecessor, the brushed motor. Because of the removal of the brushes, the level of friction is significantly reduced meaning far less energy is wasted due to heat. They require minimal maintenance as, unlike brushed motors, there's no internal brushes to maintain and replace.
It's really not hard to see why so many power tool manufacturers now opt for brushless motors – they're lightweight, low-maintenance and energy efficient. Win win!
Chuck size
Which materials you intend on drilling will determine the size of chuck you'll need. The larger the chuck size, the larger diameter bit you can use.
To determine how large of a chuck you need, you'll need to be clear what size screws you intend on using; you can then check in the product specification that the electric screwdriver you're considering is compatible.
Additional features
| | |
| --- | --- |
| Feature | Purpose |
| Onboard bit storage | Useful feature which allows you to store bits in or on the electric screwdriver housingEnsures alternative/replacement bits are easily accessible and readily available as and when you need them |
| LED lighting | Ideal for working in conditions where lighting may be limited, or in tight, fiddly areas such as behind cabinets or radiatorsCan potentially improve accuracy and precision as the lighting provides a clearer view for the user |
| Micro USB chargers | Often seen on small/micro electric screwdriver models Convenient 'on-the-go' charging |
| Spindle lock | Safety feature which locks the chuck and bit when the trigger is released, preventing the driver from moving |
| Handle design | The best electric screwdrivers will have an ergonomic design for improved comfort levelsSoft-grip handles provide comfort and stability |
Best of the Rest
Sale
Last update on 2022-06-22 / Images from Amazon Product Advertising API / As an Amazon Associate I earn from qualifying purchases
Sale
Electric Screwdriver, 6N·m Max Torque HYCHIKA Cordless Screwdriver 2Ah 3.6V with 36 Accessories, LED Light and Rear Flashlight, Ratchet Wrench, Charging Adapter with USB Cable and Storage Box…
🌟[MAX TORQUE 6N·m WITH SUPER POWER AND QUICK CHANGE CHUCK] The maximum torque is 6 N·m and is suitable for screwing and drilling in the home. The 6.35mm quick change chuck makes it easy to replace accessories. With positive and negative switch is easy for installation and removal of screws.
🌟[WITH CHARGING ADAPTER AND 2Ah BATTERY] The 2Ah battery offers great capacity and longer life. The USB micro charging cable and adapter suitable for various USB ports such as computer output ports, charging time 2-5 hours.
🌟[36PCS ACCESSORES WITH RATCHET WRENCH] Comes with 36pcs accessories are suitable for fastening and loosening all furniture screws. The ratchet wrench is suitable for narrow spaces, where the screwdriver can not be used. The spindle has a self-locking function, which provides a higher torque when used manually. 25mm bits should be used with extension rod
🌟[LED LIGHT AND ALSO AS A FLASHLIGHT] The front LED light is good for dark environments or dark corners. It can also be used as a flashlight for lighting in dark places. The handle can be adjusted in two positions. Press and hold the lock button to rotate the handle position, which is suitable for use in confined spaces. With the storage box is easy to carry and store your cordless screwdriver and accessories.
🌟[WHAT YOU GET] 1 x HYCHIKA 3.6V cordless screwdriver; 36 x accessories; 1 x charging adapter, 1 x USB charging cable; 1 x user manual; 1 x storage box
Last update on 2022-06-22 / Images from Amazon Product Advertising API / As an Amazon Associate I earn from qualifying purchases
Frequently Asked Questions
What is kPa?
The abbreviation kPa stands for Kilopascal and is the pressure measurement unit that tends to be used in models that are produced outside the UK (mostly in America). It is essentially their version of PSI or CFM, but you will need to use an online calculator to convert the measurements if you are wanting to compare between brands that use different units in this way.
What safety specification should I look for from my dust extractor?
The main safety spec to watch out for is the European Union class M standards, which means that the tool has been tested for its safe use and will be able to remove medium hazardous dust, such as wood dust, paint particles and metal dust. Any lower than this and your dust extractor may not be up to the task!
Do I need a certain filter for my dust extractor?
We would definitely recommend looking out for a dust extractor that has a HEPA filter or a Micro filter as these will be able to trap dust and debris and remove most microbes and allergens – making the air healthier for you to then breath in. It is worth, if possible, opting for a model with filters that can be washed as this will mean that they will last longer and be better value for money.