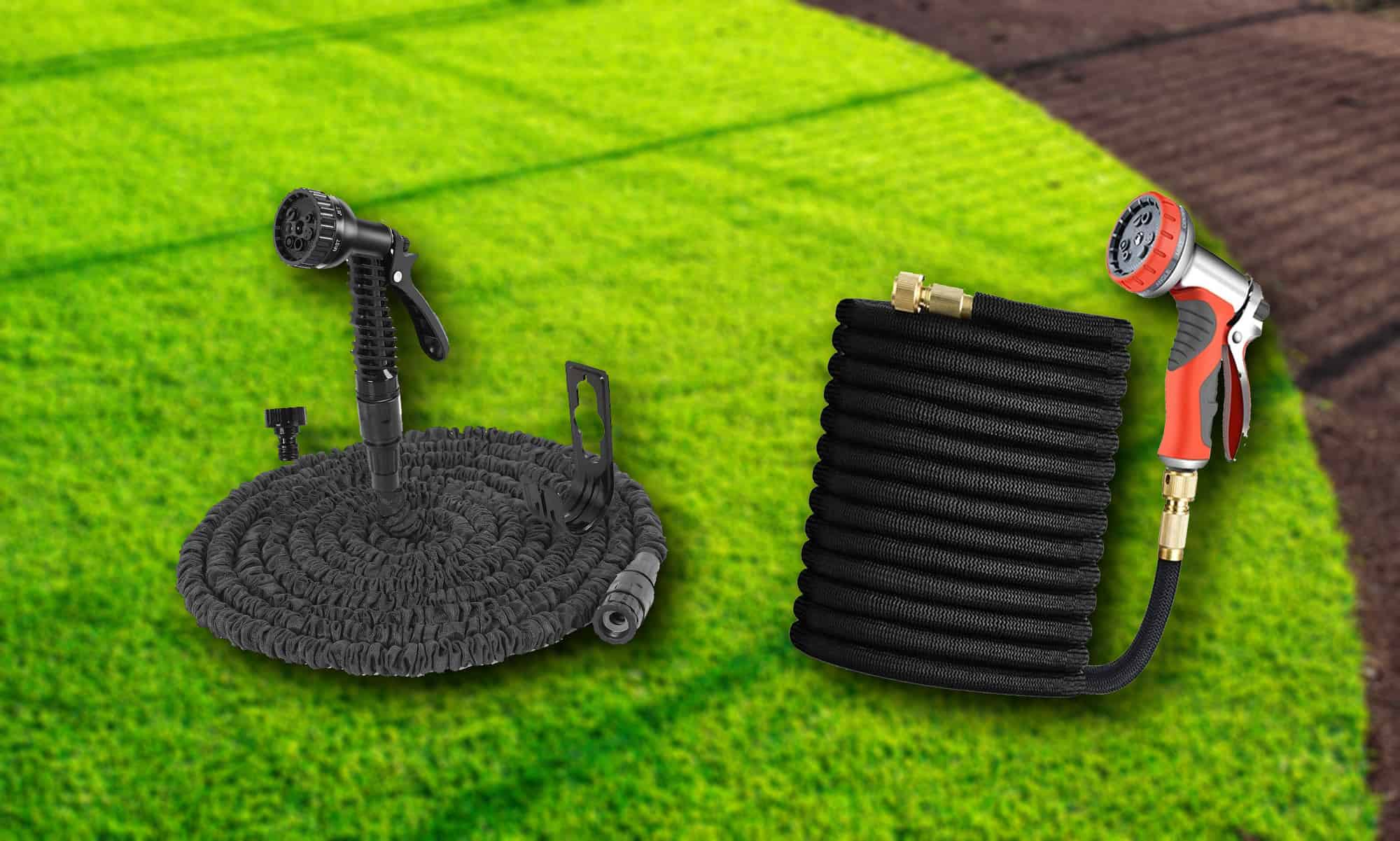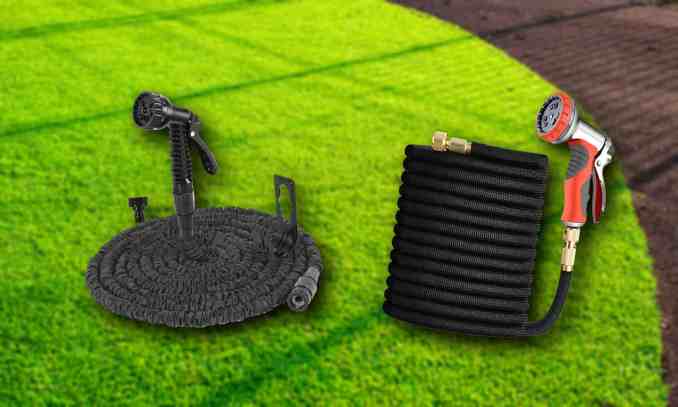 Hose pipes are amazing – we would be willing to bet that most homes around the UK have one. Whether you are watering plants, cleaning bikes and football boots, washing your car, or pretty much anything else – a hose is the solution that you need to the problem! But garden hoses aren't perfect and one of the most frustrating things about them is trying to pack them away afterwards. It can be a tough balance between finding a hose that is long enough to let you get everything done but not so long that it is going to get in the way!
If this sounds familiar then what you need is an expandable hose! An expandable hose works by having two layers of materials – a woven outer layer to provide protection and a rubber inner lay which expands under water pressure. When the water flows through the hose, the rubber expands and presses against the outer fabric – which causes the hose to lengthen.
This means that an expandable hose has the potential to start at less than 50ft in length and go all the way up to over 150ft in length for some models! This makes it super practical for pretty much any space you may be working with, whilst being small and compact when being packed away.
Best Pick – LUFENG UPGRADED Expandable Hose
Last update on 2022-07-21 / Images from Amazon Product Advertising API / As an Amazon Associate I earn from qualifying purchases
In A Hurry?
If you have had one too many arguments with your standard hose pipe and are ready to become the envy of all your neighbours with an expandable hose pipe then keep reading for all the key features that you need to know about before you buy.
Hose Length
Arguably, the first thing that you need to consider when looking at an expandable hose is the length that it is going to be able to offer. However, we found with most models that they will be able to offer AMPLE length for most average to large gardens! However, if you have a particularly large area to cover, or maybe you are hoping to take your hose with your camping or to a caravan site then you may need to check that the length is going to be sufficient.
Make sure to not just consider the expanded length of your hose pipe but also the contracted length of your hose. You will often find that the two come hand in hand, so a longer extended length is going to give you the downside of a longer contracted length, whereas a shorter extended length will be more compact when you are packing it away. This means that it really comes down to personal preference and the length of expandable hose that you need.
Some contract all the way down to around 10ft and others can expand all the way to over 150ft, which as you can see is a considerable difference! Most are going to expand to around 75ft to 125ft though as a rough guide – however we did find some that can only expand to around 15ft so make sure to check for this!
Under Pressure!
Your expandable hose is going to be put under a considerable amount of pressure whilst you are using it. This is because it has to use the pressure of the water from the tap to force the materials to stretch and lengthen to give you that additional coverage. Not only that, but the hose then has to hold this water until you are ready to use it! For this reason, you will often find cheaper models don't last a very long time.
But, with the right build materials (more on this below) and if you stay under the pressure capacity, you will find that it is more than able to cope with the water flow! The pressure readings are normally going to be found in "bars" with 12 bars being the least amount of pressure that we would recommend opting for.
TOP TIP: If you are wanting your expandable hose to last then try to avoid leaving the water building up in your hose for too long. Obviously this is fine for if you are moving to another spot in your garden or moving from one side of your car to the other, but leaving the water building up pressure in your hose for too long can cause unnecessary wear!
Hose Materials
As we mentioned above, the materials of your hose are going to determine how durable and strong it is going to be. This is crucial if you are wanting an expandable hose that is going to be safe from plucks, cracks and tears in the material which will in turn stop your hose from being watertight!
The inner tube material is by far the most important and this will usually be more from thick latex. If you are wanting the best expandable hose then look out for models that come with a double layer of latex so that if one fails, you can still rely on the other! It is also worth checking to see the temperatures that this latex is going to be compatible with, as some models can actually work with hot taps. This is fantastic for anyone that is wanting to use their expandable hose for any type of cleaning, or even for filling up paddling pools! Some will be compatible with temperatures from as little as 3℃ up to 60℃.
Once you have checked for this, look at the outer materials – which will usually be made from polyester. The way to check the durability of this material is to look for the "denier" rating, as this will determine the strength of the weave. Look out for expandable hoses with at least a 4000D polyester layer as these will be durable and long lasting.
Hose Nozzle
The nozzle of your expandable hose is essential as this is the part that you are going to be holding and "working with" more than anything else! Some are going to be made out of plastic, which is fine if it is high-quality and strong, but we would definitely look out for models that incorporate metal fixings if you really want a nozzle that is going to last!
Also make sure to look at the overall design of your nozzle….whether the trigger is going to be easy to use and close enough to the handle for those people with smaller hands, whether it comes with anti-grip, ergonomic designs that will reduce fatigue and sores when you are working with your hose for extended periods of time and whether the nozzle is going to be light enough to hold.
Once you have considered all of this you need to look at whether your expandable hose nozzle comes with different functions. This is something that we didn't think would matter to us at first but actually the fact that you can use a mist in your greenhouse, then a jet for washing your conservatory (you get the idea!) just means your hose is going to become even better value for money! We found most are going to come with between around 7 and 10 functions including; jet, mist, centre vertical stream, cone and flat. What more could you ask for?
Best Budget – GRANDMA SHARK Garden Hose
Last update on 2022-07-21 / Images from Amazon Product Advertising API / As an Amazon Associate I earn from qualifying purchases
Extra Expandable Hose Features
Once you have found the right length and nozzle for your expandable hose, there are always going to be extra features to consider if you are truly wanting the best on the market! Here is what to look for…
Storing your hose – You aren't going to be using your hose all the time, and some manufacturers have taken this into consideration. Many are going to come with a strong storage bag that is actually designed to support the drying out process of the hose to prevent early wear and tear. Not only this but it makes it much easier to take your hose with you if you are going to a different property or on holiday etc. Some models go one further and also include a hanger – this can then be secured to a wall or fence close to your outdoor tap, so that you can just wrap your hose around it when you are finished! This means that your hose will always be ready when you are!
Hose materials – If you are wanting a long lasting expandable hose then look out for outer materials that include double webbing and anti-pinch technology. These will contract back faster when your hose is emptying of water and be less likely to pluck and rip when they are being used.
Metal fixtures and connectors – Metal is by far going to be your best bet when looking for fixtures that are going to be long lasting and water tight. Plastic can struggle to cope under the pressure of constantly being tightened and loosened, especially when there is considerable water pressure involved. Aluminium or brass are going to be best – but brass does have the added benefit of being corrosion free!
Extra fittings – Whilst on the topic of fittings…look to see whether your expandable hose is going to come with extra connectors and fastenings to make it easier to connect to a wider variety of taps. Some also come with replacement washers and nozzles for the parts that are more likely to wear and need replacing which is fantastic value for money! A shut-off valve is another great extra if you want peace of mind when using your hose!
Weight – Some expandable hoses can get really quite heavy – particularly the longer models once they are full of water! Check to see the start weight of your hose, as this will give you an idea of whether you are going to be able to drag it around your garden with ease once it is full.
Best of the Rest
Last update on 2022-07-21 / Images from Amazon Product Advertising API / As an Amazon Associate I earn from qualifying purchases
Last update on 2022-07-21 / Images from Amazon Product Advertising API / As an Amazon Associate I earn from qualifying purchases
Last update on 2022-07-21 / Images from Amazon Product Advertising API / As an Amazon Associate I earn from qualifying purchases
Frequently Asked Questions
Will my expandable hose come with a guarantee?
Yes! All decent quality expandable hoses should come with a guarantee. We would recommend looking for a model with at least a 2 year warranty. We did find some expandable hoses that offer a lifetime guarantee – which gives you super reassurance over the quality of the product! Others guarantee that they can be used for up to 1500 without showing anywhere – but we were rather dubious as to how this would be proved!
How can I prevent my expandable hose from bursting or becoming damaged?
Expandable hoses are usually a lot more durable than they used to be thanks to advances in their design. But there are some things that you can do to ensure your expandable hose is long lasting. The first is to consider where you are using your hose – try to avoid dragging it along sharp gravel paths or tightening the hose around the corner of a building. Also look for a model with a hozelock, this will allow you to leave water flowing out of the hose continuously – which will not only reduce the effort for you but will save the pressure building up in the hose.
Can I connect an expandable hose to my indoor tap?
Yes! Providing you have the correct adaptor for your indoor tap then there is no reason that you won't be able to connect it. The only issue that we found is that some indoor taps aren't designed to cope with the same pressure as outdoor taps which did lead to connectors coming loose – which isn't what you want in your house – so this would need to be checked for and secured before you start!
Why has my expandable hose lost its shape?
Overtime you can find that an expandable hose will lose its shape. This is due to the constant changes in shape which are made when the hose expands and retracts again. Quite often you can support the hose in going back to its original shape by clearing the water from the hose, but over time you will find it is always more extended than it was initially.