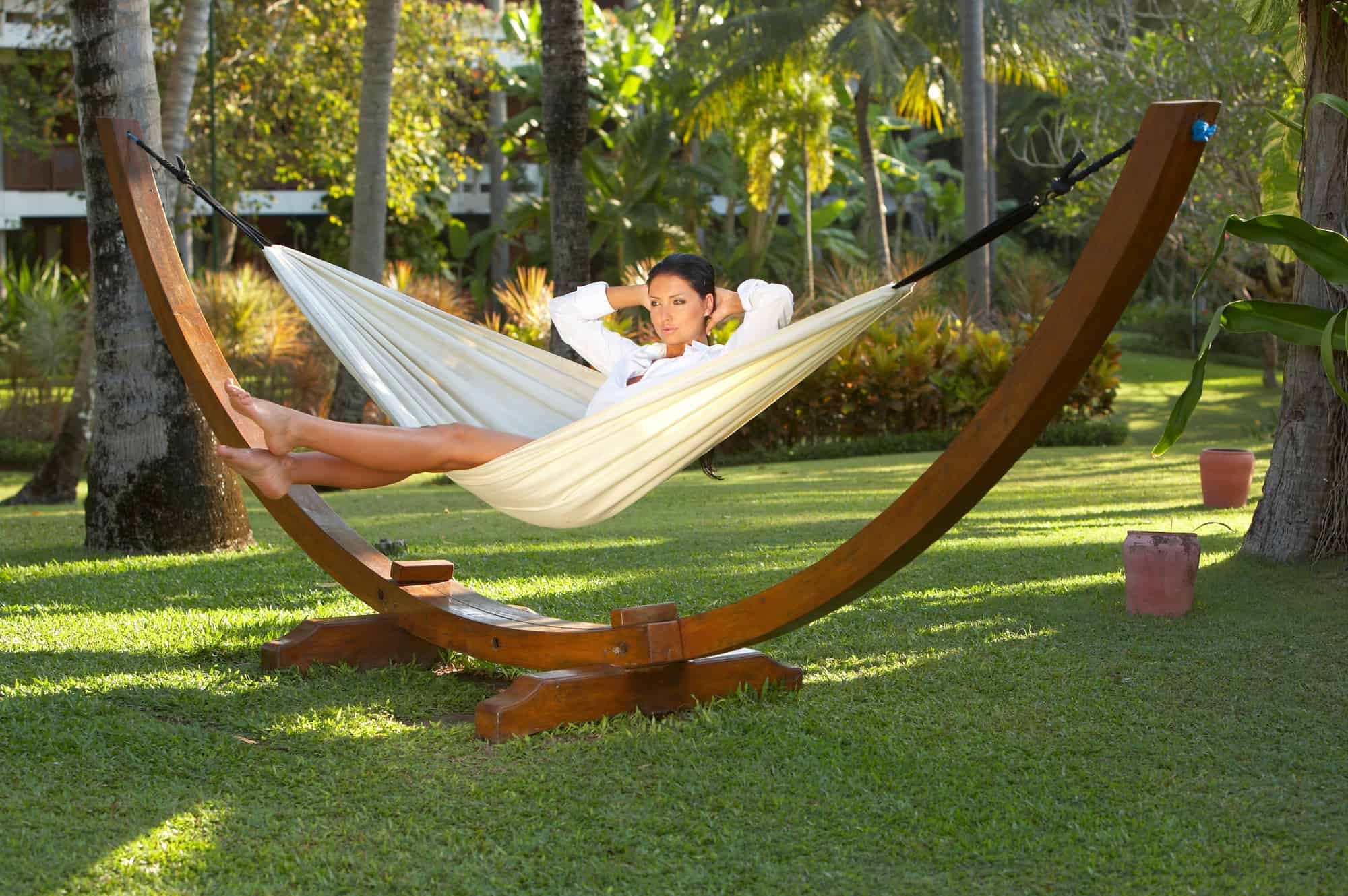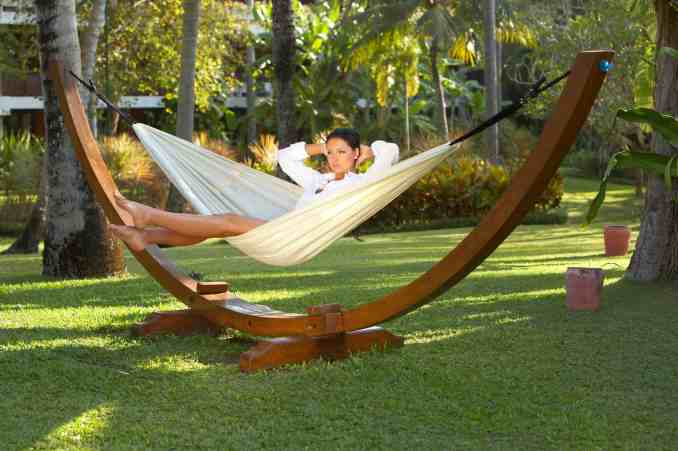 A garden hammock can make the perfect addition to your garden. Whether you are wanting a spot to relax in through the summer months, or an eye-catching feature for your garden then a garden hammock can provide all of that! If you have ever spent time snoozing in a hammock, then you will understand the true sense of relaxation that can come from rocking to and fro in a hammock whilst staring up at the world around you! So why not create that own sense of freedom in your own garden?
Many people can be put off from purchasing a garden hammock as they struggle for a place to erect it, however with freestanding hammocks this is no longer an issue! If you are looking to purchase an un-mounted hammock then maybe it is the sheer choice that you have or where to place your hammock that is making you unsure of what to buy. Our buyers guide is here to help with all the key information that you need to know before purchasing a garden hammock. We have also included details of some of the best garden hammocks for sale at the moment to make your purchase even easier!
Best Pick – Vivere C8SPCT-20 Double Cotton Hammock
Last update on 2021-08-30 / Images from Amazon Product Advertising API / As an Amazon Associate I earn from qualifying purchases
In A Hurry?
If summer is upon you and you are wanting the perfect spot to soak up the sun in your garden, or maybe you are planning a social gathering in your garden and want a new feature to attract attention in your garden. Anyone looking for the key information you need before purchasing a garden hammock you have come to the right place!
Freestanding or Hanging
The first choice you need to make is whether you are going to choose a freestanding hammock or a hanging hammock. A classic, hanging hammock is going to be available at a much cheaper price and is much more portable and lighter. Not only this, but they are going to be much easier to pack away in the winter months when you aren't spending as much time in the garden. However, these are only going to be suitable for a garden with trees that are positioned the right distance apart (normally about 6 or 7ft) or you will find yourself having to secure posts into the ground to hang your hammock from.
If this all sounds like too much hassle, or maybe you know there is no position in your garden that is going to be suitable, then you may be better opting for a freestanding garden hammock. These have become much more popular in recent years due to the flexibility that they offer you in where you can position your hammock. They are essentially a hammock that comes with a stand alone frame, so you are not relying on ANY support from other elements in your garden! They are obviously going to be considerably bigger and some models take up quite a bit more space, but they will be safer and arguably more dependable. Another plus side to free standing hammocks is that you are not having to guess the weight that the trees around you can hold! Some are going to have to hold upwards of 160kg for a double hammock, so it can be hard to judge if trees or posts are going to be securely fitted enough for this!
Size
Once you have decided on the style of hammock that you are going to purchase, the next thing you need to think about is size. Obviously, it goes without saying that freestanding garden hammocks are going to be considerably larger than unmounted hammocks, so this is the first thing you need to think about.
You then need to decide whether you are wanting a single or a double hammock. A double hammock will give you the space to cosy up to a loved one, whereas a single hammock will definitely only have enough space for one person – although if you fancy having a little more space then why not just buy a double hammock for yourself?
The widths of hammocks tended to range from around 140cm up to 200cm (depending on the style that you are purchasing), whereas lengths ranged between 100cm and 160cm. Remember to check whether this is the TOTAL length and width of your garden hammock or just the length of the seat part, as this varies between different manufacturers and is obviously going to impact on where it can be positioned. You also need to think about your length and whether you are wanting a garden hammock that is just going to support the trunk of your body or from your head to your toes! Longer hammocks will provide support for your neck and head, right down to your feet, whereas for the shorter hammocks you will have to add an additional cushion or hang your feet over the edge!
Build Material
When thinking about the build material, the first thing that we will look at is the material of the actual hammock – these tend to be made from either cotton, nylon or polyester as all three are going to be durable and long lasting materials. Cotton is going to be the most popular for most garden hammocks, as the other two are more suited to people who are wanting a particularly portable hammock! If you are looking for comfort, then cotton is definitely the way to go…it is going to be the softest of all the material choices but still breathable enough to be comfortable in warmer weather. However, the main downside to cotton is how absorbent it is! This means that if you leave your hammock outside throughout the summer months and get caught out by a rain storm then you will find it takes quite a while to dry out. Synthetic materials such as nylon and polyester are going to be much easier to keep clean and dry, and they are also incredibly light and breathable! However, they don't always have the "look" that may appeal for a more permanent feature in your garden and they're not quite as comfy!
TOP TIP: If you are wanting the best of both worlds then it may be worth looking for a garden hammock that is made from a combination of polyester and cotton. These will be less absorbent so will dry out quicker, but will also be soft and comfortable!
If you have decided to purchase a freestanding hammock then you are also going to need to think about the material that is used for the frame. The two main choices that you will have are either wood or metal. Metal is going to offer a much more traditional, warm look and will be incredibly strong and durable (providing you are happy to maintain it). Having these benefits from a wooden frame means that they will be better able to withstand the weight of a double garden hammock, or stand up against heavy winds and rains. But, you do have to consider the amount of maintenance that they are going to need to prevent them from rotting – you are going to have to be prepared to treat your garden hammock a couple of times a year. This is something that you are going to be saved from with a metal frame, but they aren't going to be quite as strong and durable as wood is! Not only this, but metal isn't going to be completely maintenance free, it is going to need some looking after if you want to keep it free from rust!
The material of your garden hammock is also going to affect the weight that they are able to hold, some will only be able to hold around 70kg whereas others can hold upwards of 160kg so this is definitely something you will need to consider!
TOP TIP: If you choose a freestanding garden hammock with a wooden frame then make sure that it is made from pressure treated timber. This will be made from wood that is going to last much longer without rotting as the treatment is forced into the grains of wood.
Assembling and Fitting a Garden Hammock
When you have decided on the best garden hammock style for you, the next step to think about is where you are going to position your hammock in your garden and how you are going to fit it! If you have chosen a freestanding hammock then you will be able to position it anywhere flat in your garden, but you still need to look at the ropes or springs that attach the hammock to the frame. These are sometimes made from traditional rope but other times they will be made from more synthetic elastic materials that will give more movement as you are getting in and out of the hammock!
Standard rope is also going to require you to know how to tie the hammock to either the frame/trees or posts, whereas if you opt for elastic fastenings these usually come with metal clasps to clip them together which is arguably safer but does offer a less "traditional" look!
If you opt for a freestanding garden hammock then make sure to also think about the fastenings that secure the frame together and whether these are made from strong metals that are going to last. It is also worth checking if you are going to need tools to assemble your freestanding hammock – this is something that you will be saved from with an unmounted hammock but potentially not with one with a base!
Best Budget – VonHaus Hammock with Metal Frame
Last update on 2021-08-30 / Images from Amazon Product Advertising API / As an Amazon Associate I earn from qualifying purchases
Additional Features of Garden Hammocks
Now that you know the main things to consider before purchasing a garden hammock, it is important to be sure you know about all the extra features that we found on the best garden hammocks. If you are wanting a long lasting, attractive, comfortable garden hammock then these are the features to look out for…
Chair hammock – If you don't like the thought of trying to climb in and out of a garden hammock, or maybe you want to be able to enjoy the views of your garden whilst relaxing, then maybe a swinging chair hammock is a better option for you. These are stitched and hung so that you are in a relaxed but upright position when enjoying your hammock.
Spreader bar – A spreader bar fitted into your hammock really comes down to personal preference but it's a definite must for us. It will save the material of your hammock from bunching up when you aren't in it, so that you can still enjoy the look of your hammock even when you can't relax in it! We also find it makes it easier to get in and out of the hammock although others actually find the opposite!
Colour – When looking at the colour of your garden hammock remember to think about whether it is going to be exposed to the sunlight a lot of the time. If it is then a lighter colour will fade less quickly and won't absorb as much of the heat! If you do choose a darker colour then it is even more important that the material is UV protected as this will help to reduce fading!
Machine washable – It is definitely worth checking how easy it is going to be to wash your hammock (particularly if it is one that is fitted to a stand!). This is going to be important to keep your garden hammock looking like new!
Best of the Rest
Last update on 2021-08-30 / Images from Amazon Product Advertising API / As an Amazon Associate I earn from qualifying purchases
Last update on 2021-08-30 / Images from Amazon Product Advertising API / As an Amazon Associate I earn from qualifying purchases
Last update on 2021-08-30 / Images from Amazon Product Advertising API / As an Amazon Associate I earn from qualifying purchases
Frequently Asked Questions
Do garden hammocks come with a warranty?
Yes! If you purchase a good quality garden hammock then you should expect it to come with at least a 12 month warranty and even longer if it is a freestanding model! We found garden hammocks with warranties up to 4 years for complete peace of mind.
Where can I put my garden hammock?
If you have purchased an unmounted garden hammock then you are going to need to ensure that you have two posts or tree trunks that are around 7ft apart for you to tie the hammock to! For ALL hammocks you will need to make sure that the area around the hammock is clear to allow for some movement and that the ground underneath the hammock is relatively level! For freestanding hammocks the ground will need to be COMPLETELY level.