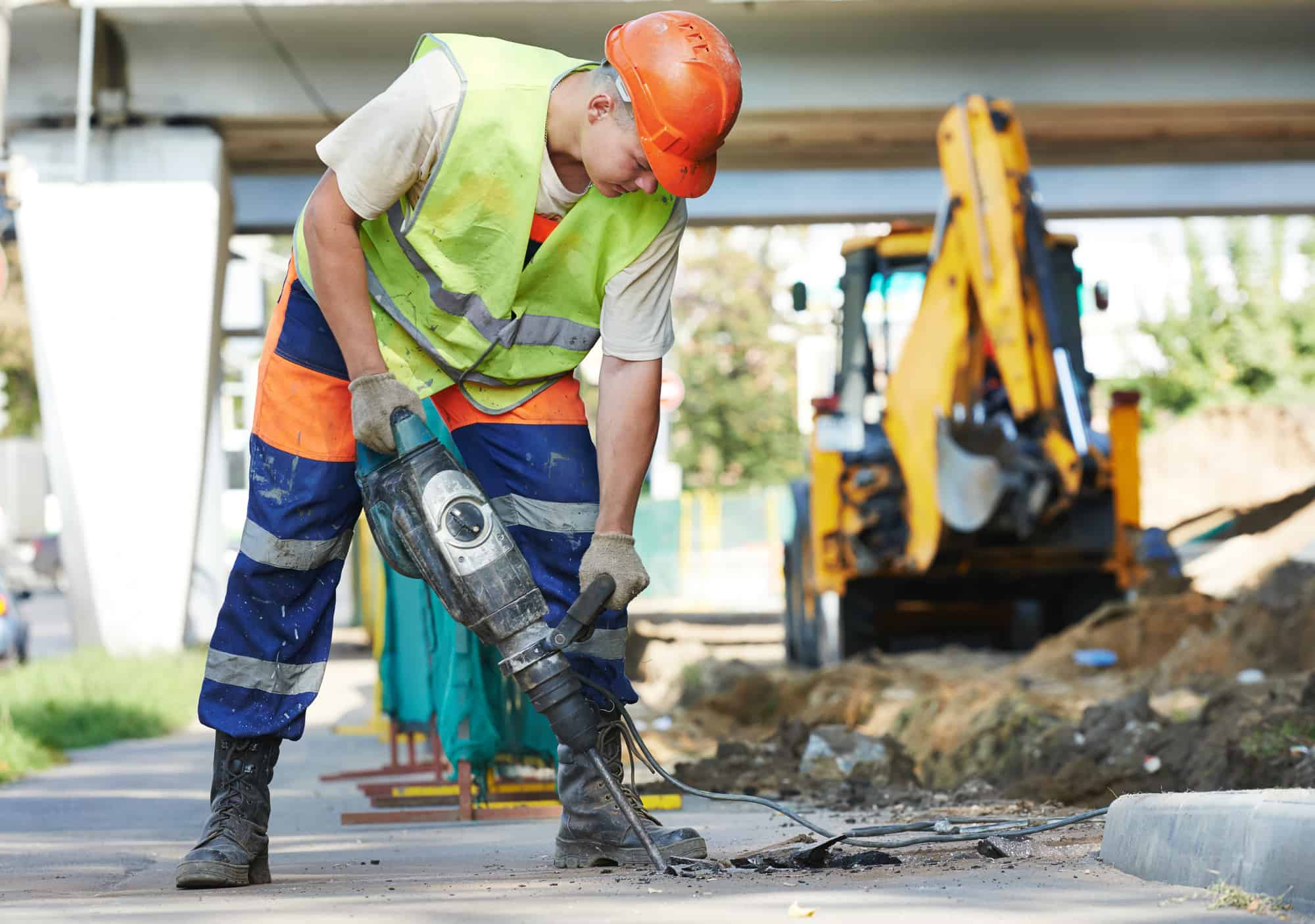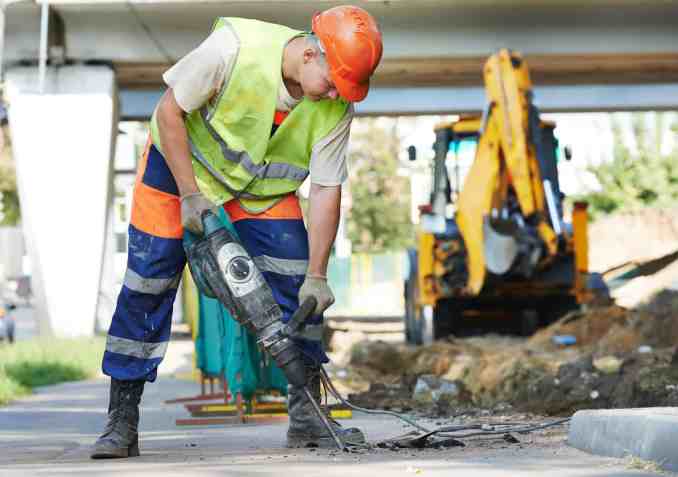 Whether you know it as a jackhammer, a concrete breaker, a demolition hammer (or anything else for that matter!)…if you have a considerable amount of concrete to break up then this is the tool that you are going to need. Whether you have one of those aged back gardens with large concrete slabs, or have walls that need to be knocked down, a jack hammer is going to get the job done much quicker, more successfully and a lot easier than you could ever manage on your own!
The power and strength that these tools offer is something that is unarguable, however choosing the right machine for the job is easier said than done! It can be difficult to know the size and power that you are going to need for the jobs that you have in mind – which is where we come in. Our buyers guide will give you the low down on jack hammers and what you need to look for when you are making your purchase! Plus, we have mentioned some of the best jackhammers available on the market at the moment to make your purchase even easier.
Best Pick – ReaseJoy 52CC 1700W Heavy Duty Gasoline/Petrol Demolition Jack Hammer
ReaseJoy 52CC 1700W Heavy Duty Gasoline Petrol Demolition Jack Hammer Concrete Breaker Single Cylinder Power Tool Kit
[Powerful Gasoline Jack Hammer Kit]: Includes a 1700W 52CC gasoline demolition hammer, a pointed and a flat chisel, with 700 to 1350 BPM impact frequency for strong and quick demolition, great for commercial or home uses
[2 Exchangeable Chisels]: For suiting your needs, pointed one for better cutting through concrete, flat one for applying detail and smoothing surfaces
[Hand Pull Start System]: Offers a high degree of flexibility without cable, convenient for outdoor uses
[Handle Design]: With rubber grip for comfortable handling operation and convenient transport
[Wide Application]: Suitable for tearing up foundations, ripping up driveways, demolishing concrete floors or walls or breaking through solid rock; Hammer Size(LxWxH): 69 x 37 x 27 cm (27 3/16" x 14 9/16" x 10 5/8")
Last update on 2021-08-27 / Images from Amazon Product Advertising API / As an Amazon Associate I earn from qualifying purchases
Only Got 5 Minutes?
If you are in a rush to get purchasing your jackhammer, then this is the part of the article that you need to be reading. We have reviewed many of the best jackhammers available for sale, so that we can explain their features that you should be looking out for before you buy a jackhammer. This can often be a daunting and confusing process – especially when spending a reasonable amount of money on a tool! So keep reading to put your mind at ease with your purchase.
The Best Jackhammer Features
Here are some of the main features that you need to look out for and consider before you buy a jackhammer and get on with the job at hand!
Power
Most jackhammers that you find will use air to create the power that you so desperately need – which is why they are also known as pneumatic drills or hammers. This means that you are going to need to have an air compressor to hand to power your tool, which does add to the initial outlay if you don't already have one!
You can now find jackhammers that run off electric power instead, which obviously saves you the hassle of finding an air compressor, however there are also limitations to these models. For example, they tend to be more expensive and offer less power than comparative air models, and also mean that you need to be hooked up to mains electric, or a generator (in which case you're then just stuck buying a generator instead of an air compressor!).
Air powered jackhammers work using the air to pump a piston up and down, this pushes down a pile driver which in turn hits a drill bit, which then cracks into the surface of the concrete – simple right! Electric models work slightly differently in that you have electric motors that rotate cranks which then hammer the drill bit up and down.
As a general rule, if you are wanting to complete smaller, or internal jobs then an electric jackhammer will be up to the task. But, if you have bigger jobs to complete and know that you are going to be working outside then a pneumatic drill is probably the way to go. There are models for both sides that are the exceptions to the rule which are always worth looking out for!
TOP TIP: If you opt for an electric powered model then make sure that it comes with insulated plugs – this will ensure that you can work safely even in wet weather, so is a crucial feature as far as we are concerned!
Impact
The power that your jackhammer uses then needs to be turned into the impact and force that it can enforce on the surface that you are working with. Look out for the voltage and the wattage of the jackhammers that you are looking at, as this will give you the best idea of how powerful your jackhammer really is.
Most will have a voltage of around 220V, but the wattage can differ quite considerably depending on the motor and other components that are involved. If you are completing relatively small jobs around the home then you can probably get away with a model around 1500W, but if you are wanting to crack larger pieces of concrete then you are going to need a model over 2000W at least!
Speed
The speed that your jackhammer can work is ultimately going to determine how fast you can get the job done! The quicker the drill bit can hammer up and down the faster it is going to be able to break up the concrete! This is measured in RPM (Rotations Per Minute) so is worth looking out for when you are trying to decide which to purchase.
We found that they tended to start from around 1500RPM for the smaller, electric models – these will be perfect for chipping away plaster on the walls in your home for example. The35n, when looking at the pneumatic, commercial drills that will be able to break up heavy slabs of poured concrete, we found RPMs going all the way up to around 3500RPM!
Weight and Size
It is rather difficult to complete a comparison on the weight and size of jackhammers, as there are SO many different models out there offering different power levels and job abilities, but that also come with their own spec on weight and size. Obviously, it goes without saying that the more powerful, heavy-duty jackhammers are also going to come with a relative weight and size, but there are some models that reduce this as best as possible! Look out for durable but light build materials such as steel – or even plastic used where possible on smaller models!
Mounted and Handheld Jackhammers
The two main designs that you will find with jackhammers are mounted or handheld. In general, the mounted models are the big boys that are there for breaking external, heavy-duty concrete. These models will be too heavy to control fully as handheld options! However, this does limit the number of jobs that they will be able to complete, as you are essentially stuck with working at floor level.
If you know that you have a wall that needs coming down, or some plaster removing from a wall, then a handheld jackhammer may be a better option for you as this will allow you the flexibility to lift your tool and work at different angles!
What Else Do I Need To Look For?
Now that you know the main factors that you should be considering before purchasing your jackhammer, here are some of those extra features that we feel are worth considering if you are ready to buy your jackhammer!
Noise
We can't lie to you…jackhammers are FAR from the quietest tools you will ever find! This is something that you are just going to have to accept and protect yourself from. This can be done by looking for models that offer noise reduction features, which will protect your ears (and make you more popular with your neighbours!).
TOP TIP: If noise is an important factor for you then consider a jackhammer with a helical gear system as these will work considerably quieter than other models!
Vibration
Again, probably the second feature of a jackhammer that is going to cause some issues! Jackhammers that have high levels of vibration will dramatically increase the rate at which you fatigue when working. Not just this, but you open yourself up to issues such as carpal tunnel syndrome if working with them for too long! This is why it is so important to find jackhammers that come with vibration reducing handles, shock absorbers and comfort grip materials to reduce the effect of the vibration!
Best Budget – Einhell RT- RH 32 1250W Hammer Drill
Sale
Last update on 2021-08-27 / Images from Amazon Product Advertising API / As an Amazon Associate I earn from qualifying purchases
'Easy Life' Features
One of the benefits to the jackhammer market being so full, is the amount of additional features that manufacturers have created to make your life easier whilst you are working. This helps to make them stand out from the crowd and the plus for you is that you tend to be able to get the job done quicker and in a much easier fashion than you would otherwise!
Warning lights – Some jackhammers will come with warning lights for various different aspects such as the motor, the cord, power or if the drill bit jarrs for some reason. These lights will not only help to keep you safe whilst you are working, but ensure that the job is done correctly and that your tool has a long lifespan!
Variable speed control – Variable speed control and soft start features work together to make sure that you have a good control of the jackhammer before it really gets to work breaking up the concrete. This is perfect for if you are new to working with heavy-duty tools like these, or if you are working close to more delicate areas such as pipework.
Cord length – Whether you opt for an electric powered model or a pneumatic jackhammer you are going to have the cord to deal with! Using a concrete breaker is a messy job, and quite often you will be working in larger spaces so will need to opt for a decent cord length if you want to make your life easier!
Lock-on Controls – This is a great feature if you know that you are going to be using your tool for extended periods of time. Simply "lock on" the controls and then you can have a good, secure grip on the handle of the tool whilst you get to work. Then just click off the control when you want to stop or change the speed.
Adjustable grip – Everyone is different, so it makes sense to opt for a 360 degree adjustable grip so that you can find a spot that is going to work best for you, and for the job that you are completing. Different jobs will require you to work at different angles so it's important to opt for a tool that is going to allow you this flexibility!
Oil level view – All jackhammers are going to need oil to work correctly, without this you will dramatically reduce the life of your tool or potentially break it all together. This is why it's so important to be able to see the level of the oil quickly and easily. Look out for drills that come with viewing holes to make this easier.
Bits and Chisels – Look at what bits and chisels come with your jackhammer as standard. If you are going to have to purchase multiple additional chisels then this is going to increase your initial outlay!
Best of the Rest
MXBAOHENG Pneumatic Concrete Breaker Air Hammer Air Compressor Chipping Hammer Kit Concrete Chisel Handheld Gas Shovels Demolition Jack Hammer with 9 Chisels/1 Chuck
【Large torque】Use high-quality materials, increase the weight and size of the thump, greatly improve the torque
【Increase impact hammer】Greatly improve the impact force of the air shovel, more powerful, high impact frequency, stable output power.
【Chromium-molybdenum Steel Reinforced Thread】The threaded head is made of chromium-molybdenum steel, with high hardness, good strength, and very wear-resistant
【9 sets of Chisels】 Equipped with 9 different types of chisels to meet different operating needs
【Widely Application】Widely used in carving, paint, rust, welding stain removal, light burrs and woodworking nail removal, water and electricity in decoration projects, cement industry residue removal, etc.
Last update on 2021-08-27 / Images from Amazon Product Advertising API / As an Amazon Associate I earn from qualifying purchases
ReaseJoy 1700W Electric Demolition Jack Hammer Three Chisels Concrete Road Breaker Double Insulated with Steel Case
Voltage: 240V/50Hz, rated power: 1700W, impact rate: 1550bpm, impact energy: 45J
Power cord length: 9.5ft, overall size(without chisel)(LxWxH): 67x27x14cm(26.4"x10.6"x5.5")
Point chisel Size: 16" L, flat chisel size(WxL): 30x390mm(1.18"x15.35"), U chisel: 16" L
Double insulated motor casing design, improve the safe use effect
Our Jack Hammer With Extra thick and strong aluminum main casin.Three chisels meet different working condition. Also the glasses & glove for free to you. PROVIDE EXCLUSIVE THREE MONTH WARRANTY,THANK YOU
Last update on 2021-08-27 / Images from Amazon Product Advertising API / As an Amazon Associate I earn from qualifying purchases
Last update on 2021-08-27 / Images from Amazon Product Advertising API / As an Amazon Associate I earn from qualifying purchases
Frequently Asked Questions
What warranty can I get with a jackhammer?
This really depends on whether you opt for an electric or a pneumatic jackhammer. However, most manufacturers will offer close to a 3 year limited warranty. Some offer extended warranties if the product is registered with the manufacturer, whereas others invalidate the warranty if the jackhammer has not been serviced, so make sure to check for this before you buy your jackhammer!
What bits can I use with a jackhammer?
There are various different bits, points and chisels that you can use depending on the job that you are going to be completing. In general you will find that a standard moil point and a narrow chisel are the best to use for concrete breaking. However, if you are working with weaker or soft concrete then you may be better using a large chisel bit as this will allow the concrete to crack. There are specific bits that you will find for when working with asphalt or other flooring types.
What type of oil do you use with a concrete breaker?
15w30 motor oil should be used with most concrete breakers but we would always recommend checking with the manufacturer as some will work with specific types of oil.
Performance

Features

Ergonomics

Value