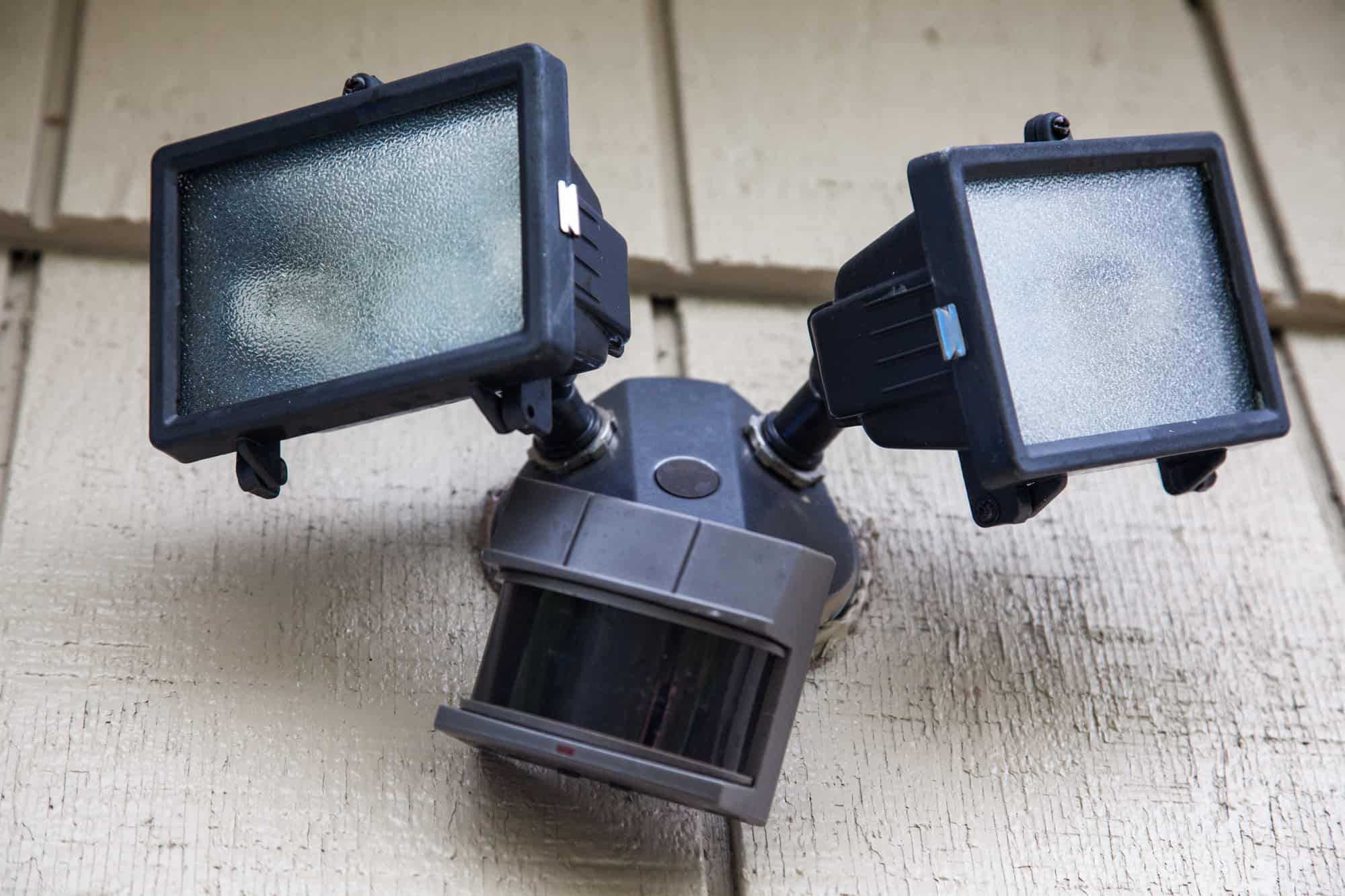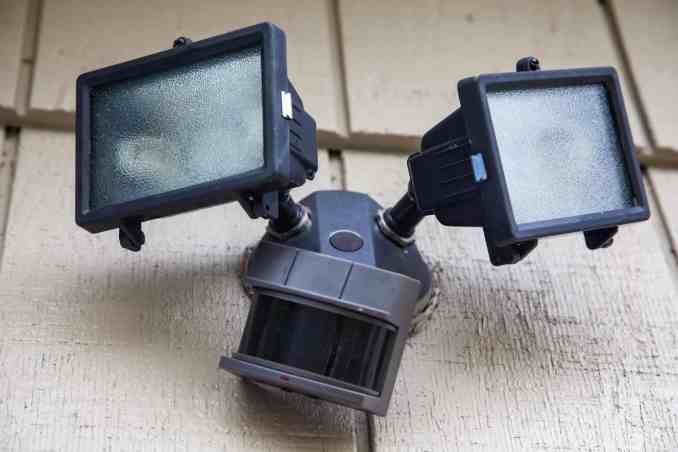 As far as we are concerned, a security light is an essential for every home. They are the perfect way to light up the front or rear of your property to alert you of anyone coming onto your property when they shouldn't be! Not only this, but with many more homes now investing in CCTV cameras, a security light is the perfect accompaniment to make sure that the camera is able to capture everything that is going on. Research also suggests that the simplicity of the security light coming on can be enough to deter many criminals from considering your home or car as a potential victim!
It is important to mention that security lights can actually provide much more than security….but they're going to provide light for you as well! No more grasping around in the dark when you are trying to let the dogs out in the evening, or if you are trying to get to the bins in the dark! Or when you are coming home during those winter months when it is already dark by the time you finally arrive back home. A security light is going to be perfect for all these situations, so not only is it a preventative method for criminals, but a help in day to day life for you as well!
We're sure by now that you are even more certain that you need a security life for your home. So keep reading for all that you need to know before buying and to see some of the best security lights available.
Best Pick – Mustwin 30W
Last update on 2021-10-18 / Images from Amazon Product Advertising API / As an Amazon Associate I earn from qualifying purchases
In A Hurry?
If winter nights are approaching, or maybe you have had a number of questionable people scouting out your house, then you need a security light quickly! Here are the essential features that you need to consider.
Power
The two main types of power options that you are going to have available to you are either electric security lights or solar powered security lights.
Electric security lights are going to rely on you plugging or wiring them somewhere in your house. This is the best way to achieve consistent, reliable and bright security lights as you know that as long as you have mains power to your home your light is going to be working. However, you do need to consider the time and effort (plus potential damage) that is going to go into fitting one of these into your home. You are also going to be more restricted as to where you can fit your security light as you are going to need somewhere that will allow you to feed the wire inside your house.
Your other option is a solar powered security light. These are a lot more powerful and reliable than they used to be, so are definitely worth considering – but you aren't going to get the power and brightness that you would get with an electric model (particularly over winter months which is arguably when you need it most). However, there are many benefits to solar powered security lights. To begin with, you are going to be able to position your security light in almost any place that you want – providing the solar sensor will have access to the sunlight! Not only this, but you are going to have less damage to your property as you don't have to secure wires to the walls of your home. We also like that they are going to be much more cost effective and environmentally friendly as they are powered naturally.
NOTE: When a solar security light is fully charged it should be able to offer you between 10 and 12 hours of light. This should be more than enough for a light that isn't going to be on all the time.
Security Light Types
Once you have decided on how you want to power your security light, you then have to choose the type of security light that you want. Here are your options…
Simple switch – The most basic design of security light is a simple switch on and off. These are great for if you are planning on leaving them on all evening as they can be completely controlled by you. You also save yourself the stress of wondering why they have come on every time a bird or squirrel goes past! However, they are going to be relying on you to switch them on and off which isn't always ideal for the purpose.
Motion-activated – A motion activated security light is one of the most common security lights that you will find. As the name suggests, the light will switch on when the PIR sensor detects movement. This is a great way to deter criminals as the light will give them reason to doubt your house is the best option! We also like that these are going to save energy as they are only going to come on when you need them. They are also going to be helpful for you, as depending on the location of the sensor, they can be set to come on when you walk down your path.
Timer security lights – These are some of the more simple designs but you still have the benefit of coming home during those dark winter months to find your security light already on! A timer security light can be set, just like an indoor timed light, to come on and off at certain times. This helps to ensure that your property is lit when you need it to be but also that you can save power when it isn't needed.
Light-sensitive security lights – If you know that you are wanting your security light to be on all through the evening and when it is darker outside, then a light-sensitive security light could definitely be the best option for you. These security lights use a photocell system which allows them to detect how light it is (the same way that street lights work), so they will come on when it goes dark and switch themselves off again when it gets light.
Security Light Style and Colour
There are a wide variety of styles and colours to choose from when you are looking for a security light. The most standard colour that you are going to find is black or white. We personally prefer black as these are going to avoid showing up the dirt much more – and let's be honest how often are you going to be cleaning your security light? However, there are now a wider range of colours including greens and browns so that they can blend in more with the wall in which they are set.
You also want to consider the style of security light that is going to be right for you. Standard security lights are going to look quite boxy and commercial, but there are now security lights that are designed to look more modern and like lanterns so that they actually add a feature to the outside of your home at the same time.
Best Budget – Lepro 20W
Last update on 2021-10-18 / Images from Amazon Product Advertising API / As an Amazon Associate I earn from qualifying purchases
The Best Security Light
There are always going to be additional features that are worth considering when purchasing your security light, particularly if you are wanting to be sure that your light is going to be there when you need it! Here are some of the additional features to consider to make sure that the security light is going to be right for you and your home…
Assembly
It is really important to check how easy your security light is going to be to assemble and fit on the wall of your property. You want a security light that is going to cause minimum damage in case you ever need to remove it!
Look out for models that come with a bracket that can be fitted first, so that the light can be removed easily if you need to replace the bulb or complete any maintenance. If you are opting for an electric model then it is also important to check how much wire actually comes with the security light so that you know if you are going to be able to extend it to your power source!
TOP TIP: Don't forget to also consider the position of your security light, especially if it is a solar powered model or a motion-detecting one. You are going to need to consider whether your security light is in a position where it will be able to pick up key areas of motion in your garden (such as by your door or your car) and also whether it will get enough sunlight to be charged!
Bulb Type
Make sure to check the type of bulb that is going to be compatible with your security light! The two best bulbs that you can go for are either LEDs or halogen flood lights. LED flood lights are going to be the most cost effective thanks to the fact that they use less energy for the same brightness, however the bulbs are going to be more expensive initially. Your other option will be halogen bulbs that will be cheaper initially and will be really bright, but are going to cost more to run!
Don't forget to also check the lumens that your bulb is able to offer to see how bright your light is going to be. Security lights can offer anything from around 700 lumens up to 1300 lumens. It is worth mentioning that 1300 lumens is really quite bright and could be considered too bright for both you and your neighbours if it is coming on in the middle of the night! If this is something that you are particularly worried about then look out for low-pressure sodium lights as these won't be nearly as bright!
Added Extras!
Smart technology – Some new security lights can actually be connected to your smartphone. This allows you to switch your light on and off using your phone and set times that you are wanting it to come on.
CCTV compatible – More high-end security lights will be compatible with CCTV systems so that the sensors work to alert the CCTV at the same time as switching on the lights. This is essential for if you are worried about people trespassing on your property as it is the best way to make sure that you capture footage of anything going on!
Sensor distance – check the distance that your light sensors are going to work from. Some will only work a metre in front of them whereas others work up to three metres away!
Double lights – If you have a particularly large space that you are wanting to cover then it may be worth looking for a double light security light. This is going to allow you to cover different directions and will illuminate a much wider space.
Best of the Rest
Last update on 2021-10-18 / Images from Amazon Product Advertising API / As an Amazon Associate I earn from qualifying purchases
Last update on 2021-10-18 / Images from Amazon Product Advertising API / As an Amazon Associate I earn from qualifying purchases
Last update on 2021-10-18 / Images from Amazon Product Advertising API / As an Amazon Associate I earn from qualifying purchases
Frequently Asked Questions
Will security lights come with a warranty?
Most security lights are going to come with some level of warranty. This ranges massively from as little as one year up to around five years so is always worth checking for. Some models even guarantee how many hours the bulb will last for which shows that good quality products have been used in the process.
How long will a security light bulb last?
This really depends on the type of bulb that you choose to opt for. Some LED lights will last up to around 50,000 hours! Halogen and incandescent bulbs aren't going to last nearly as long as this, ranging from around 1000 hours up to around 10,000 bulbs depending on the type!
Where should I fit my security light?
A security light should be fitted around 2 metres off the ground so that the motion detector (if you have one) is able to pick up a decent area around it but also so that the beams of light spread further around. We would also recommend fitting the light close to main access points to your garden or property.