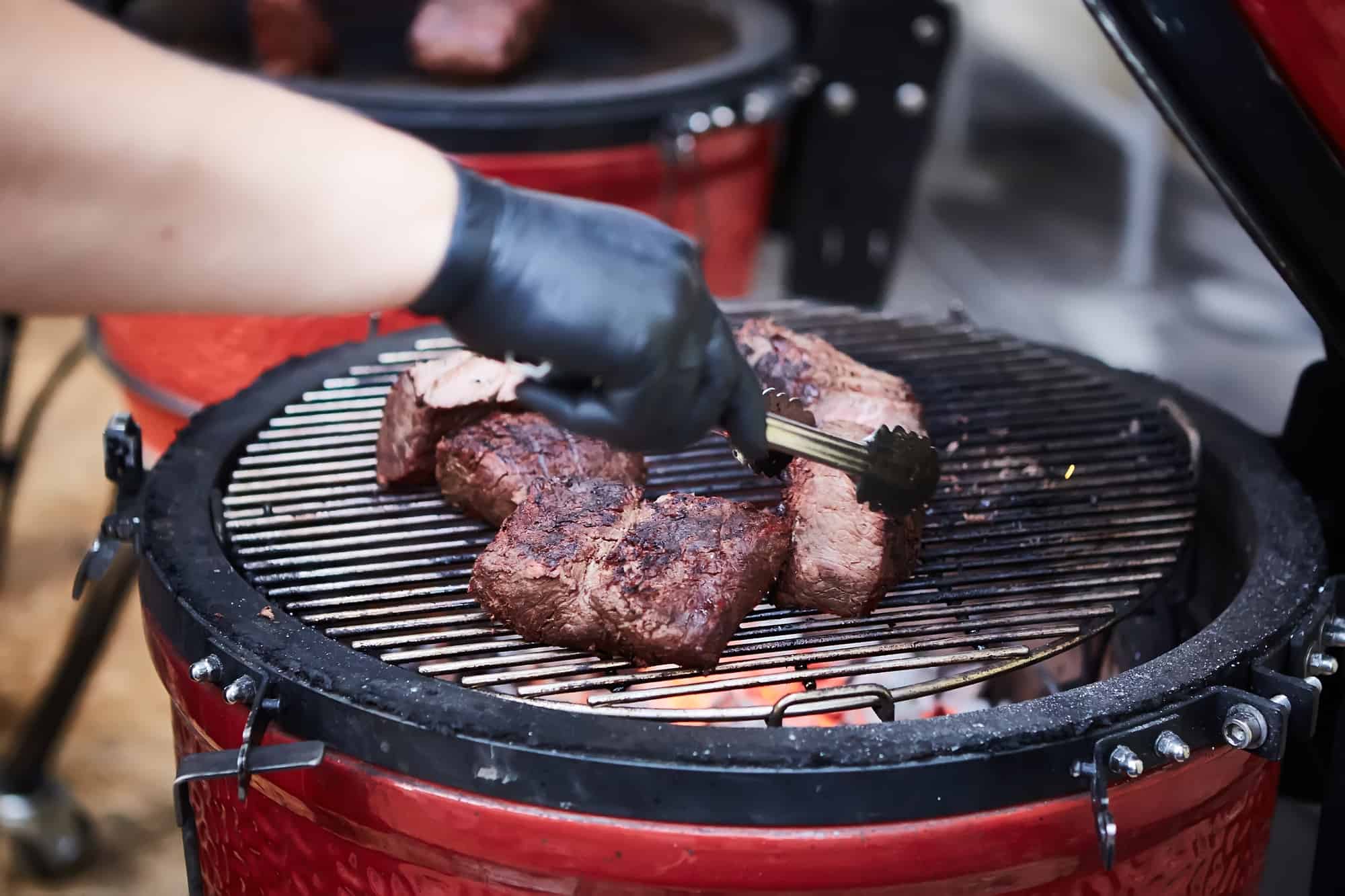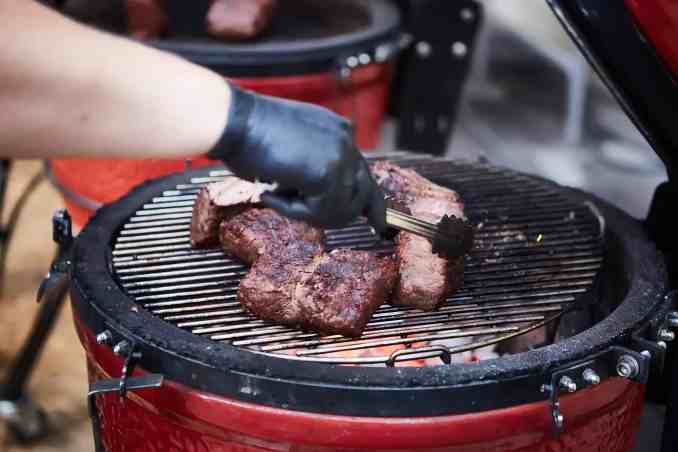 We love a good BBQ – cooking your food outdoors really is a sign of summer…and for some reason it just tastes so much better! If you love the taste of BBQ as much (or possibly even more) than we do, then you need a smoker BBQ! They add flavour and taste to every mouthful of food that you choose to cook on them! Not only this, but they are such good quality BBQs that you can be sure you are going to cook your food perfectly every time. Anyone that is wanting to impress their family and friends with their outdoor culinary skills needs a smoker BBQ!
There are many ways in which it can be difficult to tell the difference between a smoker BBQ and a standard BBQ. Not only that, but trying to find the best smoker BBQ that is going to work with the fuel types that you want and be able to cook various types of food can also be difficult. We are here to help! This article contains some of the best smoker BBQs that you can find, plus information on all the key features you need to look for if you want to be fully informed before buying your BBQ.
Best Pick – Char-Broil Oklahoma Joe's® Highland Smoker
Last update on 2021-09-20 / Images from Amazon Product Advertising API / As an Amazon Associate I earn from qualifying purchases
How Does A Smoker BBQ Work?
If you are new to the world of smoker BBQs then the first thing you need to know about is how they work and how they are different from a normal BBQ.
A standard BBQ will have the fuel source and flames (whether this be from coals or gas) directly underneath the food that you are wanting to cook. This means that the food is cooked more quickly due to it being so close to the heat source. However, the problem with this is that it can be difficult to vary the temperatures that you are exposing the food too. Not only this, but the fact that the food is so close to heat can mean that it can cook TOO quickly – if you have ever had a rather "charcoaled" sausage that is then raw on the inside, you will know just what we are talking about!
A smoker BBQ is going to take these problems away from you, as they are built and therefore work differently to a standard BBQ. The heat chamber is separate from the main part of the BBQ, with the smoke (and the heat) then spreading over towards the food. This allows you to cook and smoke the food at much lower temperatures. There are many benefits to this, firstly you don't have to worry about the food becoming charred or overcooked but also you have the option to cook for much longer periods of time, adding a fantastic smoky taste to your food!
In A Hurry?
If the BBQ season is upon you and you are wanting to make the most of it then this is the part of the article you need to be reading! We have included the best smoker BBQs on the market and the essential features that you need to be considering before you make your purchase.
Size
Obviously, one of the first things you need to think about is the size of smoker BBQ that is going to be best for you, but this actually involves a number of factors in itself. You need to consider the food that you are going to be wanting to smoke which is often depending on the number of people that you are wanting to serve. Check to see not just the overall size but also the size of the cooking surface. A smaller cooking surface will be fine if you are cooking individual pieces of meat for 1 or 2 people, but if you are having a family gathering or wanting to cook a full rack of ribs, large fish or a larger piece of meat then you are going to a larger cooking surface with both a reasonable width and depth! Some have cooking depths of around 15-20cm whereas others have cooking areas upwards of 30cm.
You also need to remember to think about the overall size of the smoker BBQ – some of them can be really quite large and are going to take up a lot of space on your patio area! This largely depends on the style of smoker BBQ that you decide to go for (which we will discuss in more detail below). Some will have the heat chamber underneath the cooking area, whereas others will have it at the side. Models that have the heat chamber at the side can be upwards of 80cm in length whereas smoker BBQs that are built in layers on top of each other tend to be much narrower at around 30cm.
Design
As we mentioned above, there are two main designs of smoker BBQs that you will have to choose from – upright models and side chamber models. The main difference that this is going to make is in the size of the models, so it really comes down to space and personal preference. However, it is also worth thinking about the usability of the models – side chambers are going to be much easier to access when you are trying to top up the fuel or light the fire in the first place, whereas tiered upright models are going to need you to get down to pretty much floor level to be able to do this!
You also need to think about the design of the cooking area, as there are wide variations in this depending on what you are wanting to cook. The best models are going to be adjustable, so that you are able to change the cooking chamber depending on what you are wanting to cook – but this isn't always the case. Look out for whether they have one cooking area or two and whether this has hooks so allow you to hang food on as well as placing it on a smoking rack.
TOP TIP: Don't forget to check whether your smoker BBQ comes with front doors or a top hatch. Models with front doors are easier to load whereas a top hatch is going to have to have design features that allow you to lower the food in safely!
Build Materials
It is rare that you will find a smoker BBQ made out of anything other than steel, as this is going to be strong, durable and able to cope under the extreme temperatures that it will face when the fire is lit. However, steel will begin to rust over time so we would definitely recommend checking that the metal has a power-coated or painted finish that will keep it protected from the weather as best as possible.
Using plastic for things like the handles isn't always a bad thing as it will stop them from becoming too warm, but you have to consider that the plastic can easily become damaged if it does come in too close contact with the heat of the smoker!
The "Smoker" Features
The size, build materials and design are all things that you are going to have to consider with ALL BBQs that you think about buying. But what about the features that are specially linked to smoker BBQs? Here is what you need to be checking for…
Thermostat – If you are wanting to do a good job of keeping your food at a low and consistent heat to cook perfectly then you are going to need a built in thermostat so that you know the temperature inside your cooking chamber. Without this, you are going to have to open the chamber regularly to check the temperature, which is going to then let cold air in and affect the overall cook!
Air flow – The heat inside your smoker BBQ is going to be affected by the air flow to the fire…..a fire needs oxygen to burn and by restricting or increasing this you will have a bigger or a lesser fire. Look to see whether your smoker BBQ comes with a chimney with a dampener or air vents and the options that you have for opening and closing these as this will affect your heat options! The best models will have air vents both in the fire chamber and the grill chamber.
Water pan – Some smoker BBQs are going to come with water pans to increase the amount of "smoke" created. These are perfect for if you are wanting that maximum "smoky" flavour. Some water trays are around 3-4L in size which will allow you to smoke your food for 2-3 hours!
Fuel compatibility – Check whether you can only work with coals or whether you will be able to use wood as well to fuel your smoker BBQ as this will give you more options depending on what is cheapest to get hold of near you!
Best Budget – Femor Smoker Barbecue 3 in 1
The Best Smoker BBQs
There are so many smoker BBQs to choose from it can be really difficult to know which is going to be best for you and your food! Therefore, we have found some of the extra considerations that we would recommend looking at before you make your final purchase.
Portability – Do you want to take your smoker BBQ on trips with you? Maybe to the beach or on a camping holiday? If you do then you are going to need to look at both the size and the portability features of your BBQ. Look whether it has handles to make it easier to carry, or maybe if it can be lifted away from the frame for easy transportation. Some are going to come with wheels on the base which will make it easier to move around your garden but won't really help if you are wanting to take your BBQ on a trip somewhere!
Usability – The main thing that you need to think about with this is how easy it is going to be to clean your smoker BBQ and how easy it is going to be to start the fire etc. Check whether the different sections are going to be easy to remove and access to allow for easy cleaning, also look for the space that you have available in the fire part of your smoker as you will need room to start your fire burning etc.
Cover – Chances are you won't be wanting to move your smoker BBQ inside every time you are finished cooking with it, but with a good quality cover you won't need to worry about doing this. Purchasing a smoker BBQ that comes with a cover will not only save you money but it will help you to make sure that it is a perfect fit for maximum protection!
Insulation – Look for models offering good insulation as this will mean that you need less fuel to achieve the same amount of heat!
Side or front table – Check if there is anywhere to hold your cooking utensils so that you are not having to purchase or position a separate table for them. This may come in the form of a table at the front of side of the BBQ or could even be hooks hanging from the side of the smoker.
Best of the rest
Last update on 2021-09-20 / Images from Amazon Product Advertising API / As an Amazon Associate I earn from qualifying purchases
Last update on 2021-09-20 / Images from Amazon Product Advertising API / As an Amazon Associate I earn from qualifying purchases
Last update on 2021-09-20 / Images from Amazon Product Advertising API / As an Amazon Associate I earn from qualifying purchases
Frequently Asked Questions
What warranty will I get with a smoker BBQ?
This really depends on the quality of the smoker BBQ that you go for. Some come with a 2 year warranty, whereas others offer a warranty up to around 5 years. We also found some models that offer a lifetime warranty on particular parts which will offer you that reassurance that you are buying a smoker BBQ that will last!
Can you only use a smoker BBQ to smoke food?
This really depends on the model and the design but quite often you will be able to use your smoker BBQ for grilling as well if you are wanting some food…and fast! Just check the design and whether the position of the fire chamber is going to allow for this!