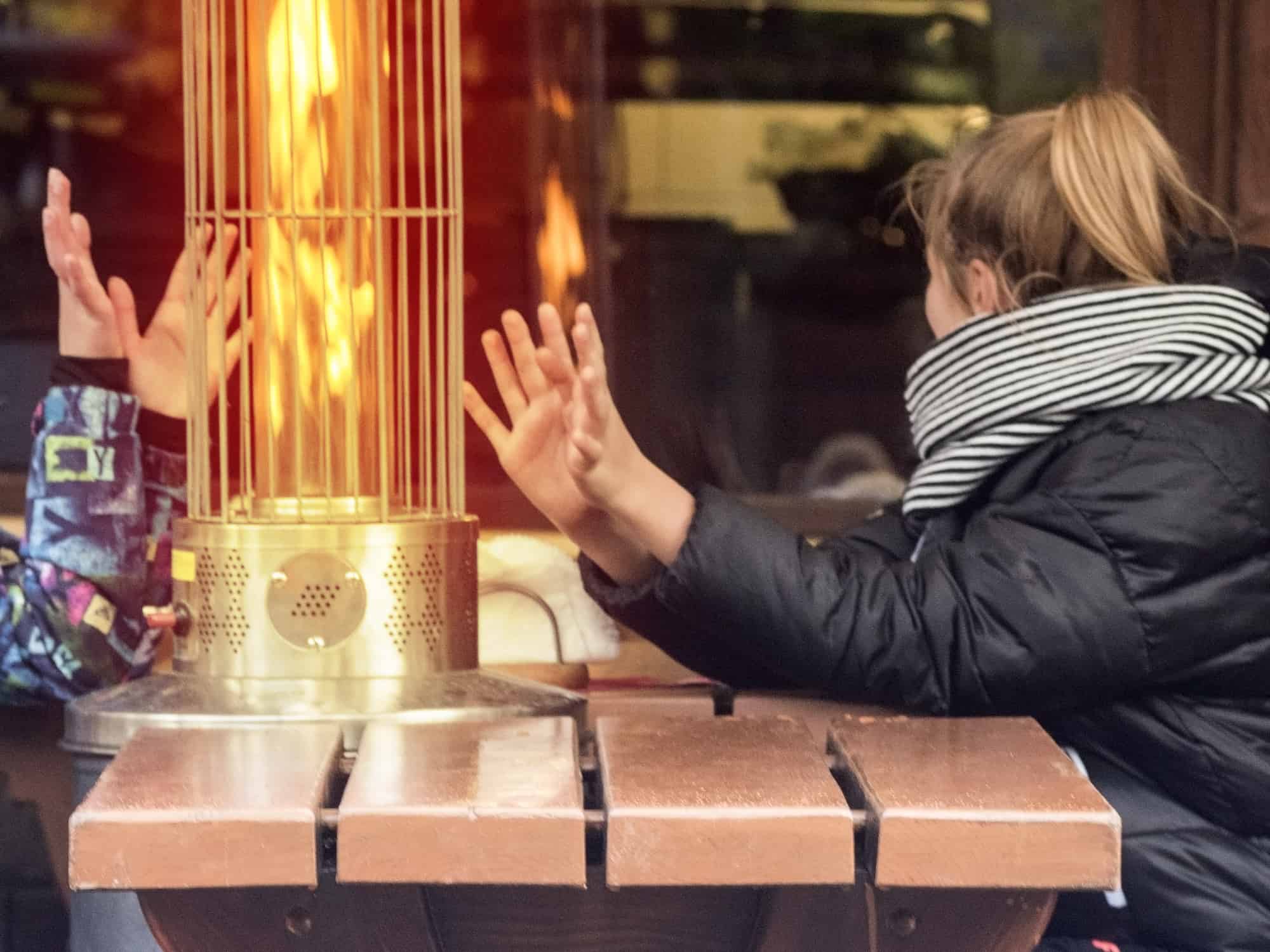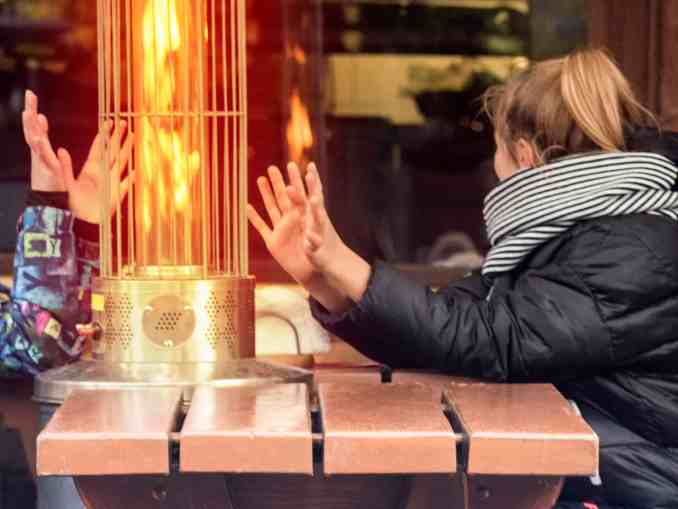 Sitting outside in the evening can be the perfect way to end a lovely summer's day. However, one of the downsides to living in the UK is that it can become quite cool once the sun has dropped. If you enjoy spending time with your family or friends in your outdoor space whenever possible, then one of the best purchases you could make would be a table top heater. A table top heater can not only be a great feature on your table, but for the most part will keep you and your loved ones warm throughout the year!
This Buyer's Guide includes some of the best table top heaters that we have found for your consideration, along with the main features that you need to consider before purchasing. There is so much to look at, such as size, power source, heat, that it is important to do your research before buying – and that is what we are here for!
Best Pick – höfats bioethanol fireplace for indoor and outdoor use
höfats - Spin 120 silver including stainless steel refill can - bioethanol fireplace for indoor and outdoor use - table fire lantern and stainless steel garden torch
INNOVATIVE LIGHT: SPIN is a table fireplace powered by bioethanol with a fascinating swirl of flames in a decorative glass cylinder with a solid base. This is how SPIN conjures up a campfire atmosphere on your table. The burning gel must be ordered separately
VERSATILE: Whether on the terrace, at a party in the garden or indoors on the table in the living room, SPIN is the stylish and multifunctional lantern and decoration for every situation. SPIN is powered by a can of bioethanol, which is conveniently placed in the foot and ignited
SOPHISTICATED: SPIN has a stainless steel housing, a glass cylinder made of borosilicate glass and a base with anti-slip and surface protectors for a secure footing as well as an extinguishing lid to extinguish the flame prematurely. One 500ml can of bioethanol burning gel has a burning time of approx. 80 minutes
ACCESSORIES: There are great accessories available for SPIN. For example, the elevated base, which ensures a higher position. Or the ground spike, which allows stylish and safe placement as a garden light in the garden or on the terrace. Appropriate refill cans are of course also available
"about höfats: You and your best friends gathered around a crackling fire. Is there anything more beautiful? höfats brings fire back into your life: A campfire on your terrace, candle and firelight on your balcony and living room table and delicious grilled food from the open fire on your plate. With fire and passion, höfats creates fascinating products that combine puristic form and exhilarating functionality. So that the time by the fire is the best of your life.
Last update on 2021-08-26 / Images from Amazon Product Advertising API / As an Amazon Associate I earn from qualifying purchases
In A Hurry?
Had one too many nights cut short due to the cold climate? Or maybe you are wanting to enjoy your outdoor space for more than just a couple of months out of the year? If you are in a hurry to make this dream a reality then we are here to help with all the essential information that you need….and quick!
Power
The first thing that you need to think about is how your table top heater is powered. Most are going to be gas powered, but there are some models that are powered by electricity. The main benefit to having a gas powered heater is the flexibility that you are going to have in where you can position your tabletop heater. Obviously, you are probably going to want to position it on the top of your patio table, but your table may not be close to mains electricity! However, with gas heaters you are going to need to make sure that you are stocked up on fuel, which can work out more expensive and time consuming in the long run. Not only this, but electric models are usually going to have a halogen heating element, turning your table top heater into a light as well as a heater! Not just this, but we found that some of the electric heating elements can last for over 5000 hours!
If you opt for a gas powered table top heater then make sure to check the type or types of gas that it is going to be compatible with. The two main types that you will find are propane or butane which are both fuels that are relatively cheap and easy to purchase. We especially like table top heaters that are going to be compatible with both as this will just offer you even more flexibility when you are looking at which to purchase. It is important to also look at how you connect your heater to the gas with the heater being placed on your table – you definitely don't want a gas pipe trailing across your table if possible! Some table top heaters come with long hoses over 6ft in length…the idea is that you can then send this down through the parasol hole in the centre of your table (if you have one) and to a gas canister a small distance away/under the table.
TOP TIP: If you do decide to go for an electric powered model then make sure to check the length of cable that comes with the heater as this will help to make your table top heater almost as portable as the gas models.
Heat
The next thing you need to look at is the power that your heater is going to be able to emit. You also need to consider this in relation to the size of table that you are planning on positioning your heater on. For example, a larger table will have a greater distance between you and the heater (if it is positioned in the middle of the table) so you are going to need a model that offers more kw as the heat will then spread over a greater distance. We would recommend looking for a heater that is able to offer at least 3kw of energy as this will be enough for an average sized table, if you have a larger area to cover then make sure to have a minimum of 4kw of power. To help put this into perspective, a 4kw will heat up a patio space between around 4-6 metres squared.
TOP TIP: If you are wanting the best table top heater then look for one with a regulator. This will allow you to adjust the power and heat outputted from your table top heater depending on exactly what you are wanting each day!
Size and Weight
Make sure to also consider the size of your table top heater as this ranges quite considerably and is going to impact on the amount of space that they take up on the table. The larger heaters are usually going to release more heat, but this does mean that they are going to take up more space as well which will reduce the visibility and space you have on your table. The height of most table top heaters will range from around 2.5 to 4ft, usually depending on the area that they are able to heat. Most bases are more consistent in size ranging from around 40cm to 60cm. Remember although a wider base will take up more space it is going to be safer and more balanced.
When looking at the size of your table top heater, don't forget to also consider the weight of the heater. You may be planning on leaving it out over a drier spell, but chances are you are going to have to move your heater at least a few times over the year and if that is the case you aren't going to want it to be too heavy! However, there is a fine balance to make as you also don't want your heater to be too LIGHT! A heater that is too light is going to be much more likely to knock or blow over in heavy winds. We would recommend looking for heaters that are between 5 and 7 kilograms as this tends to be a happy medium weight!
Best Pick Fuel
Last update on 2021-08-26 / Images from Amazon Product Advertising API / As an Amazon Associate I earn from qualifying purchases
Safety First!
Table top heaters are fantastic things, however there are some serious safety features to look out for before you buy as accidents can happen and some of these heaters are going to get really hot – especially if they have been left on for a number of hours!
Tilt switch – Some of the best table top heaters come with an automatic off switch for if the heater tilts to a certain point. This means that if your heater gets knocked over it will switch off automatically.
Heat guards – Make sure that there are MULTIPLE ways in which you and your family are guarded from the main heating elements, whether this be metal grates or a completely covered top!
Sturdy base – The base of your table top heater is going to be an essential safety feature. The bigger the base the better the weight distribution so that your table top heater will be less likely to blow over in strong winds or be knocked over if hit.
Quick connect/disconnect – This feature is great to make your heater more user friendly, as it allows you to connect the gas quickly as easily, but we also love that it makes it much easier for you to disconnect the heater from the gas if needed!
Best Budget – Bio Ethanol Fireplace Tabletop Firebox Burner Heater
The Best Table Top Heaters Have…
Once you have decided on the fuel type, size and safety of your table top heater, there are always going to be some extra features to look out for if you are planning on using your table top heater regularly, or maybe you are just wanting the best value for money.
Economical – This style of heater used to be known for being incredibly expensive to run but times change and there are now plenty of models that have taken this into consideration, making their heaters as economical to run as possible. Some gas models cost as little at 20p an hour to run….when you think of it like that – less than a £1 for a comfortable, enjoyable evening in your garden doesn't sound too bad!
Piezo ignition – Gone are the days where you have to mess around for half an hour trying to light the heater in the first place. If you opt for a model with a piezo ignition then you can be sure of a quick and easy start every time.
Quality metal – Make sure to opt for a table top heater that is going to be made from strong metals such as stainless steel or aluminium, this will stop your heater from being SO heavy that it is difficult to move, but give it enough weight that it is not going to be blown over in the slightest wind.
Colour – Due to the metal choices, most table top heaters are going to be silver in finish, however we did find some variations if you are wanting to mix things up a bit. We found some heaters with a copper finish, which will really make your heater stand out. Others have a plastic finish over the base and body which will come in black or green if this is more to your taste.
Protective coating – If you are wanting to get the best value for money and a table top heater that is going to last then look out for one with a protective coating. This will help to prevent rust and weather damage if your heater is left outside through the summer months.
Regulator included – Not all models are going to come with a regulator, which you may need depending on the power source that you are planning on using and it's location. These do only cost a few pounds but it is still worth checking if it's included.
Cover – If you are wanting to get the best value for money from your table top heater then look to see whether it comes with a cover. This will massively help to keep your heater protected from the worst of the weather and will save you having to store it away after EVERY use!
Reflectors – If you are wanting a little heat to spread as far as possible then look out for heaters that have large reflectors. This will help to disperse the heat more evenly around your outdoor space.
Best of the Rest
Sale
Last update on 2021-08-26 / Images from Amazon Product Advertising API / As an Amazon Associate I earn from qualifying purchases
Sale
Swan Al Fresco SH16330N Portable Patio Heater, Anodized Aluminium Alloy Frame, Carbon Fibre Heating Elements, Tip Over Safety Switch, IP44 Approved, 1600 W
Feel instant warmth with this powerful 1200W portable patio heater. Ensures you and your guests are always kept warm and cosy, day and night, wherever you're relaxing. Designed with a highly efficient carbon fibre heating element and a highly rated aluminium reflector, it distributes heat evenly to provide optimum heating for any patio or outdoor space.
A 360-degree tip-over safety switch ensures you and your guests are always kept safe. The automatic turn-off feature provides peace of mind that if the heater is ever knocked or blown over, it'll switch off instantly, preventing you or your guests from being hurt, or any surrounding objects being damaged.
IP44 approved, meaning this patio heater is robust, waterproof and can withstand any weather conditions. No need to rush inside or cover it over at the first sign of rain, or when the temperature starts to drop, this handy portable heater will keep you warm and cosy whatever the weather.
Sleek, stylish, yet highly effective. Part of Swan's al fresco range of patio heaters which are the perfect addition to gardens, patios, terraces, outhouses, decking areas and for use in outdoor dining areas of bars, cafes, hotels and restaurants. With Al Fresco, you and you guests can celebrate, dine, or simply relax, long after the sun goes down, whatever the weather.
This portable patio heater is incredibly versatile, it's compact, lightweight and comes with a built-in handle making it easy to move it around wherever and whenever you want. It can be placed wherever you need it up high or down low, on top of a table, underneath it or on the ground. A generous 1.8 metre power supply cord means you're not limited to placing your heater right next to a power source and can move it around with ease.
Last update on 2021-08-26 / Images from Amazon Product Advertising API / As an Amazon Associate I earn from qualifying purchases
Last update on 2021-08-26 / Images from Amazon Product Advertising API / As an Amazon Associate I earn from qualifying purchases
Frequently Asked Questions
What warranty comes with a table top heater?
Most table top heaters are going to come with a warranty ranging from 3 to 5 years. We wouldn't recommend choosing a heater with a warranty any less than 3 years as this suggests that the build quality may not be at the standard you deserve!
How can I maintain my table top heater?
The best way to keep your table top heater looking like new is to keep it stored in a dry, damp free place when you are not using it. But, there are other things that you can do as well, such as wiping down the surfaces (when cool) and maintaining it with a rust protection to avoid your table top heater developing rust over time.
Is a table top heater waterproof?
Almost all table top heaters are going to offer SOME level of waterproof protection, but it is rare to find one that isn't going to suffer from wear if it is left outside all the time in unsuitable weather conditions. Most manufacturers will identify the rating of it's waterproof capacity and you want to look out for a rating of at least IP44 which means that it will be fine left outside but should be brought in if it rains. You will need a rating of IP45 or above if you are wanting it to survive being left outside in rain showers.
Performance

Features

Ergonomics

Value