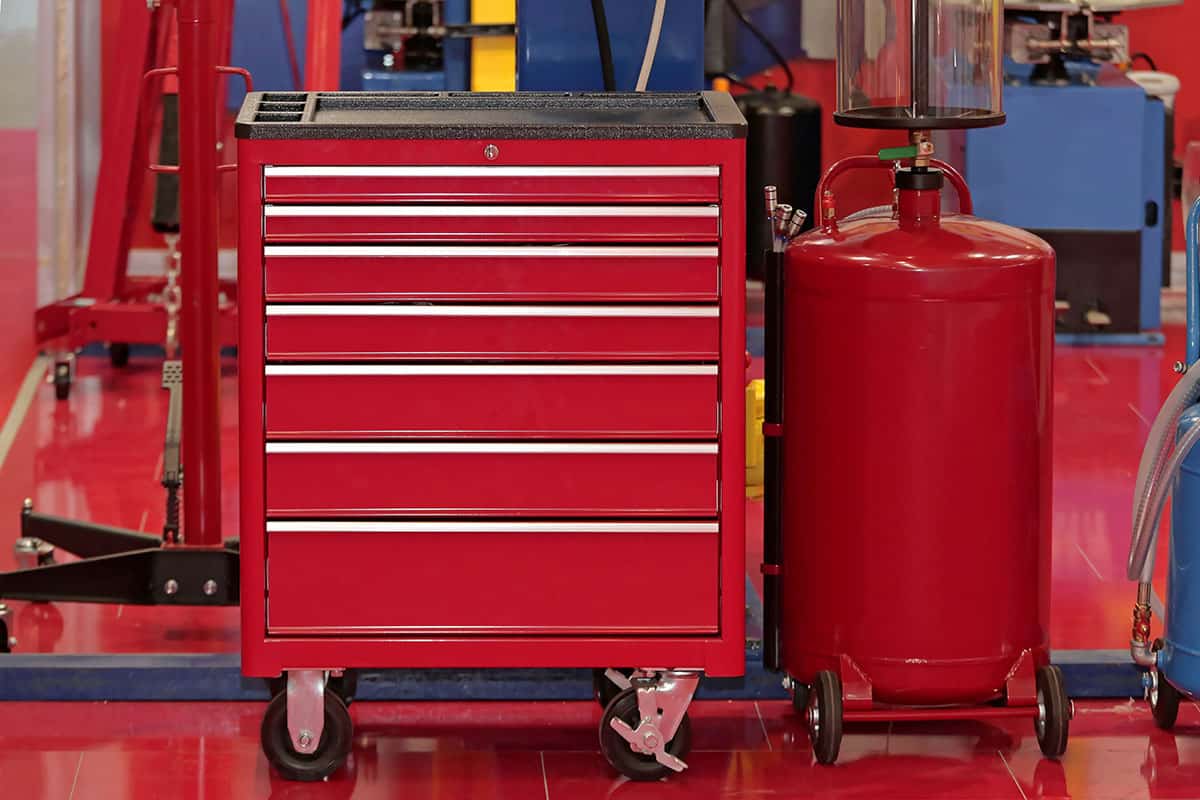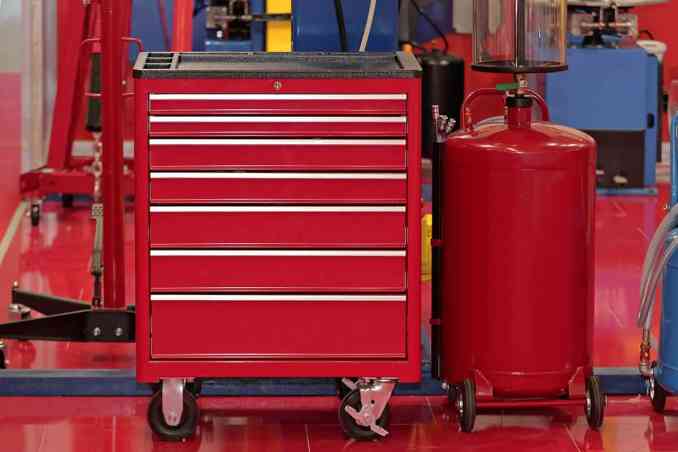 If you are someone that has a number of tools lying around and are used to completing a variety of DIY jobs then you will understand the importance of having a way to organise your tools. A tool chest will not only keep your tools safe, organised and in one place, but will also make it much easier to find what you are looking for whilst you are working, saving you time which you can then use to actually get the DIY job done! Not only this, but if your tools are left overnight in a workshop or shed, then it can be important to have a tool chest to keep them safe and avoid them being stolen!
The only problem with tool chests are the vast amounts that are available on the market! It can be near impossible to know which is the best option for you to purchase, and which is going to be right for all of your tools, plus for wherever it is going to be kept! We have created this article to help you purchase the best tool chest on the market so that you can get on with the job at hand instead of worrying about what you are going to do with your tools in the process.
Only Got 5 Minutes?
Sick to death of losing that one ratchet that you need to get the job done? Fed up of leaving your tools clean and ready to go, to come back to them covered in dust from another job that you have completed? Maybe you've even had your tools stolen and feel it is time to keep them safe and secure? If any of these sound familiar then keep reading – this section of the article is filled with all the key information that you need to make your purchase, plus we have recommended some of the best tool chests for sale at the moment!
Featured Tool Chests
Last update on 2022-05-20 / Images from Amazon Product Advertising API / As an Amazon Associate I earn from qualifying purchases
Why trust us?
At ToolsReview, we pick individual products, ranges or whole categories of tools and spend hours pouring over technical information, manuals and forums to find out everything you could possibly want or need to know about the products.
We bundle all that information into a buyers guide so you can make an informed decision based on your needs without doing the legwork.
We pride ourselves on being independent and objective – if we don't like a product we'll tell it as it is.
Tool Chest Features
Here are some of the main tool chest features that we would recommend you consider before making your purchase!
Size
One of the most important things that you need to consider when purchasing a tool chest is the size that you are looking for. This is important not just because of the tools that this is going to impact on you being able to store, but also because of where you are hoping to keep your tool chest! We would recommend looking at the majority of the tools that you own (Rather than the biggest) and opt for a tool chest that is going to be able to store these with some space to share.
If you simply look at your biggest power tools then you are going to need a CONSIDERABLE amount of space for your tool chest, which may just not be practical. Obviously, if you are lucky enough to have such a large workspace, then opting for a larger tool chest that is going to be able to hold all of your tools is the way to go, but this just isn't always possible for most DIY'ers.
Material
The material of your tool chest is going to massively determine how durable and long lasting your tool chest is, plus how capable it is of protecting the tools that are on the inside. Most tool chests that you find will be made from either plastic or steel. Plastic models will usually be cheaper and lighter, so are better for if you need to move your tool chest between jobs or are working on a budget.
However, they will be less sturdy and usually be able to carry lesser weights than the steel models. Not only this, but plastic models can be easier to break into if they do not have reinforced locks etc, so if this is the reason for your purchase then you may be better investing a little more for a metal model!
Steel tool chests are going to be longer lasting and more hard wearing than plastic models, but they will also be heavier, so potentially less portable than plastic models. It is worth looking for models with coated steel, as these will give that "new" look for longer and will be easier to clean and maintain. However, they do tend to come with a steeper price bracket, so this is worth considering before making your purchase.
Loading Capacity
This is the weight of tools that the tool chest will be able to hold, as it is not just space that you need to consider but also the weight of your tools combined for whether they will be too much for your tool chest!
There are two figures that you need to look at when purchasing a tool chest – the overall loading capacity and the loading capacity of individual shelves. These two numbers will help to give you an idea of whether the tool chest is going to be able to hold the tools that you want it to safely and avoiding damage!
The individual drawer loading capacity will range from around 25 lbs all the way up to 100 lbs, with the overall loading capacity depending massively on the size of tool chest that you opt for!
Design
There are many different designs of tool chests available depending on the types of tools that you are going to be storing and also just depending on personal preference. We personally prefer tool chests that can offer differing sizes of drawers, as it is rare that all of your tools are going to be the same size – however this can mean that you end up with some smaller drawers that are no use to anyone, which is frustrating and something to watch out for!
We feel it is well worth looking out for full length slide drawers, as these will be able to be pulled out all the way – no more reaching to the back of your tool chest desperately hoping to lay your hands on the right tool!
Most tool chests will have a top tray that is easier to access (for all your most used tools) – although it can mean that you will compromise on space in lower drawers we prefer models that have a deeper set top tray, as you can be sure that it is going to hold your most important tools!
Portability
Portability may not be important to you when you are looking for a tool chest. If you know that your tools are only going to be stored in one place and this is the only place that you are going to use them, then your money can be better spent on other features. However, we feel that there are so many times when you need to move your tools to different places – whether it be just around your workshop, or to different rooms in the house, or even to different buildings altogether.
If this sounds more familiar then you are going to need aspects of your tool chest to be portable. This can be achieved in different ways:
High quality wheels – Opting for a model with wheels on the base will allow you to move your tool chest easily around your workspace, without having to do any heavy lifting or reorganising of tools. Look out for the models that have sturdy brakes on the wheels so that the tool chest can be kept in place once you have got it where you want it.
Handles – All tool chests will come with handles, but it is the design and location of these handles that makes or breaks whether a tool chest will work for you! Look for soft grip handles, plus ones that are placed higher in line with the body to make for easy moving and avoid strain on your back and neck.
Security
One of the main reasons why people purchase tool chests is if they have been burned in the past and had their tools stolen – or if they are wanting to avoid this from ever happening in the first place!
We all know how much tools cost, and by the time you have amassed enough to complete DIY jobs and other projects, you will have a fair amount of money just laying around your workshop or garage! If you are willing to spend all this money on your tools then it makes sense to pay to keep them safe!
There are various security options that you can opt for when purchasing a tool chest, but the best one that we have found is a central locking system. Reasonable quality, central locking systems will be hard to break but easy and fuss free for you to get into, using a key.
This type of security system will also save you from having to unlock each individual drawer to get to different tools, which can be time consuming and frustrating!
Some other security methods that we found on the best tool chests include:
Lid-activated locking system – drawers won't be able to be opened unless you unlock and lift the lid first.
Hasp and staple mechanism allowing you to add your own padlock – You may feel like you are being cheated if you purchase a tool chest that doesn't actually lock, but this can actually be a better option, as it allows you to purchase a really heavy duty padlock, to be sure that your tools are kept safe.
Fancy Features
The plus side to there being so many tool chests on the market is that they have all had to find different things to make them stand out from the crowd! This means that there are some really fancy features out there on tool chests that are well worth looking out for!
Recessed handles – This will help to ensure that your tool chest will be able to fit snugly in your workshop, whether this be next to other tool chests, worktops or bigger pieces of machinery. The handles can then be pulled out when you are wanting to move your tool chest.
Protective liners – Some tool chests have protective liners in the drawers. This means that you can throw your tools in after use and know that your tool chest will still come away looking like new!
Ball-bearing runner drawers – Making it smooth and simple to open and close your tool draws (no more drawers getting jammed and having to be prised out!
Integrated cord wrap system – perfect for if you are working with corded power tools and helps to keep the cord neat and out of the way!
Pocketed top tray/lid – helps to keep screws, nails and other fastenings safe whilst you are working
LED Lights – Tool chests with LED lights in the drawers allow you better visibility when working.
Power strip – Allows you to connect your tools to the tool chest itself for recharging or just to generally be wired into the tool chest for a neat working environment.
Gas struts – If opting for a particularly large tool chest, consider one with gas struts to make getting into the tool chest even easier!
Our Recommendations
Best Pick Tool Chest
Sealey AP2200BB 6 Drawer Topchest & Rollcab
Last update on 2022-05-20 / Images from Amazon Product Advertising API / As an Amazon Associate I earn from qualifying purchases
Best Pick Countertop Tool Chest
Sealey AP22509BB Topchest 9 Drawer
Last update on 2022-05-20 / Images from Amazon Product Advertising API / As an Amazon Associate I earn from qualifying purchases
Best Pick Rollcab Tool Chest
Sealey AP22507BB Rollcab 7 Drawer
Last update on 2022-05-20 / Images from Amazon Product Advertising API / As an Amazon Associate I earn from qualifying purchases
Honourable Mentions
VonHaus Large Mobile Storage Station
Last update on 2022-05-20 / Images from Amazon Product Advertising API / As an Amazon Associate I earn from qualifying purchases
US PRO TOOLS Roller Tool Cabinet
Last update on 2022-05-20 / Images from Amazon Product Advertising API / As an Amazon Associate I earn from qualifying purchases
Frequently Asked Questions
What is the best portable tool chest?
The best portable tool chests are ones that are made from high-density structural foam or polypropylene resin. This will keep the tool chest lightweight whilst still enabling it to protect all of your tools whilst you are travelling. Also look for features such as good quality castors and "suitcase style" handles that will make for easy portability but can also be packed away once your tool chest is in the right place!
Do tool chests come with a warranty?
Yes! You should always purchase a tool chest that comes with a warranty – some tool chest manufacturers even offer a lifetime warranty (this will be limited to the materials failing but it is still a good assurance of the quality that you are purchasing). We would recommend opting for a warranty of at least 3 years!
How many keys come with my locking tool chest?
You will usually find that you get 2 or 4 keys with your locking tool chest. We would always recommend making sure that you have at least 2 spare keys hidden away somewhere, as tool chests can be very difficult to break into if you happen to lose the key!