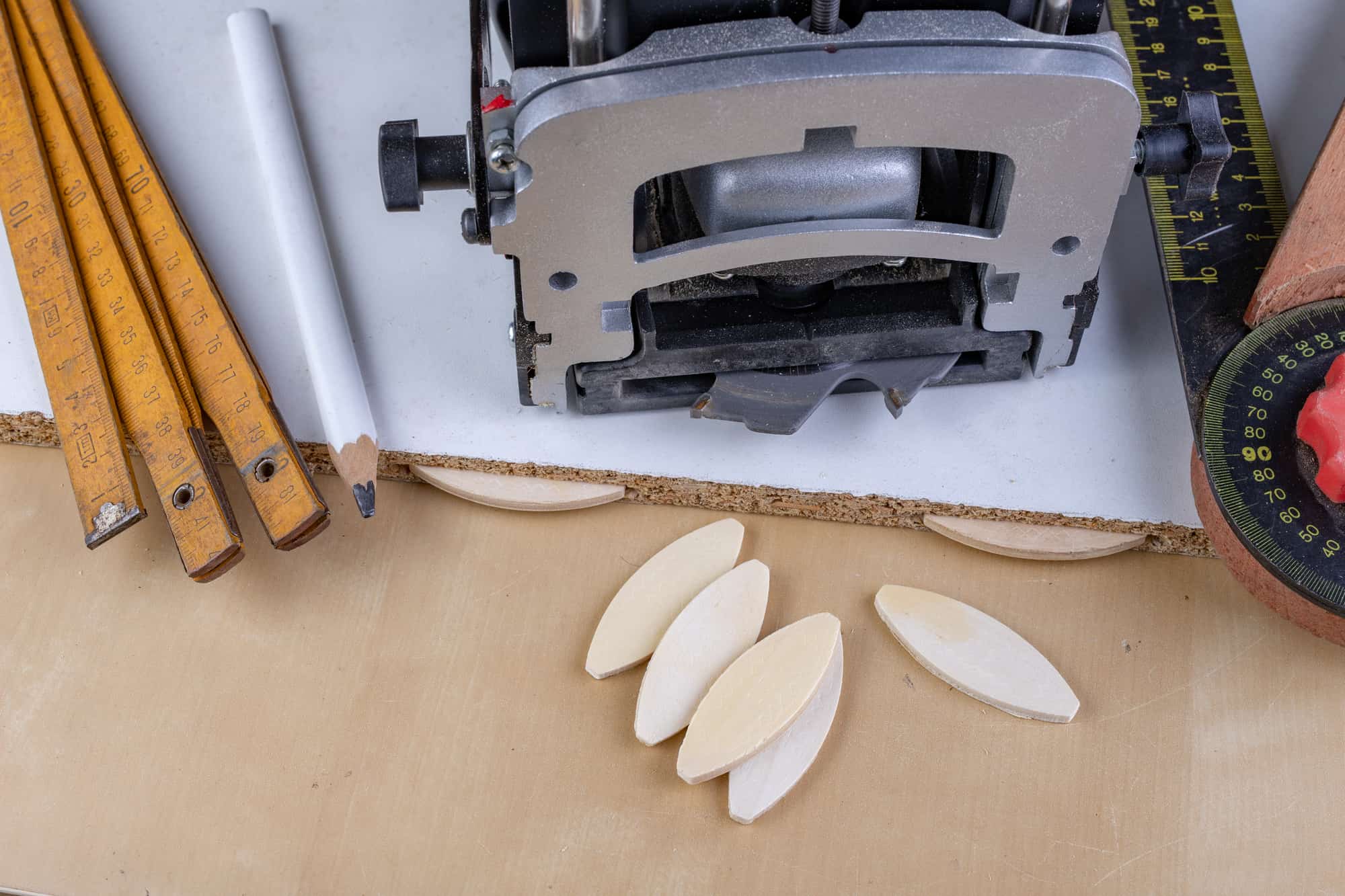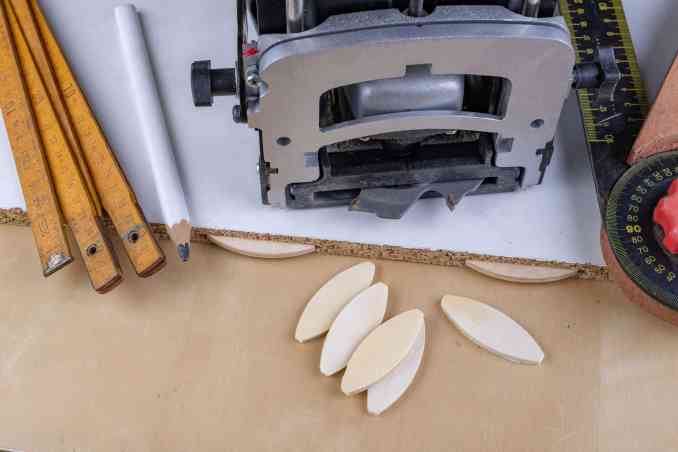 Anyone who completes woodwork, builds furniture or any other type of carpentry will be used to the frustration of trying to get the neatest but also the strongest joins in the jobs that they are completing. Biscuits are only very small pieces of wood but the extra strength that they can provide will ensure that furniture you build will be built to last, particularly if you are working into end grain wood, as this is considerably weaker than the face grain. Not only that, but biscuits cuts are the best way to create an invisible joint, so if this is the look that you are going for then you are going to need a biscuit joiner!
A biscuit joiner is used to create the indents into two pieces of wood that you are wanting to join together. The purpose of this is to then insert a "biscuit" into the cut (with glue) to form a strong bond between the two pieces of wood. As most biscuits are in standard sizes, the main benefit of a biscuit joiner is the speed and also the accuracy in which these cuts can be created as I can be preset depending on the size of material and join that you are working with.
If this sounds like just what you need, then keep reading for all you need to know to purchase the best biscuit joiner for the job!
Best Pick – Makita PJ7000 240 V Biscuit Jointer
Makita PJ7000/2 240V Biscuit Jointer Supplied in a Carry Case
Easy to grip slim motor housing and ergonomic barrel grip
Top handle with flat shape on either side surface for excellent tool control
On/off slide switch
6 pre-set cutting depths with one touch stops for 0, 10, 20 and most common biscuit sizes
Large and easy to operate cam locks for fence adjustments
Last update on 2021-08-30 / Images from Amazon Product Advertising API / As an Amazon Associate I earn from qualifying purchases
Only Got 5 Minutes
If you are fed up of struggling to form strong joints in your woodwork projects, or are used to spending hours at a time chipping and cutting bits out of wood (and spending hours doing so!), then you need to read this part of the article! All the most important information you need to buy a biscuit joiner as quick as possible!
Biscuit Joiner Features
Here are some of the main biscuit joiner features that you need to watch out for when making your purchase.
Fence
The fence is used for varying the angles for different joins and pieces of wood that you might be working on. Most biscuit joiners will be designed to work with ¾ inch of wood (the average width of plywood) but a good quality fence will mean this can be adjusted for different styles of wood. The best option to opt for when purchasing is a fence that is controlled by a rack and pinion mechanism (dial) that will lower or raise the fence as these tend to be more sturdy and accurate. This adjustment will also move the blade and ensure that it is in the centre of the piece of wood that you are working with. This is important because if it is off centre then you will find that the biscuit joint is not as strong when working with smaller pieces of wood.
The ability to tilt your fence is going to increase the variety of cuts that you are able to complete and the angle of joints that you are able to create. Many will offer tilts from 0 degrees to 135 degrees.
Blade
The blade is – obviously – the part that is going to create the cut into the piece of wood. Most will come with a standard 4" blade which is designed to cut standard holes for standard biscuits that you can purchase. However, there are various sizes of "standard" biscuit available that you can use, so it makes sense that you are going to need a blade that is able to work at different sizes as well! Look out for a biscuit joiner that has the option of changing blades to put in a smaller 2" blade for those smaller biscuits that you might be working with.
Not just this, but many models come with a dial on the side for the size of biscuit you are working with and this will alter the size of blade that is then exposed and pushed into the wood. The purpose of this feature is to allow for a greater variety of holes to be cut depending on the size of job and wood that you are working with!
Power
Almost all biscuit joiners are going to be powered by electric – they are relatively low duty tools so aren't going to need the additional power offered by air or gas! However, you do still have the choice of opting for a corded or a cordless option.
Corded biscuit joiners will usually offer you more power for the same amount of money, and they will be lighter as you are not having to carry around the battery pack as well as the tool! Not just this, but you can be confident in the knowledge that they will be ready to work whenever you are – which is great when completing woodwork as jobs tend to go differently than what you first planned! The one thing to bear in mind if you opt for a corded model is the length of power cable that comes with the biscuit joiner – the longer the power cable the more flexibility you will have in the space that you can work which can prove crucial if you are working around a larger piece of material!
Your other option is a cordless biscuit joiner. The cordless option will give you much more flexibility in the amount of places that you can work, as you will be able to take your tool LITERALLY anywhere you need! However, you need to bear in mind that you will be restricted to the amount of time that you are able to work for before the battery dies – although we found that most jobs were able to be completed on one battery life. It is also worth considering that although you don't have the issue of the wire getting in the way on more "alternative" jobs, you are going to have the additional weight to lug around if you are working vertically or on another angle with your biscuit joiner.
TOP TIP: If you do decide to opt for a cordless model then watch out for ones with lithium-ion batteries as these will be faster charging and longer lasting!
Best Budget – Einhell TC-BJ 900 Complete Biscuit Jointer
Motor
Now that you have hopefully decided on the power source that you are going to opt for when making your purchase, you need to decide on the size of engine that you are going to want to power! If you know that you are going to be working with harder types of wood then it is important to opt for a decent sized motor that is going to be able to create cuts in whatever material you throw at it. Although, to be honest, we would always recommend going for the most powerful motor your budget will allow, as this creates greater flexibility in the work that you are completing, will get the cuts done in no time, and can also improve the finish because you know that the blade is easily going to be able to cope with the job asked of it!
Motors that we found ranged from around 500watt up to 900 watt, but we would suggest that anything over around 700 watt should be up to the task.
Rotations Per Minute
This is often affected by the power that is offered from the machine. Many manufacturers will advertise one RPM on their product, but then when working with harder pieces of wood, the RPM drops considerably. This means that it is important to find a balance between a high RPM and a decent motor size if you are wanting the best quality machine! Look out for models that can offer around 10,000RPM – with a decent amount of torque behind the machine to support this RPM.
Weight
The weight of your biscuit joiner is going to have a big impact on the overall usability of the tool. It is important that the tool is portable between the jobs that you are completing – or even just for when you are moving between storing it and getting it ready on your worktop! Not only this, but there may be times when you are working with larger pieces of wood and need to hold your biscuit joiner vertically to be able to create the slots that you need, this is going to be much harder to do if your machine is heavier.
Biscuits
Trend BSC/MIX/100 Number 0, 10, 20 Beechwood Joining Biscuits Variety, Pack of 100, Brown
DIE-CUT BEECHWOOD: These biscuits expand when in contact with a woodworking adhesive such as PVA glue for a solid joining
BISCUIT TYPE: 0, 10, and 20
COMPATIBLE USE: Ideal for strong, fast, and accurate jointing of hard and soft woods, plywood, and composition board
INCLUDES: 30 x No.0 biscuits; 30 x No.10 biscuits; 40 x No.20 biscuits
Last update on 2021-08-30 / Images from Amazon Product Advertising API / As an Amazon Associate I earn from qualifying purchases
Additional Features
Now that you know the main things that you need to look out for when purchasing a biscuit joiner, here are some of the additional biscuit joiner features that we would recommend considering. They aren't crucial for your purchase but will definitely make or break your experience, and impact on the quality of finish that you are able to produce.
Guidelines on the machine will show where the blade is going to cut so that you can line up your piece of wood accurately. We would recommend opting for models that use grooves to create these guidelines so that they don't wear off with frequent use.
Handle style – This really comes down to personal preference but there are two main types of handle that you can choose from; a barrel grip or a D-handle. Barrel grips tend to be more popular as they are easier to get a grip of so offer increased control, however, D-handles are arguably easier for beginners or anyone who struggles with their grip.
Case – If you are anything like us then you like to know that your tools are safe when not in use. If this is the case then look out for a biscuit joiner that comes in a sturdy plastic or metal case. This is particularly important for cordless options that are going to have other parts that come with them. Believe it or not, some biscuit joiners on the market actually come with no protective case – which is a real downside in our opinion!
Dust port – Some of the best biscuit joiners will come with an additional dust port. This is a fantastic feature as it will save you from having to regularly clear up dust and debris from your workspace, but will also help to ensure that your tools last longer, as they will not be collecting debris in unwanted parts of the machine!
Plate – This is particularly useful for if you know that you will be working with larger pieces of wood or are a beginner to woodwork projects. A plate will help to keep the materials that you are working with in position, making it easier to get a neat and professional finish. But not just that, it will also allow you to work with bigger pieces of wood for those larger projects.
Best of the Rest
Sale
Silverstorm 128999 - 900W Biscuit Jointer 230V
Durable aluminium fence with angle range of 0 - 135°
0 - 19 mm adjustable cutting depth range
Clear, easy-to-read dials and integrated lock-off button
Use on hard and soft woods to create quick and simple woodwork joints
Ideal for use on boxes, mitres, edge banding, cabinet frames and face frames in furniture and cabinet making projects
Last update on 2021-08-30 / Images from Amazon Product Advertising API / As an Amazon Associate I earn from qualifying purchases
Triton TBJ001 - 760W Biscuit Jointer 230V
Powerful 760 W motor
Cast-aluminium base, fence and drive housing
0-90 degree angle and 0-40 mm height adjustable fence
Compatible with #0, #10, #20 and S6 biscuits
Includes blade, pin spanner, hex key and dust bag
Last update on 2021-08-30 / Images from Amazon Product Advertising API / As an Amazon Associate I earn from qualifying purchases
Frequently Asked Questions
What warranty will I get with a biscuit joiner?
Warranties for biscuit joiners vary quite considerably from around 1 year up to 5 years. Some manufacturers will offer extended warranties if the product is registered online, so this is definitely worth considering. If you have opted for a cordless biscuit joiner then remember that the battery pack will often have a different warranty to the rest of the product.
What is the difference between a plate joiner and a biscuit joiner?
Both of these tools are actually the same thing just with different names! The biscuit and plate part of the name refers to the "disc shaped" pieces of wood that join the two grooves together on separate pieces of wood. Some people call them plates, others call them biscuits, which is where the two names for the identical corresponding tool comes from!
How many biscuits do you use in a piece of wood?
The standard rule for the amount of biscuits to use is one biscuit every 6 inches. This obviously depends on the size of the joint that you are working with though, as some will need you to put the biscuits closer just so that you can be sure that you are using more than one to make the joint as strong as possible!
Performance

Features

Ergonomics

Value