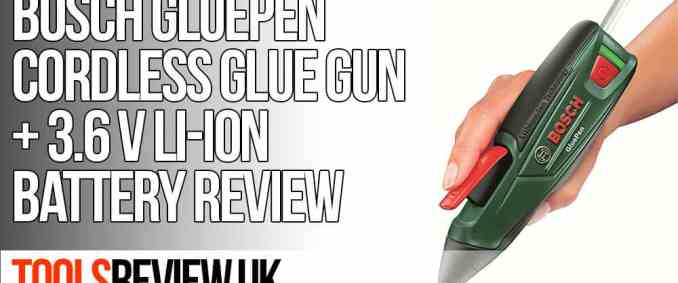 Bosch Glue Pen Cordless Glue Gun Review
The Bosch Glue Pen Cordless Glue Gun is a completely cordless, lithium battery powered glue gun.
Sale
Last update on 2022-04-17 / Images from Amazon Product Advertising API / As an Amazon Associate I earn from qualifying purchases
As with all glue guns, the Bosch Glue Pen is designed to be used on a variety of porous and nonporous materials such as:
Cardboard
Glass
Tiles
Wood
Metal
Stone
Paper
Leather
Fabric
Cork
Plastic
We found in each case that the bond between the materials was strong using the supplied glue sticks and in the case of porous materials such as fabric and cork, much stronger.
Your milage will vary depending on if you use the official Bosch glue sticks, or cheaper 3rd party ones.
While ideal for general repairs to softer materials, if you are looking for a good, solid, lasting bond then you may want to consider a 2 part epoxy or basic rivet set when working with metal.
The benefits
The ergonomics of the Bosch Glue Pen Cordless Glue Gun are superb. It is designed to be held like a pen whereas most normal glue guns are operated in a pistol style grip. This allows for precise handling of the Glue Pen, reducing mess and wastage and increasing accuracy.
The Bosch Glue Pen heats up to operating temperature within its stated 15 seconds and the heating is consistent with no cycling like in cheaper glue guns.
The Glue Pen features an "automatic glue retraction system" where the glue is pulled back through the nozzle when not in use – this means that you won't get any unwanted dribbles or drips of glue marring your work surfaces.
The battery life of the supplied 3.6v lithium-ion battery is also good – we played around with the Bosch Glue Pen for more than an hour until we had worked through the supplied 4 glue sticks and the pen still had plenty of life left in it.
The Bosch Glue Pen Cordless Glue Gun is a very handy addition to the home and its unique design and features make it very accurate and easy to use.
Glue Pens are useful for a host of tasks, but one of our favourites is intricate detailed tasks. We have also reviewed the Dremel Multitool which complements this Bosch Glue Pen perfectly!
Sale
Last update on 2022-04-17 / Images from Amazon Product Advertising API / As an Amazon Associate I earn from qualifying purchases
Performance

Features

Ergonomics

Value