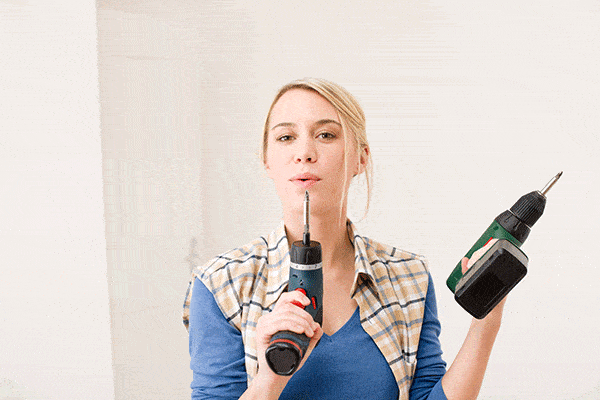 The decision to buy a power tool is never an easy one, particularly when you have so many tools on the market that do similar (if not the same job) but just with different names. Cordless drills and electric screwdrivers are two tools that are very similar in some ways, but also very different in others, so knowing which to purchase can be a difficult task! Selecting the right tool is important not just to save money, but also to save the time, effort (and sometimes frustration) when you are completing DIY around your home.
Have you seen our Best Cordless Drill Buyers Guide?
Our article will explain the differences between the two and then compare them both, to help you work out exactly what tool is going to be right for you, depending on the jobs that you are completing around your home!
What Is The Difference Between Cordless Drills and Electric Screwdrivers?
The first thing that is important to consider is the difference between cordless drills and electric screwdrivers, as without this it is impossible to compare them and decide which is going to be right for you.
The main difference is that a cordless drill can both drill in screws and also create holes in walls in preparation for these screws being fitted. However, an electric screwdriver will not be able to drill holes as it has too slow of a rate of rotation, so its sole use will be driving screws into pre-created holes. Although this is the main, obvious difference between the two, there are many other features that will determine which tool is going to be right for you to purchase.
Sale
Bosch Home and Garden PSB 1800 LI-2 cordless combi drill (2 x batteries, 18 Volt System, in case)
The PSB 1800 LI-2 cordless combi drill – power and comfort for drilling and screwdriving operations
Optimum power for every task 3-in-1 system that can be used for screwdriving, drilling and impact drilling. It also features 20 torque settings for screwdriving in different materials
Suitable for different materials For drilling and screwdriving in wood and metal or impact drilling in masonry, Drilling in metal 2.5 m/s²
Easy screw and drill bit changes The cordless combi drill features a 10 mm shank and a single-sleeve drill chuck
Power for ALL 18 V The battery supplied is compatible with all tools within the green Bosch Home & Garden 18 volt system
Last update on 2022-03-26 / Images from Amazon Product Advertising API / As an Amazon Associate I earn from qualifying purchases
Cordless Drills
Cordless drills are high powered tools with a lot of torque and speed. This means that they will be able to work with a variety of materials and will be able to drill holes into materials as well as screwing screws into materials. Many cordless drills actually have the power to screw drills into walls without any pre-preparation of creating holes!
However, this large amount of power also means that cordless drills will be heavier and bigger than electric screwdrivers, and also (more often than not) more expensive! Most people also find that they are harder to use and control, with this taking some practice before you completely get it right!
The cordless drill is a very versatile tool, as it will come with a gripping chuck to hold the bit, which means that the tool is essentially as flexible as the number of bits that you have. It can be used as an electric screwdriver as well as a drill (providing you have the right attachments), meaning that it can be used for a wide variety of jobs in your home. But it is important to remember that they often have settings meaning that you will only be able to tighten right-handed screws and loosen left-handed screws, which isn't always going to be what you are wanting, so then you would have to revert to a traditional screwdriver!
Sale
Hi-Spec 3.6V 1300mAh Rechargeable Li-ion Battery Cordless Electric Power Screwdriver with 4 LEDs. Including 102 Piece Set of Hex, Torx, Phillips, Slotted, Pozidriv, Tamper Proof and More Insert Driver Bits in a Neat Aluminium Shell Carry Case
◆ POWER SCREWDRIVER & 102 BIT SET: Fear no encounter with a screw or fastener. Stored and neatly labelled in a smart carry case are the most commonly found types and sizes of insert driver bits for screws and fasteners found in furniture, fixtures and fittings, toys, gadgets, electrical devices and appliances. Including the types for manufacturer's non-removable or tamper proof fasteners
◆ POWER DRIVER FEATURES: It's single speed of 200rpm is controlled by a large trigger, with a forward and reverse rotation sliding switch conveniently located just above, for 3.5Nm of driving torque. 4 LED lights illuminate the work place so it is always lit and clearly visible. A built-in magnet inside the 1/4" hex chuck keeps the bits firmly in place and allows for quick bit change out
◆ 1300mAh Li-ion BATTERY: The rechargeable Li-ion battery charges (charger included) in 3 to 5 hours with a charging LED for indication, has no battery memory effect and is lightweight for its electrical capacity size. With no cumbersome cords to tangle or get in the way, this battery produces upto 30 percent more longevity than a Ni-Cad equivalent for DIY repairs and maintenance
◆ SCREW-DRIVING & FASTENING: The 102 driver bit accessories are all heat treated Chromium Vanadium rust resistant steel. All the most commonly found Hex, Slot/Flathead, Torx/TorxPlus, Phillips, Torq, Pozidriv, Tri-Wing, Robertson/Square, Pin Spanner and Spline Flange, with tamper proof variations, of screws and fasteners. NB. Sizes and types vary greatly across devices and should be checked for compatibility first
◆ SMART ALUMINIUM CASE: All items are stored in a smart aluminium-shell lunch box style case with black sponge lining that firmly hold the power screwdriver and bits with clear labelling. Its compact dimensions, 21cm x 15cm x 9cm, and metal locking latch keep it firmly closed for easy carry or storage, making it a practical DIY time saving addition around the home or office
Last update on 2022-04-11 / Images from Amazon Product Advertising API / As an Amazon Associate I earn from qualifying purchases
Electric Screwdrivers
Electric screwdrivers are lighter and more compact than cordless drills, meaning that you will be able to take them anywhere with you and use them in the smallest of places. This lightweight tool is also a lot easier to use than a cordless drill so is perfect for those new to DIY, or people who just want an easy life!
However, with this lightweight design comes less torque (which means less speed and horsepower) so an electric screwdriver will struggle to do any drilling of holes – unless it is a particularly powerful model working into very softwood! The benefit of these tools with less speed means that the tool will be easier to control and most often cheaper than cordless drills.
Electric screwdrivers won't have a chuck, just a socket that accepts screwdriver bits, which reduces the number of jobs that they will be able to complete. But, they will almost always have a reverse function and different speeds so can work with various different screws and in many different ways.
Our Overall Opinion
It is difficult to say which tool is going to be right for you. An electric screwdriver is a perfectly adequate, relatively cheap, reliable tool that is perfect for any homeowner wanting to complete low-level DIY. Examples of this would include removing battery covers or plug covers, hanging picture frames, putting furniture together or completing small repairs around the home. In essence, they are handy for those situations when you would normally use a screwdriver as they are quicker and easier but still compact.
Whereas, a cordless drill is perfect for those more high powered jobs such as drilling holes, working with multiple screws and cutting holes. They will offer you a lot more power and flexibility in the number of jobs that they will be able to support you with, but to benefit from this you are going to have to be willing to pay the extra cost!
If you have the funds available then a cordless drill will (in most cases) be able to complete the jobs of both tools. However, we have to admit that they are not nearly as handy to use as an electric screwdriver, meaning that you are probably always going to find us with both tools ready for any jobs that we may need them for!
Frequently Asked Questions
Can I purchase a cordless drill and electric screwdriver in one tool?
Yes, these are most commonly named "drill drivers" and will be able to complete both tasks. However, with some, you might find that they are less powerful than some standalone models.
What is the difference in weight between a cordless drill and an electric screwdriver?
Electric screwdrivers weigh considerably less than cordless drills. You will usually find that most electric screwdrivers weigh less than a pound, whereas cordless drills will regularly weigh 6 pounds and more! This means that cordless drills are a lot more difficult to use for any great length of time and harder to work within tight spaces!