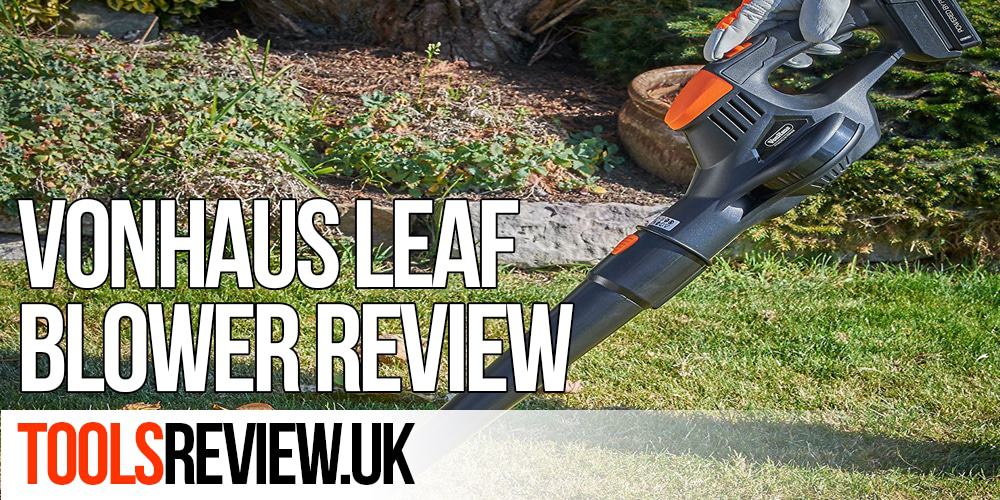 This Leaf Blower from VonHaus delivers 20V from Li-ion batteries, has amazing power of 130Mph, lasts 30 minutes and only takes 1 hour to recharge!
We have reviewed other VonHaus tools before including the brilliant Von Haus combo set in our combo tool review. They don't have the brand name price that tools from company's like Makita and DeWalt attract, nor do they have the same build quality. But for budget tools VonHaus do a fantastic job that isn't to be sniffed at. When it comes to a leaf blower VonHaus delivers again!
VonHaus Cordless Leaf Blower with 20V Max. Battery – Lightweight with Soft Grip Handle - Part of The VonHaus 20V Max Lithium-ion G Range
Powerful 20V Max. cordless leaf blower - rapidly clears up leaves and debris. Low on noise and vibration – the blower is ideal for use in residential areas
Distinctive in a black and orange colourways, the leaf blower is Powered by Primal technology – the 1.5ah Li-ion battery is fully compatible with all other products in the VonHaus 20V Max. Garden Range
The cordless, ergonomic design with soft grip rubber handle offers complete mobility and comfortable operation
Lightweight with a 1 hour charge time - one charge offers 15 minutes non-stop blowing. The blower tube is removable for convenient storage
Manufacturer 2 Year Warranty Included
Last update on 2022-03-24 / Images from Amazon Product Advertising API / As an Amazon Associate I earn from qualifying purchases
This VonHaus 20v Li-ion cordless leaf blower is a powerful leaf blower offering wind speeds of up to 130mph! All that from a device that weighs in at under 2kg! They really have created a fantastic piece of kit here and it costs less than £50. We really are blown away (no pun intended) with this leaf blower from VonHaus.
So a few things are important to us when we are looking at a leaf blower. Firstly we need to decide on where it will be used, if you are clearing a car park for a business, this isn't the tool for you. However for a domestic situation this leaf blower from VonHaus is going to save you hours of work a week sweeping up leaves and other garden dirt.
Batteries
Next up battery life, we need to make sure there is enough life to get the job done, the VonHaus 20v Li-ion cordless leaf blower offers 30 minutes per charge. That is ample charge to do the back garden, front garden and drive way of the average home. But if not the battery is fully charged and ready to go again an hour later.
Talking of batteries the battery used on this leaf blower is compatible with all of the other VonHaus 20v range of tools. So if you have any of them about the house this will mean you can even work whilst one battery is on charge.
One final thing that we feel is important when blowing leaves about in the garden is noise. If you decide to clear your garden early in the morning, late at night, or even on a nice afternoon the last thing the neighbors want is thinking that you invested in a speed boat for your pond. This leaf blower from VonHaus is just the ticket, thanks to low noise and vibration, it's perfect.
We are always impressed with VonHaus as they like to offer a 2 year warranty on their tools. Any manufacturer of any product that goes above the standard 12 months on their product says to us that they are confident in their product and are not just selling rubbish.
VonHaus Cordless Leaf Blower with 20V Max. Battery – Lightweight with Soft Grip Handle - Part of The VonHaus 20V Max Lithium-ion G Range
Powerful 20V Max. cordless leaf blower - rapidly clears up leaves and debris. Low on noise and vibration – the blower is ideal for use in residential areas
Distinctive in a black and orange colourways, the leaf blower is Powered by Primal technology – the 1.5ah Li-ion battery is fully compatible with all other products in the VonHaus 20V Max. Garden Range
The cordless, ergonomic design with soft grip rubber handle offers complete mobility and comfortable operation
Lightweight with a 1 hour charge time - one charge offers 15 minutes non-stop blowing. The blower tube is removable for convenient storage
Manufacturer 2 Year Warranty Included
Last update on 2022-03-24 / Images from Amazon Product Advertising API / As an Amazon Associate I earn from qualifying purchases
Performance

Features

Ergonomics

Value