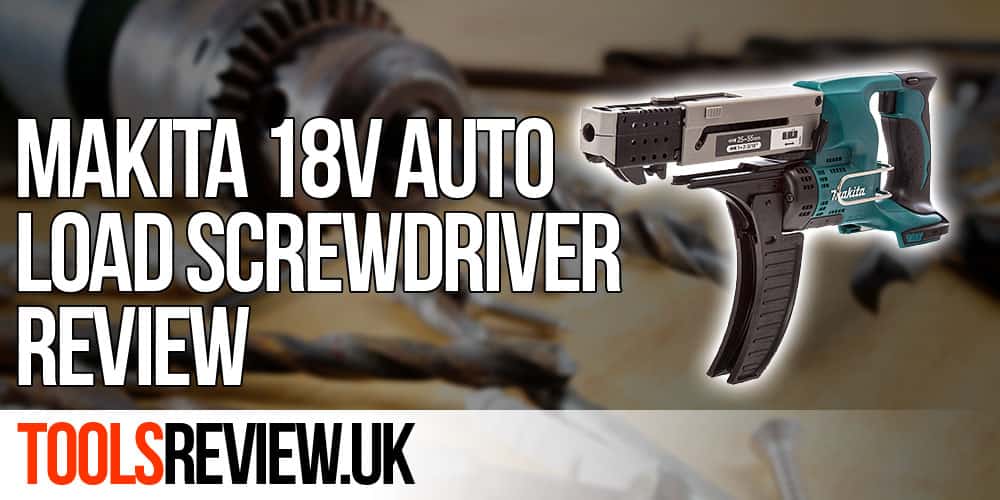 Makita Screwdriver DFR550Z Review
Sale
Last update on 2022-10-02 / Images from Amazon Product Advertising API / As an Amazon Associate I earn from qualifying purchases
The Makita Screwdriver DFR550Z is the tool of choice if you are driving fixings into timber all day long!
Only Makita can make screwdrivers that are not only efficient but also look extremely amazing. It's easy to see why it's a leading brand in the production of such tools. Due to Makita's undeniable skill in this area, we have decided to review one of its impressive screwdrivers, the Makita DFR550Z.
Features of the Makita Screwdriver
The Makita DFR550Z is an auto-feed screwdriver. Like other auto-feed screwdrivers from Makita, it comes with a host of amazing features that make it stand out from the rest in the market. Here are its most outstanding features.
Cordless
Silent clutch
Powerful motor
Anti-tilt device
Screw guide
Carbon brushes
Dustproof construction
Forward/reverse action
Ergonomic shape
Adjustable stopper base
Lock-on button
To learn more about this and other Makita auto-feed screwdrivers, you can watch the video below.
The positives
The Makita DFR550Z has several strong points. First of all, it is small, compact and weighs only 2.1kilograms. This makes it easy to carry it around with you wherever you go. Being cordless, this Makita screwdriver also eliminates any inconvenience that would be caused by tangling of extension cables.
With this screwdriver, you also don't have to worry about issues like availability of power at the worksite. Additionally, you will be happy to learn that this Makita screwdriver is compatible with Lithium-ion batteries.
These batteries are associated with longer run times and smart charging technology. They are also lighter than other batteries in the market. Another huge selling point of the Makita DFR550Z is that it has an aluminium casing which is dust proof. This helps ensure smooth sliding action.
The silent clutch of this Makita screwdriver is also something you can't ignore. It ensures not only quiet operation but also reduced wear and tear of the clutch. This ultimately contributes to the durability of this tool.
It's also worth noting that this tool comes with a screw guide which holds the screw strips in place and keeps them from tangling. This screw is easily foldable allowing for easier storage and transportation.
Another strong point of the Makita DFR550Z is its lock-on button that allows you to use the tool continuously without having to engage the trigger all the time. This tool also comes with a conveniently placed forward/reverse button that makes switching between the two modes quite easy.
Additionally, there is an adjustable stopper base inside the casing of this Makita screwdriver. This stopper base helps you choose between 7 settings based on different screw lengths of 25 to 55mm. It also provides an anti-tilt device that keeps these screws from swaying.
We also can't fail to mention the ergonomic shape and rubber grip of the Makita DFR550Z which make it comfortable to use. This reduces the chances of fatigue during long periods of use. Finally, this Makita screwdriver comes with a powerful 4-pole motor and carbon brushes.
These carbon brushes are easily accessible from the exterior of the screwdriver. This makes maintenance really easy.
The Negatives
The major concern associated with this Makita screwdriver is that we found it does tend to jam. The time saved with using an auto feed screwdriver such as the Makita DFR550Z easily outweighs the time spent clearing jams. But it is certainly a nuisence, just a bit of a case of the nature of the beast. Additionally, this tool comes with neither a battery nor a charger. You will have to buy these accessories separately.
Verdict of the Makita Screwdriver DFR550Z
Obviously, the pros of this machine greatly outweigh its cons. This Makita screwdriver is definitely a good bang for your buck. It manages to assemble all the features you would want in a screwdriver into a smaller and more compact size.
Accessories compatible with the Makita DFR550Z
Last update on 2022-10-02 / Images from Amazon Product Advertising API / As an Amazon Associate I earn from qualifying purchases
The battery pack that is compatible with this tool is the battery listed above, the BL1840 4Ah Li-ION battery. This battery takes only 36 minutes to charge and employs the use of foam cell technology.
Last update on 2022-10-02 / Images from Amazon Product Advertising API / As an Amazon Associate I earn from qualifying purchases
A suitable charger for this Makita screwdriver is the Makita 18RC Fast Battery Charger. This charger has a cooling fan and charges your battery in as short as 20 minutes. It also allows you to charge your battery before it's completely empty.
Last update on 2022-10-02 / Images from Amazon Product Advertising API / As an Amazon Associate I earn from qualifying purchases
It goes without saying that your Makita screwdriver's bits will wear out with time. The perfect replacements for your worn out bits are these Makita Auto-feed Screwdriver Bits. As their name suggests, they are compatible with all Makita Auto-feed screwdrivers
The bottom line
In conclusion, the Makita DFR550Z is a pretty good investment. It comes with features that make it accurate, durable and highly functional. It's no wonder that it excels in the execution of repetitive heavy duty tasks.
The next time you want to pursue an exciting project, be sure to grab yourself this Makita screwdriver.
Bundle offer
If you like the look of the Makita Screwdriver but don't already have a range of Makita tools in your tool collection, then it can work out cheaper buying the following. This set comes with the Makita DFR550Z screwdriver, a 3 Ah battery, charger and a tool bag. Well worth a look in our opinion.
Find the latest price on Amazon
Did you enjoy this review? Why not take a look at some of our other reviews. You may like our Stove Fan review.
Performance

Features

Ergonomics

Value