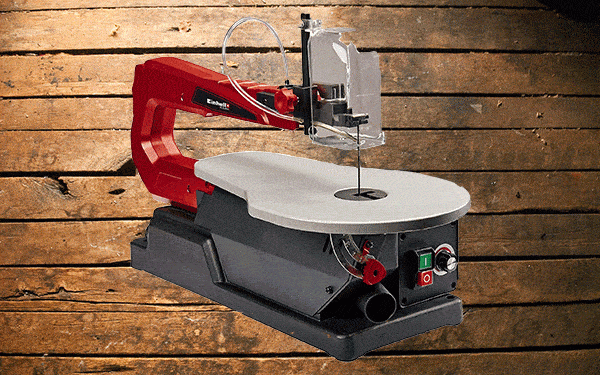 A scroll saw is a pretty unique tool and admittedly they aren't one that just anyone is going to need! However, that doesn't mean that they aren't going to be incredibly useful for anyone who is regularly completing woodwork jobs, or working with non-ferrous metals and even plastics.
The point of a scroll saw is that the narrow blade is fixed into one place, but you can then move the materials around the blade as necessary. With a little practice, this allows you to cut really intricate and detailed designs into materials that otherwise you would struggle to complete. They aren't really a tool for beginners – but are invaluable for anyone that is completing jobs which require a little more skill!
Best Pick Scroll Saw
Scheppach DECO-FLEX 405mm Scroll Saw with Flexidrive Tool 125w
Flexible shaft for drilling, sanding, polishing and graving etc
Accepts saw-blades with or without pins
Flexible work light ensures good sight while working
Continuously variable working speeds to match your material
Polished aluminium table tilts to 45°
Last update on 2022-07-01 / Images from Amazon Product Advertising API / As an Amazon Associate I earn from qualifying purchases
A scroll saw is a power-tool – driven by a motor, usually located at the rear of the machine. The motor has two extending arms which support the blade and, when powered, the scroll saw blade moves up and down at speed. The best scroll saws will be relatively quiet and produce minimal dust, whilst offering more control than a jigsaw and more efficiency than a coping saw. They're great for creating curves; cutting angles; shaping dovetail joints and crafting complex and convoluted designs.
Only got 5 minutes
Scroll saw design types
When it comes to scroll saws, the two main types are:
Parallel Arm
Two arms each with a central pivot point parallel to one another
The lower arm is connected to the motor
The upper arm supports the blade, which moves in a reciprocating (up and down) motion, resulting in a concise vertical cut
C-Arm
The single pivot point, resulting in the blade moving in a subtle arc motion as it reciprocates
More aggressive and faster than a Parallel Arm scroll saw
Requires a skilled and steady operator to achieve accurate results
One important safety factor to consider is that should the blade snap/break, on a Parallel Arm scroll saw, the upper arm will move in response to the change in blade tension and the motor will turn off; however a C-Arm scroll saw motor will only stop running in response to a manual shut down. Parallel Arm scroll saws are therefore more popular due to the safety implications of a C-Arm and the fact they're easier to control.
Blade Types
The blade of a scroll saw is the key cutting component and there are two types of blade available: pinned or pinless.
Pinned (or pin-end) blades are wider and thicker than pinless blades and consequently, are often used for cutting thick pieces of wood; they aren't the most intricate and so aren't particularly suitable for fine designs or detailed cuts, however, they're fast and relatively easy to change.
Pinless (also known as plain-end or unpinned) blades are the most common type of blade used with a scroll saw as they're more versatile than pinned blades: they're thinner and so are capable of precise, intricate and detailed cuts.
If you think you may have a use for both pinned and pinless blades, look for a scroll saw that can facilitate both blade types.
Additional features
As with the majority of DIY power tools, the more you pay the more likely you are to find yourself with an all-singing all-dancing model with numerous extra features, all intended to assist you in producing high-quality cutting work quickly and easily.

When comparing scroll saws, it's important to look at the additional features and functions on each model and prioritise the ones most relevant to you. For a basic model, you'll look at paying around the £90 mark with the more powerful models ranging from around £120-£200.

Scroll saw power & capability
Scroll Saw Throat Size
The throat size of a scroll saw is the distance from the blade to where a workpiece will make contact with the back of the saw. The throat size dictates the size of the workpiece that the blade is capable of cutting, however, if, in doubt, a general rule of thumb is the size of workpiece equals double the throat size e.g. a 14" saw is capable of cutting a workpiece up to 28". Generally speaking, crafting novices will find a smaller throat size easier to use, and 20"+ throat sizes are better suited to professionals or experienced craftworkers.
Scroll Saw Speed
The best scroll saws will feature variable speed settings, measured in SPM (strokes per minute). The speed at which you set your scroll saw will depend on the type of material you're cutting – for plastic, acrylic or hardwood such as oak or mahogany, you'll need a scroll saw which is capable of cutting at high speed – around 1200-1800 SPM. For softer wood, such as balsa or white pine, a saw speed of around 400-800 SPM should sufficient. The best scroll saws will offer a broad range of speed settings, allowing the user to achieve clean, precise cuts in a variety of materials.
Depth of Cut
The thickness of workpiece a scroll saw is able to cut through is referred to as its 'cut depth'. Most scroll saws have a cut depth of around 50mm (2") which should be sufficient for the majority of finishing cutting tasks, however high-end, professional models can offer a greater degree of cut.
Best Budget Scroll Saw
Sale
Last update on 2022-07-01 / Images from Amazon Product Advertising API / As an Amazon Associate I earn from qualifying purchases
Scroll saw useful features
Working table
The scroll saw table provides a surface for the workpiece being cut. It needs to be of a decent size, made of a durable material and ideally one which offers the option to tilt (normally anything from 0° up to 45°); the tilting feature will enable the user to carry out bevel edge cuts. Look for a scroll saw table that tilts on both sides as opposed to just one.
When it comes to size, the scroll saw working table should be large enough to support a workpiece in its entirety; when it comes to durability, the best working tables are made from aluminium or cast iron as these are hard-wearing and provide just enough resistance to marginally move the workpiece whilst cutting, but not so much resistance that the accuracy of the cut is affected.
Dust Extraction Outlet
The best scroll saws will undoubtedly come fitted with a dust extraction outlet or dust port. Not only is sawdust messy, it can also pose as a serious health risk to those who are exposed to it in large quantities or on a regular basis – it's a known carcinogen (material capable of causing cancer), as well as being a nasty irritant to the eyes, nose and throat. Consequently, you want a scroll saw that comes fitted with an efficient sawdust management system – whether this be a blower hose, dust port or dust collector.
LED Work light
An LED work light means you can use your scroll saw at night, or under low-lighting, but still achieve precise, clean and accurate cuts. It's a luxury but worth paying a few extra pounds for when the crafting work you'll be carrying out with your scroll saw is likely to require maximum accuracy with little or no margin for error.
Scroll saw blades
Once you've decided on a pinned or pinless blade, make sure you're clear on the materials you'll be cutting and the type of cuts you'll be making as there's a wide range of both pinless and pin-end blades available, each suited to a specific type of cutting work:
| | |
| --- | --- |
| Blade | Features |
| Standard blades | Has teeth of the same size, set equal distance apart Available in metal or wood Metal – smaller teeth and less space between them Wood – large teeth with more space between them |
| Skip tooth blades | Blades which skip a tooth, resulting in a gap between the teeth |
| Double tooth blades | Larger gap between teeth and skip a tooth Slow-cutting Produce clean, smooth cuts |
| Precision ground blades | Alternative version to the skip tooth blade: has smaller, ground, sharper teethCuts in straight lines Produces an exceptionally smooth cut |
| Spiral blades | Can be used to cut in all directions A bunch of twisted blades which result in teeth capable of cutting 360° without the user having to turn the workpiece |
Scroll saw safety
A scroll saw might only be small, but it's still a saw and is capable of cutting through wood and plastic!! Providing it's used in accordance with the manufacturer's guidelines, the risk of injury is low, but there are still a few safety pointers worth keeping in mind:
Avoid clutter – have a clean and tidy work area
Ensure the workspace is well-ventilated
Clear the surrounding area of any potential trip hazards
Ensure you have an appropriate level of lighting
Check the tension of the cutting blade prior to switching on the power
Wear protective eyewear and a ventilation mask or respirator when operating the scroll saw
Stand to either the left or right of the saw blade in case of blade breakage
Keep your fingers clear of the scroll saw blade
Tie back long hair and secure loose items of clothing
Best of the Rest
Last update on 2022-07-01 / Images from Amazon Product Advertising API / As an Amazon Associate I earn from qualifying purchases
Scheppach SD1600V 240 V 16-Inch Scroll Saw - Blue
Blower keeps the working area free of dust
Quick release blade tension knob allows quick and easy blade change - nearly vibration free, allowing you to work with precision for professional looking results
Accepts pin blades and plain end blades
Cutting height/ depth: 57/ 406 mm
Variable speed 500 - 1700 rpm
Last update on 2022-07-01 / Images from Amazon Product Advertising API / As an Amazon Associate I earn from qualifying purchases
Last update on 2022-07-01 / Images from Amazon Product Advertising API / As an Amazon Associate I earn from qualifying purchases
Frequently Asked Questions
What is the best type of wood to use with a scroll saw?
Plywood (particularly Baltic Birch), cedar and poplar are the best woods to cut with a scroll saw. Poplar is particularly popular as it has a straight, even grain with a consistent texture, meaning the cutting speed can remain constant so you don't have to worry about stopping and changing the scroll saw blades.
When should I use a scroll saw?
A scroll saw is used for cutting intricate designs in wood, plastic, non-ferrous metal and acrylic. It provides the speed and power of an electric hand saw but produces cuts with the precision and accuracy of a fine handheld blade or craft knife.
Is a scroll saw better than a jigsaw?
This really depends on the jobs that you are planning on completing. A jigsaw is going to allow you to work with thicker materials which is great for if you are completing bigger jobs. However, a scroll saw is much better suited for if you are wanting to complete more intricate cuts in detail with a higher quality finish.