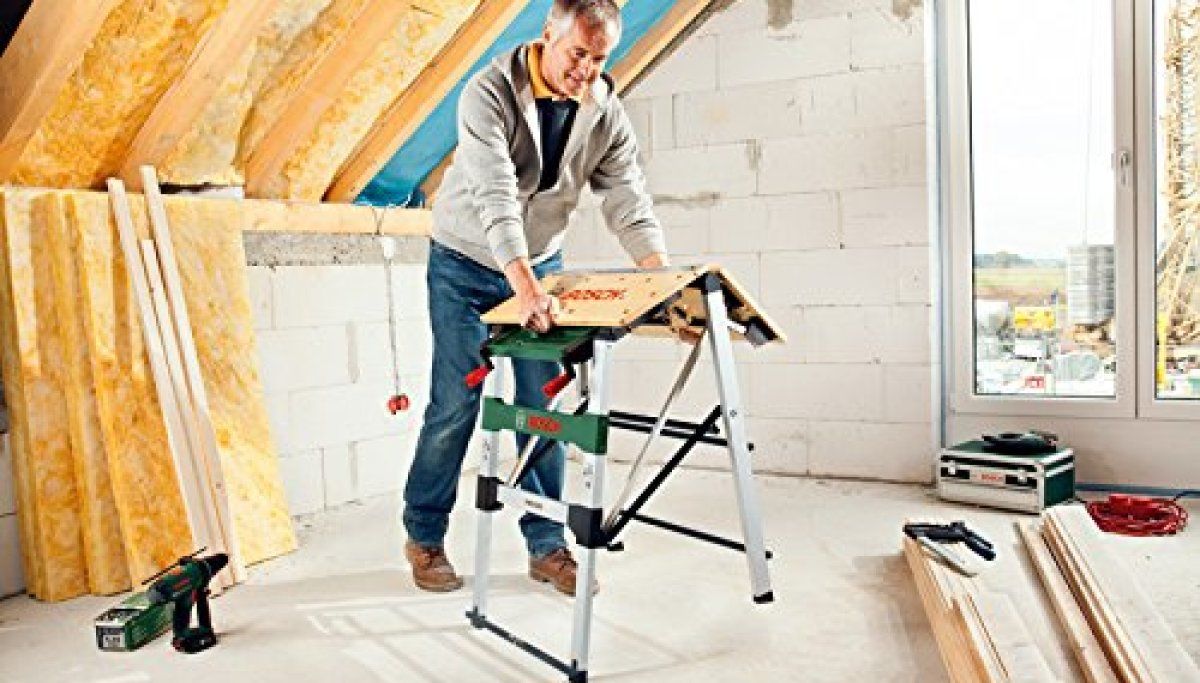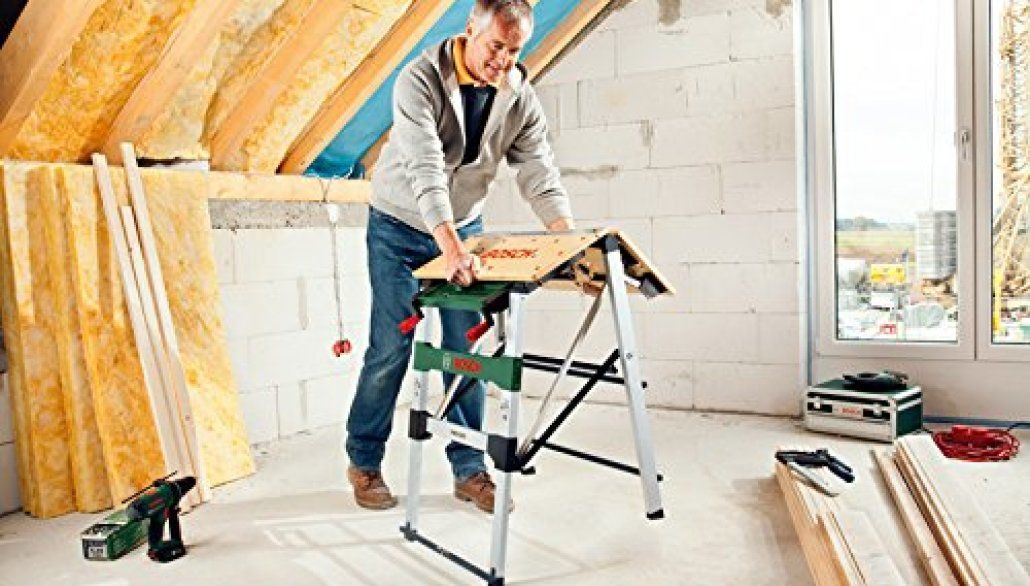 Whether you're a professional looking for a workbench to take on jobs, or you are looking for one to use at home when completing DIY, there are many reasons why a portable workbench is right for you!
If you regularly go to different places to complete DIY jobs – a handyman or just that person that always gets roped into helping out with other people's homes – then a portable workbench is really something that you cannot do without. As the name suggests, a portable workbench is basically just a standard workbench, but usually smaller, lighter and foldable so that they can be moved easily, and fit in most cars so they can go with you when completing jobs!
The best thing about a portable workbench is that it is equally handy for someone who just does jobs around their own home! As portable workbenches fold away, they can be tucked into the corner of your garage or shed so that they don't take up too much space, but can be pulled out and easily erected whenever you have a job to do around the home.
Only Got 5 Minutes?
Portable workbenches vary massively, with differences in size, weight, material and the capacity that they can hold. Therefore, it is important to consider exactly what you are likely to be using your workbench for, and how often you are going to be using your workbench, to decide which is the right one for you.
There are some main features that you need to consider before purchasing your portable workbench. Information on these is provided below to help you make an informed purchase.
Best Pick – Bosch PWB 600 Work Bench
Sale
PWB 600
PWB 600 work bench for securely holding all workpieces in position
Requires only a few seconds to set up and take down thanks to folding mechanism
Water-repellent and durable work surfaces made of bamboo
Maximum clamping depth of 34 mm, maximum clamping width of 85 mm
Items included: PWB 600, 4 blade clamps, cardboard box (3165140612272)
Last update on 2022-01-09 / Images from Amazon Product Advertising API / As an Amazon Associate I earn from qualifying purchases
Table Top Size
The table tops on almost all portable workbenches are different. Some come in two parts, whereas others are a more simple, workable station. Many also come with engraved measurements to make woodcutting etc easier. Obviously, as a general rule the bigger the workbench surface the better, however this can make transporting and storing the workbench more difficult – especially if it has to travel in your car with you.
If it is woodwork that you are primarily looking to use your portable workbench for, then it may be worth choosing a table top that can also be used as a sawhorse by separating into two different parts.
Capacity
One of the only downsides to a portable workbench, instead of a standard workbench, is that as a general rule they can hold less weight, due to them being made of lighter material and made to be folded away.
The maximum weight that a portable workbench can hold ranges from around 350lbs to 1000lbs – which will massively affect what your workbench can be used for! Consider what you are likely to put on your workbench, such as how heavy the pieces of wood are that you work with, and then add around 25/50lbs to your total weight. This will give you a good idea of what maximum capacity you need to be purchasing.
Best Budget – Silverline TB01 Portable Workbench
Last update on 2022-01-09 / Images from Amazon Product Advertising API / As an Amazon Associate I earn from qualifying purchases
Weight
The weight of your portable workbench is important for one main reason – so that it is portable! A heavy workbench might advertise that it is "portable", and it may fold away like other models, but if it is difficult to carry to and from your current project then it is unlikely to be suitable for the job.
Clamps/Jaws
Most portable workbenches will come with at least two clamps/jaws to be used for woodwork or piping etc when working. However, some models will come with more than this. Before purchasing your portable workbench, consider what exactly you are going to be using it for. If you are looking to use your workbench for small jobs around the house then two clamps will likely be sufficient. However, if you are working with piping or using your workbench for professional jobs, then you may find that you need to use it for a number of small tasks all at once – in which case more clamps may be needed.
There are some makes and models that you will be able to purchase additional pieces for, such as clamps and jaws, however, due to portable workbenches being relatively small, this isn't the case with all models. This is something that is always worth checking before purchase!
Although not necessary if your portable workbench will only be for light use – we would recommend looking for models where the clamps and jaws are made from metal, rather than plastic, as plastic will wear easily.
What Is Your Portable Workbench Used For?
Due to the vast amounts of portable workbenches that are available on the market, it is important to consider what type of work your bench is likely to be used for the most. If you are a general handyman then you are likely to need a bench that is versatile in its uses, whereas if you work mostly with wood then a bench that is created specifically for this purpose will be perfect for you!
BLACK+DECKER Deluxe Workmate WM825-XJ
Last update on 2022-01-09 / Images from Amazon Product Advertising API / As an Amazon Associate I earn from qualifying purchases
What Makes My Portable Workbench Portable?
Living in a modern world, everything is getting smaller and more "portable". However, it is important, when purchasing a portable workbench, that you consider both portability and workability! A model that is on the larger side will generally be easier to work with, but will be more difficult to move. Whereas a smaller model will be less functional when completing jobs, but easier to move.
Many models have now been designed so that they fold down to be completely flat! This means that they will be easier to pack away when not being used, and easier to carry and transport to different jobs if being used professionally. Equally, some models even come with a carry handle that is secured underneath when the portable workbench is in use, but can be pulled out when needed.
It is also important to choose a model that is easy to pack away. Some more recent models claim that they can be erected/dismantled in just 30 seconds! Saving a great deal of time at the start and end of a DIY job! Although you want a model that is easy to build and pack away – otherwise what would be the point? – it is important to choose a model that is going to be sturdy and secure when erected.
What Materials Should My Portable Workbench Be Made From?
Portable workbenches need to be sturdy and hard wearing. They are likely to be used in all types of situations and even weather conditions, if used outdoors. Thrown in the back of cars and vans, shoved in the corner of the garage during the time in between uses, it is important that they are up to the task!
It goes without saying that usually SOME part of your portable workbench will be plastic. Waterproof, lightweight and cheap – it would be difficult to find a material more suitable for this product. However, plastic also scratches easily and isn't always the strongest of materials – therefore try to look for a model that is not made solely from plastic.
Most models will have aluminum or steel legs, this allows the workbench to hold a greater capacity and be more sturdy on different services. Some models also offer surfaces made from a polypropylene resin material. This material choice is perfect for portable workbenches – able to withstand heavy and hard use, this material will help to stop your workbench from becoming scratched and banged after its first use!
WORX WX051 Pegasus Multifunction Work Table
Sale
WORX WX051 Pegasus Multi-Function Work Table and Sawhorse with Quick Clamps and Holding Pegs
Versatile work table that converts to a sawhorse and work bench in seconds, with Handy, built-in storage shelf, no assembly required
Compact, foldable, and lightweight for take-anywhere action and storage, 5-inch depth when folded
Work table mode supports loads up to 300 lbs., sawhorse mode supports up to 1, 000 lbs., features Locking legs
Feel Confident with the 2 quick clamps and 4 clamp pegs (dogs) included to secure a variety of materials and shapes
Table top is 31 x 25 inches or 725 square inches, 32 inches in height, and weight 30 lbs.
Last update on 2022-01-09 / Images from Amazon Product Advertising API / As an Amazon Associate I earn from qualifying purchases
Extra Features to Look Out For
We've discussed the basics that you need to consider when purchasing your portable workbench, however there are additional features that can help make your DIY jobs even easier – so are definitely worth looking out for.
Non-skid feet
Lockable legs for extra safety
Workbenches that come with different clamps/jaws and functions so they bench can be used for many different jobs
Adjustable leg heights
Included storage shelves
Some portable workbenches will connect to others – meaning that you can create a bigger work surface as and when necessary
V-Groove option on the workbench surface for cutting piping
Frequently Asked Questions
Do I need to assemble my portable workbench?
Most models require minimum to no assembly. All will come with assembly instructions, that are easy enough to follow. But as a general rule, once you have attached the legs to the main station (and the shelves if the model comes with these) then the portable workbench will be ready to use. Please make sure that you follow all instructions when assembling your portable workbench – if this is not done properly it could cause an accident or damage materials when being used.

Will my portable workbench come with a warranty?
Most mid to high end portable workbenches will come with some type of warranty (we found that a 2 year warranty is the most common). However, not all models do! Choosing a model that comes with a warranty not only means that you are more protected as a consumer, but also that the manufacturer values their product and trusts it enough to offer a warranty!