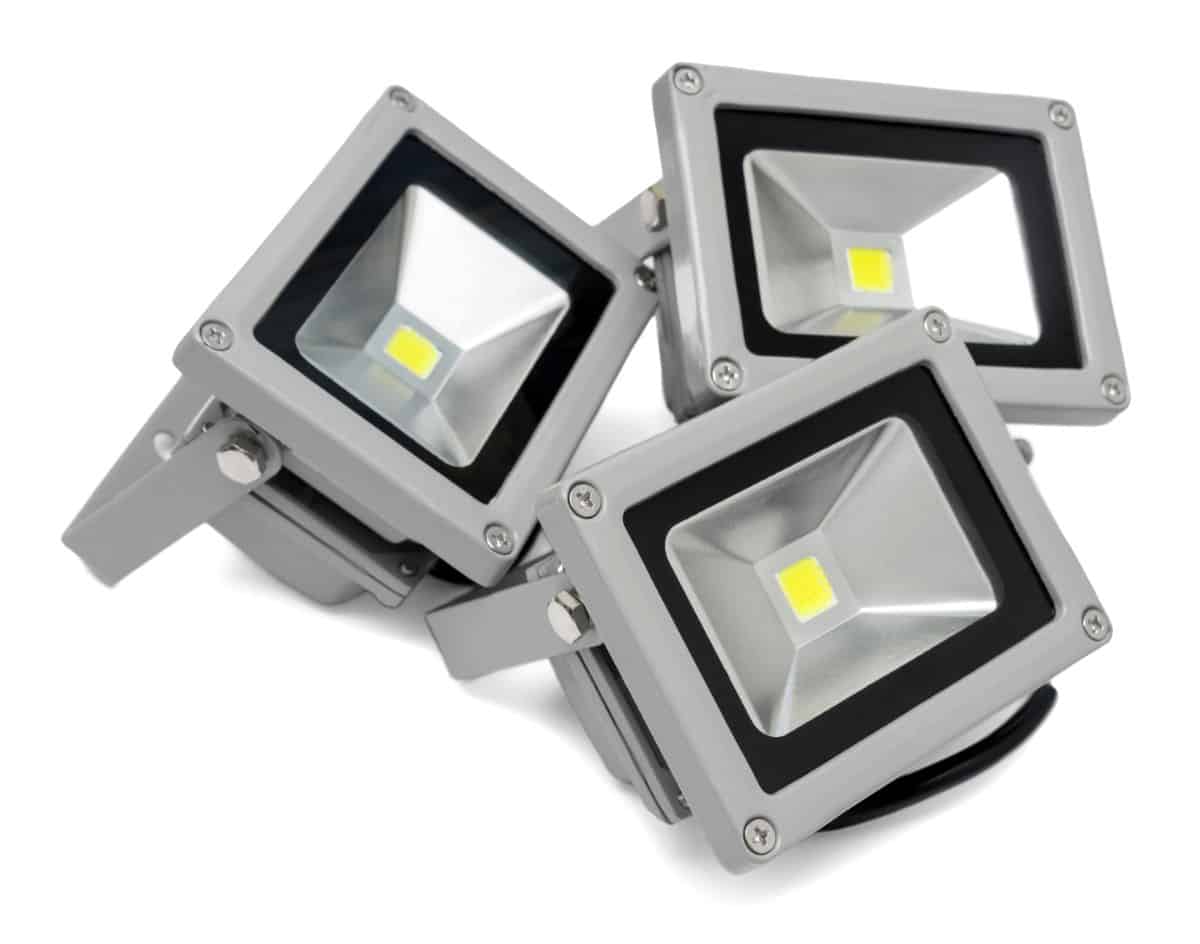 A decent quality work light is crucial for anyone wanting to complete DIY around their home or in a workshop. There will always be dark spaces that need to be worked in, whether it be with your head inside a cupboard or under the stairs….and this is where a work light comes in. On top of this, it is always a good idea to have some kind of portable light available for those emergency situations, such as a power cut!
Best Pick – Rechargeable Work Light
Last update on 2021-06-30 / Images from Amazon Product Advertising API / As an Amazon Associate I earn from qualifying purchases
Work lights are fantastically handy, portable and lightweight, however there is nothing worse than getting out your work light when you need it most and finding that the batteries have run out and you don't have any spare to replace them, or that there is no power source nearby! This is why you need a rechargeable work light! They will always be ready for whenever you need them – providing you have remembered to charge it – and even if you haven't, it won't take long for it to have enough charge to see you through the job you are working on.
Buying the right rechargeable work light is important if you are wanting one that is going to last and is actually going to function well enough to assist you in completing the job at hand. Therefore, we have considered all of the main things you need to consider to help make you purchase a good one!
Why Buy A Rechargeable Work Light?
There are many reasons why a rechargeable work light might be right for you. They are perfect for if you are completing jobs around the home in dark spaces, or for if you are working in a workshed and don't have decent quality lighting. Another perfect use for work lights (particularly rechargeable work lights) is if you are in a situation with no electrics, or where the electrics need to be switched off, such as in a plumbing crisis.
But, there are actually many more uses for rechargeable work lights than just in DIY situations – they are perfect for if you are going camping, working in a garage on a car, for staying at a caravan or for if your car breaks down! You will also be glad you bought one if you live in an area that suffers from power cuts!
Putting it simply, there really isn't a home that doesn't need a rechargeable work light!
Only Got 5 Minutes?
If you are sick of struggling to complete jobs in the near dark, or maybe you know the importance of a good work light and yours has just died a death – either way this part of the article is for you…..filled with all that crucial information that you need about rechargeable work lights.
First things first…..battery!
If you are wanting to purchase a rechargeable work light then the main thing that you need to consider is your battery options to find one that is going to be quick to recharge and also last as long as possible.
Look out for models with a Lithium-Ion battery as these will be quicker to charge and will be able to last longer, meaning you can keep working for longer and have less time to wait between jobs! Some batteries will last for up to 12 hours though and lets be honest, it's unlikely you're going to be working for longer than that in one go!
Charging – There are three main ways that you will be able to recharge the battery of your work light. These are; USB, car cigarette lighters or a standard plug. It really depends on where you are likely to be working as to which is right for you, but we would recommend opting for one that has an adaptable charger so that it can be charged in multiple places, this way you won't become stuck not being able to finish a job.
Make sure to look how long it is going to take to get a full charge for your rechargeable work light – you don't want to have to wait for hours for your light to charge before you are able to use it. Some will be as little as a couple of hours whereas others can be up to 6 hours.
Some models can be worked cordless or plugged in, making the tool more versatile so it will never let you down!
Features of Rechargeable Work Lights
There are some main features to consider when purchasing rechargeable work lights. We have looked at each of these in detail below.
Bulb Type
In recent years there has been a huge shift towards LED lighting, and the same could be said for work lights, that are now much more popular with LED bulbs. They are cooler to work with, require less power and also last longer, so it is well worth considering a rechargeable work light with LED bulbs. Not only this, but the fact that they require less power means that the battery will be likely to last longer. However, there are still halogen or standard bulb work lights available on the market that tend to be cheaper if you are working on a budget.
It is also worth considering the number of bulbs in the light – the more bulbs the lighter the area will be but this will also drain your battery faster!
Light Output
When considering light outputs you need to look for the wattage or lumens advertised to work out how bright your light is going to be. Lumens will be more common in LED models as these let out a lot less power than other models. Consider exactly where you are going to be working to determine how bright you are going to need the light to be – brighter isn't always better if you are going to be working in a small area as the light could actually be too bright for you to see in the area that you are working!
We would recommend looking for lights that offer different modes and light intensities so that the light can be changed depending on the area that you are working in and how close you will be to the light. This stops you being blinded when working close to your light – and also having to move your light around if it is not bright enough when you are further away.
Voltage
The higher the voltage the brighter the light that you will be able to work with (depending on some other factors such as bulb type etc.). Most rechargeable work lights will be between 10V and 18V.
Portability
When considering a rechargeable work light it is important to think about how portable your light will be. Make sure to think about the weight of your light and also its size. These tend to vary massively depending on the type of light that you want and how much light you are going to expect of it! The size of your light is not just important because of when you are carrying it between jobs but also because a bigger light will obviously take up more space in smaller workspaces, this can make it really awkward especially if you are working in a cupboard or under stairs space!
Look for a model with a light plastic build to make the tool more portable and easy to move around. Thermoplastic bodies are ideal as they are lightweight but also durable.
It is also worth considering if your rechargeable work light has a handle to make it easier to move around. A handle will also make it easier to hang your lamp if you are wanting to keep it off the floor and out of the way when you are working. Some even have carabiner clips and powerful magnets so that they will be even more versatile in the ways in which they can be positioned when in use.
Best Budget – Rechargeable Worklight
Colour Temperature
The colour temperature of your light will usually depend on the time of day when you are planning on working and also your personal preference for what light is best for your eyes. Different "readings" will give off different types of light.
2700-3200K = Warm white
4000-4500K = Natural white
5000K = Sunlight
7000-7500K = Blueish white
10,000K = Bright blue white
Throw Pattern
The throw of the light is the way in which the tool sends the light across the area that you are working with. Some will be built in a way that has a 360° degree throw, so that you can see all around the area that you are working in, whereas some will be built with a 90° – 180° throw, which means that you will have to angle the light in the area that you are wanting to work in. The flexibility of the beam will usually work on a tilting axle that will allow you to maneuver the light into the best angle for where you are working.
Smart Controls
Some high-tech rechargeable work lights now come with smart controls (as is the way with most modern tools nowadays!). This means that the tool can be connected to your phone so that you can control it from this and also see how much charge is left on your battery. This is perfect for if you are working in different rooms or if you forget the switch your work light off and don't want that precious battery draining!
IP rating
The IP (Ingress Protection) rating of your rechargeable work light is important if you are wanting the light to last! This rating basically tells you whether your light will become damaged working in damp or dusty conditions. The better the IP rating the less chance there is of dust, debris or water getting inside the lamp and causing damage to it!
The best way to make sense of IP ratings is to remember that the first number is how dustproof the tool is and the second is for how water resistant it is. The higher the number the greater the light will be protected.
Additional Features To Consider
Some models of rechargeable work lights will be compatible with standard tripods, meaning that if you are working on a larger job you will be able to raise the light off the ground so that it spreads further around the area.
Varied colour/flashing lights – This may be something that is not going to benefit you depending on where you are going to be using your light, however a flashing or coloured work light can be perfect in case of an emergency.
Anti-rust paint will help your work light to last longer and cope with whatever conditions you might be throwing its way!
Foam handles will make the work light easier to carry between jobs.
Lights on the back to show how much charge is left on the tool – so you never run out of charge part way through a job!
Best Of The Rest
Last update on 2021-06-30 / Images from Amazon Product Advertising API / As an Amazon Associate I earn from qualifying purchases
Last update on 2021-06-30 / Images from Amazon Product Advertising API / As an Amazon Associate I earn from qualifying purchases
Last update on 2021-06-30 / Images from Amazon Product Advertising API / As an Amazon Associate I earn from qualifying purchases
Frequently Asked Questions
Do I need more than one rechargeable work light?
If your budget allows, then we would definitely recommend purchasing a couple of work lights. This means that you can have one charging while the other is lighting the work area, or (if you are working in a particularly dark area) you can have both lighting up a work area if it is particularly dark to reduce the issue of shadows.
Can I buy replacement batteries for my rechargeable work light?
It is rare to come across a replacement battery for your rechargeable work light, mainly due to the fact that the lights are so reasonably priced in the first place it just wouldn't be cost effective to sell replacement batteries! For larger, industrial models they can be found but these are usually run off a much bigger battery.
What warranty can I expect with my rechargeable work light?
We found some rechargeable work lights that actually come with a lifetime warranty! Although these are few and far between, they are available on the market. However, most come with a 2-3 year warranty.