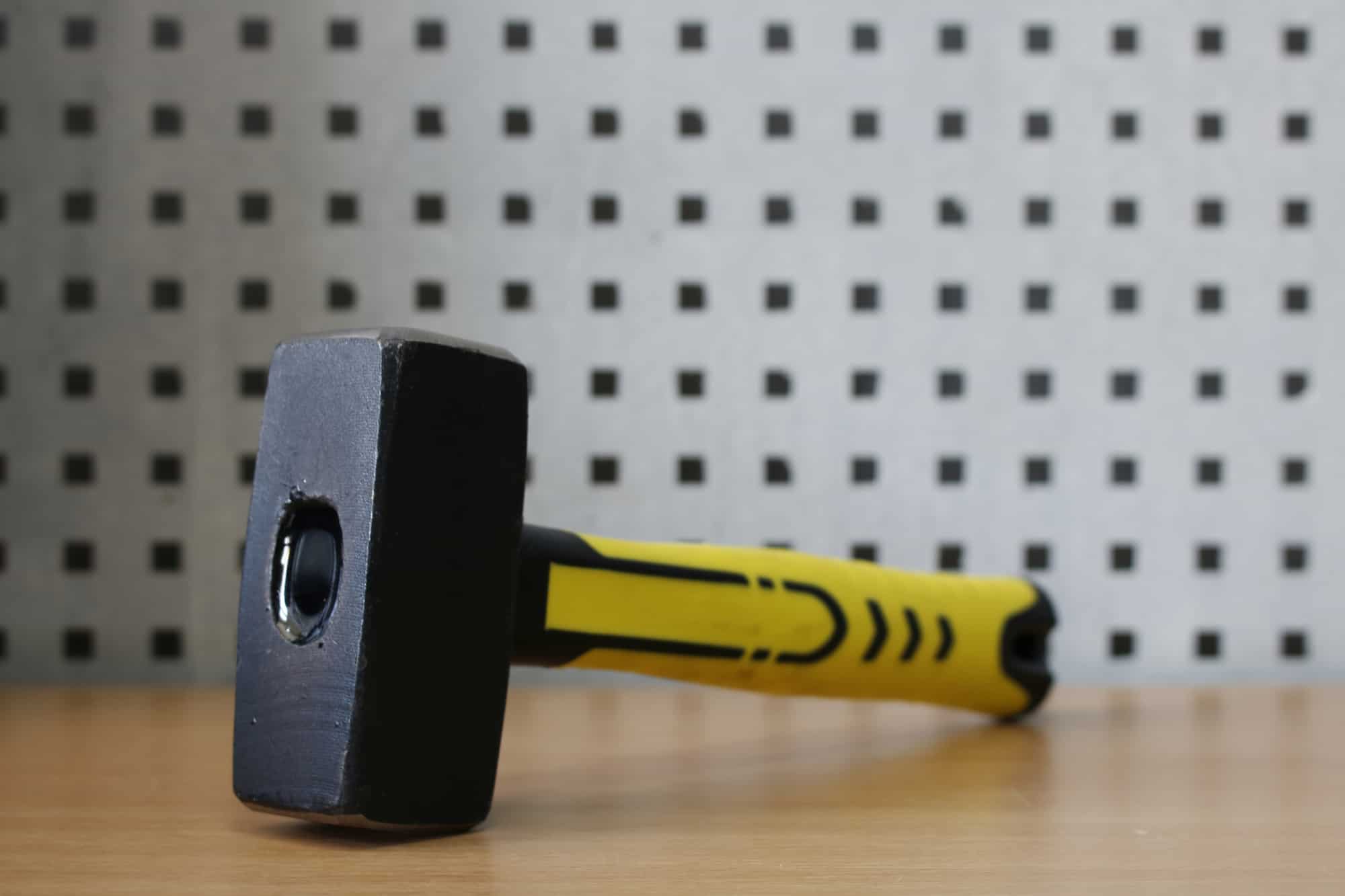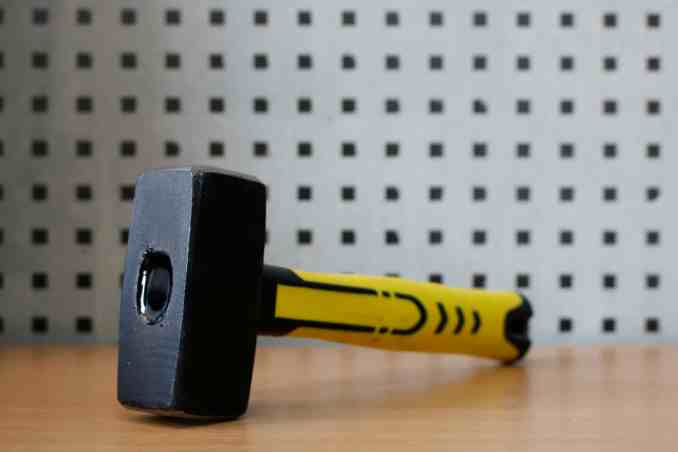 A club hammer (also known as a lump hammer) is there for those bigger construction jobs that you might be completing. Totally different from a standard hammer in the style of the head, this hammer will be there to help you when you are doing the heavy-duty stuff, the stuff that needs more force and power. A standard hammer will have quite a small face which allows for precise and neat hits – against a nail for example. Whereas, a club hammer has a much larger face (on both sides) so that all the force you put into your swing will then impact on whatever surface you are working with. It is essentially a small version of a sledge hammer – big enough to get the job done, but small enough to be easy to use and work with!
If you have any kind of demolition jobs in mind then you are going to need a club hammer to get the job done, but with so many different brands, styles and models available to you – which one is the best club hammer to buy? We aim to lighten the load, to knock down any walls that you may have about purchasing your club hammer, so we have included a buyers guide, plus some of the best club hammers you can buy to make the process a little easier for you.
Best Pick – Stanley 156001 Anti-Vibe Lump Hammer
Stanley 156001 Anti-Vibe Lump / Club Hammer 3lb
Club hammer is perfect for striking cold chisels, punches, and star-drills and many industrial applications
Designed with one-piece forged construction for strength and durability
Patented Antivibe technology reduces vibration transmitted to wrist and elbow
Ergonomically designed bi-material handle for improved comfort and anti slip grip
Club hammer can be used with in confined spaces with little room for easy full arc swings
Last update on 2022-06-23 / Images from Amazon Product Advertising API / As an Amazon Associate I earn from qualifying purchases
Only Got 5 Minutes?
If you have a construction job or a DIY demolition planned and the only thing holding you back is your lack of a club hammer then this part of our buyers guide is just for you! We have combined all the key information that you need to know alongside the best club hammer on the market at the moment to satisfy all your club hammer needs! You'll be knocking down walls in no time!
Club Hammer Features
Here you will find some of the best club hammer features that you should be checking out for before making your purchase. Whether you have big plans based around knocking down walls, or are being used camping for hammering pegs into the ground, or even for driving in masonry nails…these are the features that you need to be looking for!
Hammer Face
Club hammer faces are pretty standard in the style and shape that you are going to get – let's be honest there is only one good way to knock down a wall! However, there are different sizes that are available depending on the type of job that you are going to be completing. Some have much smaller faces that are perfect for if you are needing a more accurate tool for smaller areas, or a bigger face for if you are working on a large surface area and need to be able to increase the impact that you are creating.
Almost all club hammers will have the same size face on either side, which is one of the main ways in which they differ from standard hammers, this allows you to swing in whichever direction is necessary to get the job done.
Weight
The weight of your club hammer is going to be one of the most important things that you need to look at! The reason for this is because you need a fine balance between "not too heavy" so that you don't become fatigued after a short amount of time, but equally "not too light" that the hammer doesn't generate enough force and impact on the surface that you are working with.
Most club hammers range between around 2lbs up to 4lbs (so between one and two bags of sugar), which doesn't sound like a lot, but can affect your working if you are having to complete multiple swings. Consider what weight you think you can easily swing – and for a fair period of time – as the heavier hammer that you can COMFORTABLY work with, will reduce the time it takes you to get the job done!
You will find that club hammers tend to come in standard sizes measured in pounds; 2lb, 2.5lb, 3lb and 4lb, although there are sometimes exceptions to the rule!
TOP TIP: If you get the opportunity, look at the weight distribution of your club hammer. You want one that is going to have a greater distribution on the weight on the head than on the handle. This makes it much easier to build up speed and "umph" when you are swinging, but avoid any backswing.
Length
You will find quite a difference in length of club hammers, ranging from around 20cm to 40cm. The length that is right for you really comes down to personal preference….a shorter hammer is going to give you less flexibility in the swing but will allow you to be much more accurate in your swing! However, a longer handle length allows you to generate a bigger swing, but you have to know what you are doing to control a longer tool and get an accurate hit!
TOP TIP: If you know that you have larger hands or like to wear gloves whilst you are working then opt for a club hammer with a slightly longer length to give you space to grip the hammer successfully whilst working.
Materials
The two things that you need to look out for when it comes to the materials of your club hammer is the material that has been used to make the head of the hammer and the material that has been used to make the handle, as quite often this will differ. Most hammer heads will be made out of heavy-duty steel, which allows them to take the full force of the blow that you are creating, but then the handles will be made out of other materials to lighten the overall weight of the hammer, such as fibreglass, PVC or even wood. Occasionally you will find hammer heads that are made out of titanium but this is a more expensive material so is rare and will impact on the overall cost of the tool.
Fibreglass is a nice, light option for club hammers that is strong enough to withhold a lot of force, but light enough to allow you to get a decent swing. Similar to PVC, these materials will be relatively durable, but eventually could crack and break if they are put under strain enough.
Solid steel handles are much rarer because of both the cost to make and the weight that this adds to the hammer overall, but they are what you need if you want a truly indestructible club hammer.
TOP TIP: If you want to opt for a more traditional club hammer then you will be able to find makes that use a wooden handle. If you are purchasing one of these though then make sure that hard, treated wood has been used and offers a secure bond to the head of the hammer. It is also important to regularly check your wood for any cracks or weaker points.
Best Budget – Silverline HA38 Fibreglass Lump Hammer
Sale
Silverline HA38 Fibreglass Lump Ha mmer 4 lb (1.81 kg)
Forged steel head
Shock-absorbing, high-strength fibreglass shaft with nylon surround
Powder-coated head with polished striking faces
High-grip handle resistant to oil and chemicals
For demolition and striking of cold chisels and brick bolsters
Last update on 2022-06-23 / Images from Amazon Product Advertising API / As an Amazon Associate I earn from qualifying purchases
Additional Club Hammer Features
So now you know the main things that you need to look for when purchasing a club hammer, but that it is still unlikely to narrow down the search enough for you to find the best club hammer you can! If this is what you are looking for, then keep reading for some of the extra features that we really like about the best club hammers.
Comfort grip handles – If you are going to be using your club hammer for any length of time and putting in a lot of effort when doing so, then you are going to need a comfortable but also secure grip. Look out for ergonomic designs made of rubber, plastics or other soft materials if you want one that isn't going to leave your hands covered in blisters! It is also important to check that the grip is securely fitted onto the hammer handle, as cheaper models will leave you with the grip in one hand and the hammer in the other after just a few uses!
Belt-hook hole – This is a feature that is getting to be quite rare in club hammers, but a simple hole at the end of the handle of the hammer can make all the difference as far as we are concerned. This will allow you to hang your hammer up in your workshop so that it is safe and always ready to use, but also allows you to add a belt hook should you need to whilst you are working.
Colour – Many club hammers that we found were dark in colour, but we actually prefer the ones that have brighter splashes of colour – this makes them so much easier to see among debris and rubble (even when they are filthy), which can really prove handy if it is a big job you are completing!
One-piece forged hammers – You know that you are finding the best club hammer if it states that it is one-piece forged steel, as if it is all made from one piece then it cannot possibly break and crack on any joins…as there won't be any!
Vibration reduction technology – Look out for models that offer vibration reduction (this will usually be in the materials that are used, particularly in the handle), as this will help to reduce fatigue when you are working by absorbing the vibration that comes from hitting the hard surface that you are working with!
Powder coated steel will be much stronger and less likely to crack or chip when you are working with harder materials.
Safety Tips for Club Hammers
If you are working with a club hammer then there are some certain safety precautions that you need to be taking!
Make sure to opt for a club hammer with a strong grip so that it doesn't go flying out of your hands when working!
Check your hammer for any chips or cracks regularly before use to avoid accidents whilst working!
Always make sure to consider the length of your hammer handle when swinging to make sure that you are not going to hit anything else – if you know that you are going to be working in a small space then opt for a shorter handle length.
Purchase eye protection and if possible a mask for when you are working with a club hammer…you won't be able to predict which direction the debris and rubble will go in when you start smashing so it is important that you are protected!
Best of the Rest
Sale
Last update on 2022-06-23 / Images from Amazon Product Advertising API / As an Amazon Associate I earn from qualifying purchases
Last update on 2022-06-23 / Images from Amazon Product Advertising API / As an Amazon Associate I earn from qualifying purchases
Sale
OX OX-T081304 Club Hammer - Sledgehammer with Fibreglass Handle - Forged and Induction Hardened Hammerhead - 4 lb / 1.8 kg
STEEL HEAD: The head of the OX Fibreglass Handle Club Hammer is heat treated and is forged from fine-grained high-quality steel.
COMFORT GRIP HANDLE: The non-slip ergonomic handle of the Fibreglass Club Hammer avoids any slips and delivers a comfortable grip.
ROBUST CONSTRUCTION: The handle of the Club Hammer is securely attached to the head, which prevents any accidental falls.
SHOCK ABSORPTION: The fiberglass component of the Club Hammer absorbs shock and minimises vibration.
QUALITY YOU CAN RELY UPON: Engineered with top-notch materials and tested for optimum performance, our tools are sure to make the work on the site convenient, smooth and quick.
Last update on 2022-06-23 / Images from Amazon Product Advertising API / As an Amazon Associate I earn from qualifying purchases
Frequently Asked Questions
What warranty comes with a club hammer?
Most warranties will come with between a 2 and a 5 year warranty, however it is rare that your club hammer will only last this long as the best club hammers will stand the test of time!
Should my club hammer meet certain regulations?
A club hammer that you may be considering purchasing doesn't have to meet particular regulations. However, if it does then you know that you are buying one that is of a particularly high standard and that is going to last. The two machinist's regulations that you need to look out for are DIN 6475 and DIN 1041, or BS Standard 876: 1995 which are symbols of a well made tool.
What materials can I use a club hammer for?
A club hammer can be used on most materials, but will most often be used for light demolition work when cutting stone and many types of metals. It can also be used for driving masonry nails.
What is the best material for reducing vibration in club hammers?
If you are looking to reduce vibration as much as possible when using your club hammer then look out for models with a fibreglass handle. These, along with features such as rubber handles, will help to reduce vibration. This is vital if you want to keep your hands and wrists protected from fatigue and more long term damage.
Performance

Features

Ergonomics

Value