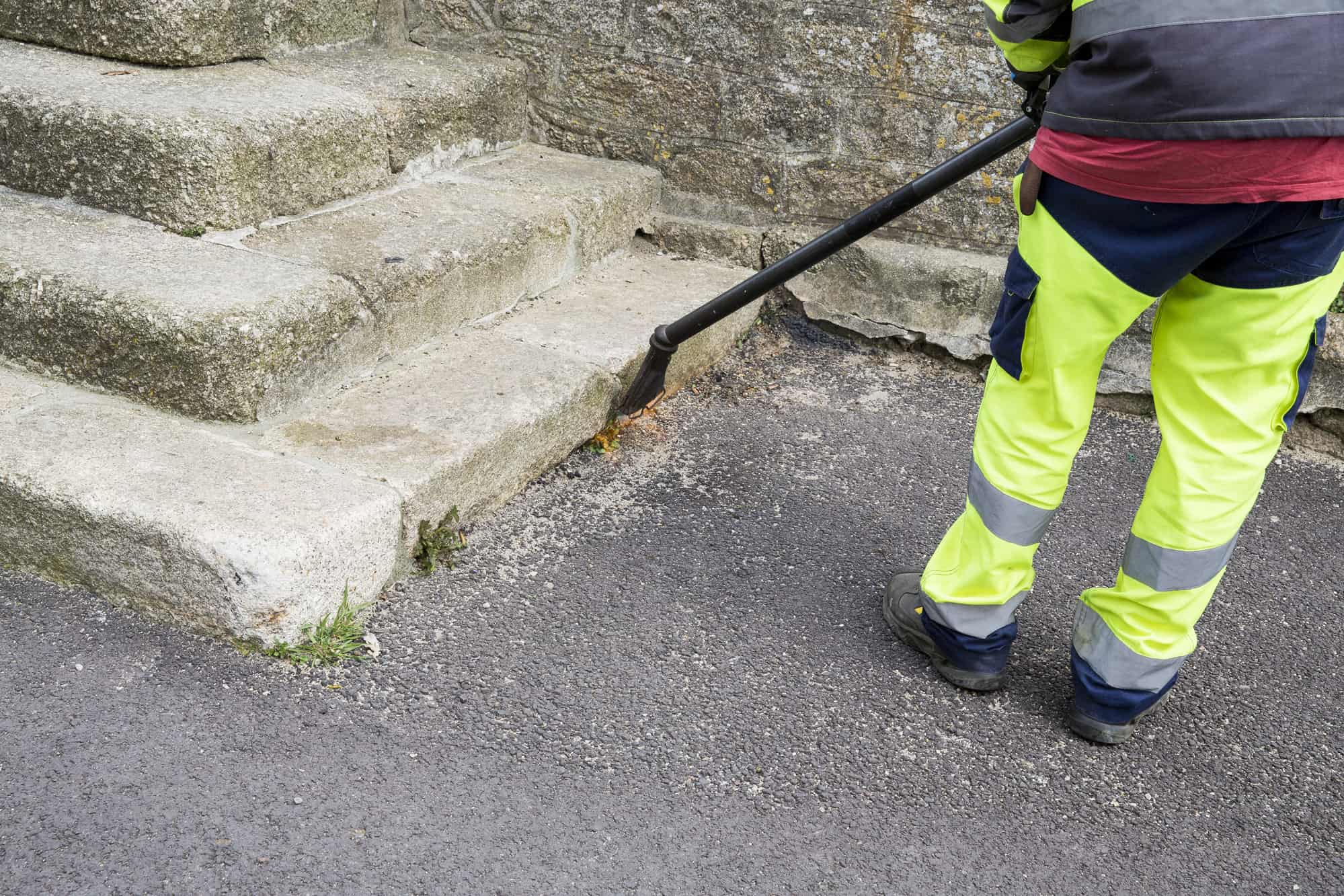 Weeds are by far one of the most frustrating parts of gardening! No sooner do you remove them from your garden than they appear again – it can really seem like you never get on top of them! Research suggests that weeds can actually grow between two and three inches a day, which is probably why it seems this way! Weeds are really going to impact on the overall appearance of your garden, leaving it looking uncared for and messy, but we understand that you also don't want to spend hours gardening!
What you need is an electric weed burner. They are going to massively reduce the amount of time it takes to get rid of the weeds in your garden. Not only this, but because they completely destroy the weed, you don't need to worry about it coming back to haunt you a week later.
Electric weed killers are going to be quick and easy to use, but they are also going to avoid hazardous chemical weed killers from damaging other plants in your garden. So without wasting anymore time than you have already done weeding your garden….here are some of the best electric weed burners…
Best Pick – Hozelock Thermal Weeder
Last update on 2022-09-15 / Images from Amazon Product Advertising API / As an Amazon Associate I earn from qualifying purchases
We found this video on our best pick – the Hozelock Thermal Weeder – in action if you are wanting a better idea of how it is going to work in your garden.
In A Hurry?
If your garden is being taken over by weeds, your favourite plants are being strangled and you can't remember the last time you properly saw your paving stones then look no further – this part of the article is perfect for anyone that is in a hurry to start removing those pesky weeds and start enjoying their garden again! We will make sure you know your weed burner from your flame weeder and your garden flame gun from your weed torch.
Power
The first thing that you are going to need to look for is how you are going to power your new tool! Almost all are going to plug into the mains electricity, so you need to think about where your nearest power source is and whether the cable length is going to be long enough to reach the outer corners of your garden. We found cable lengths ranged from around 1.5m up to 3.5m, so make sure to check for this if you have a garden with some harder to reach places!
Once you have looked at that, you will need to think about the wattage of the electric weed burner. Most are going to be able to offer around 2000W, which will be more than powerful enough to remove even the most stubborn of weeds. There are some models with even higher wattage if you know that you have a big problem with weeds.
Heat Range
The heat range is usually going to be determined by the wattage of your electric weed burner, but there are some other factors that will impact on the maximum heat too! You will find that most models operate between 60℃ and 650℃, so that you can use the lower setting for smaller weeds or if you are working in more intricate areas closer to important plants, and the higher temperature for when you are working on the serious weeds and need that extra support. The greater temperatures will also work well when you are trying to remove weeds from paving slabs and driveways as the extreme temperature will still be able to penetrate through the stone.
We particularly like electric weed burners that come with varying heat settings. This will allow you to adapt the heat setting depending on the area and weeds that you are working with, making the job easier, but also more cost effective! We also like the varied heat settings as it makes it much easier to cool your tool when you have finished the job at hand. Getting down from 650℃ isn't going to happen quickly, so if you start the job on the higher temperatures and then work to the lower temperatures as the job is coming towards the end, you will spend much less time waiting for it to cool down when you have finished!
Weight and Size
You also need to think about the weight of your electric weed burner, as you are going to be carrying it around with you when you are working! Most are going to be made from lightweight materials such as stainless steel and plastics, which helps to keep the weight from getting too much, but if you suffer with your back or hands then you definitely need to be opting for a lighter model. Most are between around 1kg and 3kgs but there are some that even heavier!
The size of your electric weed burner is equally important because a weed burner that is too small in length is going to leave you having to walk around the garden bent over whilst you are working. Some models come with an extendable handle that will allow you to adjust the height of the grip to suit you, which is a fantastic way of reducing fatigue when you are working. Heights range from around 40cm up to around 60cm so this is definitely worth checking for – particularly if you do suffer with your back or are taller!
TOP TIP: Whilst you are comparing sizes, we would also recommend checking the size of the burn nozzle – a larger area is going to allow you to burn around a bigger space more quickly, but a smaller nozzle is going to allow you more accuracy. We have included more information on this below.
Accessories
The last essential thing that you need to consider before purchasing your electric weed burner is the accessories that it comes with. Just purchasing the weed burner itself isn't always enough, as you could find yourself still struggling to remove weeds from more awkward parts of your garden! We love models that come with detachable nozzles (and a few of them) as this will allow you to direct the heat straight towards the problem areas and weeds in your garden. Some will come with standard circular nozzles, but also have spatula shaped nozzles and flat nozzles – these make it much easier to target the areas at the base of your fence panels or down the side of sheds or conservatories that would normally be inaccessible!
It is important to check how easy it is going to be to attach the different nozzles, as you want this to be quick and easy but also secure. Remember the temperatures that your weed burner is going to reach – well the nozzle will be reaching almost the same temperatures so you don't want them falling off at the wrong time!
TOP TIP: If you enjoy a good BBQ through the summer months then look out for an electric weed burner with an attachment that allows it to be used as a BBQ lighter! Great value for money and saving you time and effort!
Best Budget – Racing Garden Electric Thermo Weed Burner
Last update on 2022-09-15 / Images from Amazon Product Advertising API / As an Amazon Associate I earn from qualifying purchases
The Best Electric Weed Burner Features
If you aren't willing to settle for less than the best, then here are some of the features that you need to be looking out for. They aren't found in all electric weed burners but are definitely worth looking out for as they will massively impact on the job at hand!
Comfort grip – Make sure to check the grip that is provided with the weed burner. Most are going to involve some type of plastic, but this can become slippy and uncomfortable if you are working for extended periods of time. We quite like models that have an additional rubber, ergonomic grip as these will not only reduce fatigue in your hands but make it much easier for you to grip, which is important when you are working with a tool at 650℃!
Colour – The colour of your electric weed burner really comes down to personal preference. The one thing we would like to mention is that we like the models that are brighter in colour, purely for safety reasons. If you have a number of weeds to work with, or a garden with a lot of foliage then the last thing you want is your weed burner blending in. Not only could this then accidentally burn plants or grass that you are wanting to keep, but it could cause an accident when you are moving round your garden.
Storage – You aren't going to be using your electric weed burner all the time, so it is important that it is easy to store when it is not in use. Some manufacturers combat this issue by offering detachable handles for easy storage. If your electric weed burner doesn't come with a detachable handle then look out for a hook on the handle so that at least you can safely hang your burner out of the way!
Usability – Look out for electric weed burners that are going to be easy to use! This can involve a light, simple trigger to work the burner, or a simple switch between the different heat settings. All small things like this are going to make a big difference when you are using your tool regularly.
Fixed stand – We particularly like models that come with a fixed stand at the head of the tool. This helps to protect the ground from burns should it accidentally come in contact or if you need to lean the tool against the ground for a second when burning a particular area.
Best of the Rest
Last update on 2022-09-15 / Images from Amazon Product Advertising API / As an Amazon Associate I earn from qualifying purchases
Last update on 2022-09-15 / Images from Amazon Product Advertising API / As an Amazon Associate I earn from qualifying purchases
Frequently Asked Questions
What guarantee will I get with an electric weed burner?
You will usually find that electric weed killers come with between a 1 year and a 3 year warranty. However, we found some models that have extended warranties if you register the product online which is well worth doing. We also found some models that offer a 2 year warranty but this is only to include certain parts, or parts and not labour so this is worth checking for!
Do I need to use my electric weed burner in dry weather?
Technically you will be able to use your weed burner if the weeds are wet, but it is definitely going to take longer for the weeds to burn away. Not only this, but electric weed burners are not going to be completely waterproof, so we wouldn't recommend using it in rain if possible.
How does an electric weed burner work?
An electric weed burner is essentially a miniature, portable oven. By allowing the burner to get to maximum temperature and then positioning it over the top of the weed in question for a few seconds (normally between 5 and 10 seconds) the extreme heat that spreads down through the weed and the ground around it kills all of the cells in the weed. This helps to not only kill the leaves and the stem so prevent growth of the weed, but will also kill the roots so that it cannot grow back again. This also makes them much easier to then just pull out of the ground!
Are electric weed burners any good?
Considering the alternatives of chemicals that aren't good for pets, children or the environment in general, electric weed burners do a pretty good job. There is a time and a place for weed killer but where possible around the home at least an electric weed burner is perfect.
Are electric weed burners safe?
Electric weed burners are much safer than gas weed burners, propane weed burners and their chemical alternatives, however there are still risks. You need to be careful working near dry grass and plants with a weed torch that gets to around 600 degrees. We would recommend you have a bucket of water or fire extinguisher to hand when working alongside very dry grass and plants.
Do electric weed killers kill the root of the weed?
Yes! Electric flame weed killers will kill the root of the weed as well so you can be sure that the weed will be gone for good from your garden!