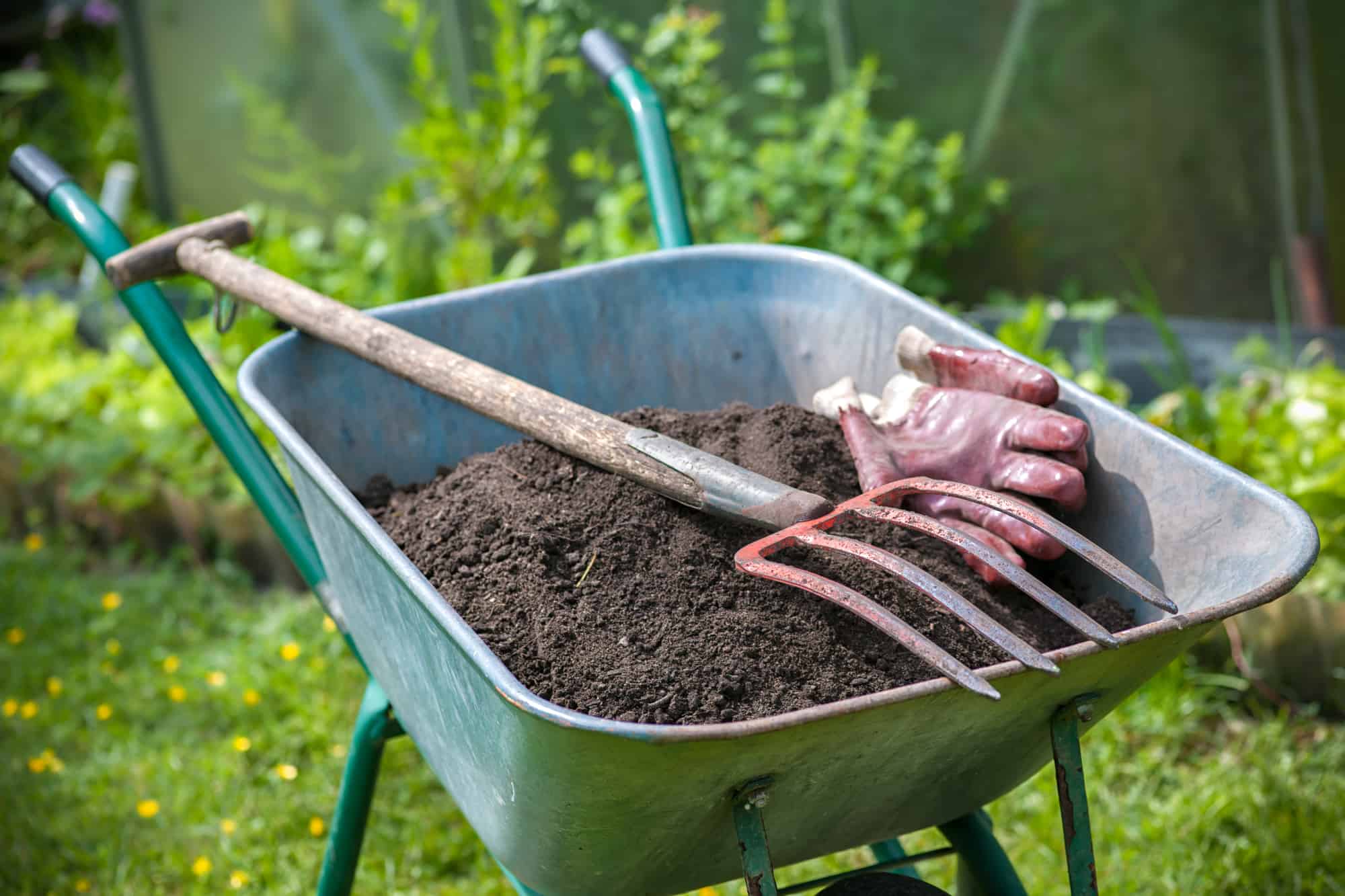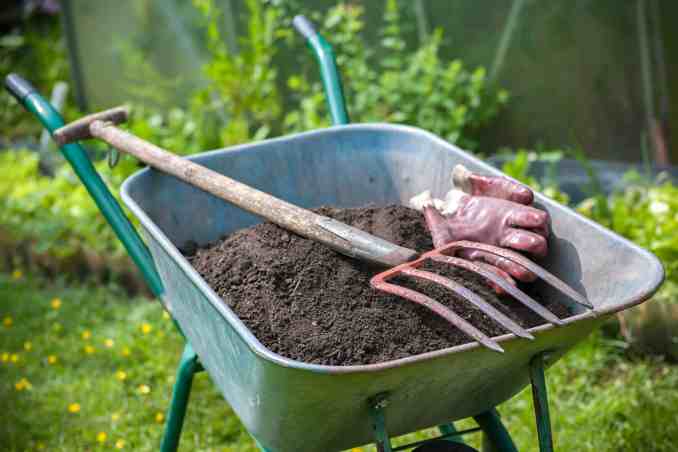 The garden wheelbarrow – a traditional piece of garden equipment that has been around for decades. Invented in 231AD and still used today – this garden tool must be doing something right! Whether you are wanting to move garden debris around, are looking for a model to use on a yard/allotment or maybe you need it for work….there will be a garden wheelbarrow that is going to be right for you.
Garden wheelbarrows come in all different shapes and sizes, from child friendly models to large commercial sized barrows. There are loads of different features and designs to consider – but we have taken all that hard work away and found the best ones for you.
Best Pick – VonHaus 75L Garden Tipping Cart
VonHaus Garden Cart – Trolley, Wheelbarrow, Dump Truck with Tipping Function, 75L Capacity, 250kg Max Weight Load – Heavy Duty Transport for Outdoors, Festivals, Tools, Plants, Logs, General Waste
Ideal for transporting and unloading plants, soil, mulch, coal, stone, logs, general garden waste, tools & more!
75L capacity, 250kg static load capacity and 180kg dump capacity. Easy release one move tipping mechanism
Features strong plastic tub, heavy duty powder coated steel frame and four large 10" diameter pneumatic wheels
Directional front steering - manoeuvrable using the long 78cm push/ pull handle bar or integrated towing hitch. Supplied flat packed – self-assembly required
Manufacturer 2 Year Warranty Included
Last update on 2022-11-15 / Images from Amazon Product Advertising API / As an Amazon Associate I earn from qualifying purchases
In A Hurry?
If you are sick of carrying buckets and shovels of garden waste across your garden, or maybe your trusty wheelbarrow is getting to the point of being ready to replace. Whatever your reason for being in a rush to buy – here are the best garden wheelbarrows on the market at the moment and what you need to be looking for.
Garden Wheelbarrow or Garden Cart?
The first thing that you need to decide is whether a garden wheelbarrow or a garden cart is going to be right for you – so you need to know the difference. A garden cart is more of a tray with large sides and four wheels that can be pulled along. This is better for heavier loads but they can be difficult to move around gardens that are more uneven or on various levels as you risk the cart tipping over if it is not on all four wheels.
A garden wheelbarrow on the other hand will be able to pretty much anywhere that you want to take it! A wheelbarrow is going to have one (or sometimes two) wheels which means that you can move around your garden, up and down steps, and into tighter corners with much greater ease! You will also find a wheelbarrow is easier to control, tip and empty, and store than a garden cart. The only real downside is that with particularly heavy loads you may find it slightly harder to balance so need to consider this if you are planning some heavy jobs – although in saying that, we doubt it is anything that most people wouldn't be able to handle!
Maximum Weight Load
One of the first things you need to think about is the weight of the loads that you are going to be working with and check that your wheelbarrow is going to be compatible with this. If you are just going to be working with grass cuttings and small garden waste then a smaller weight capacity will be fine and will probably mean you can opt for a cheaper wheelbarrow. However, if you are moving soil, larger garden debris or even building waste such as bricks and rubble then you are going to need a much stronger wheelbarrow that is up to the task. It is worth mentioning that wheelbarrows with higher weight loads are going to be heavier themselves due to them having to be made from stronger materials, so you need to consider the weight that you are going to feel comfortable carrying as well!
Wheelbarrow Capacity
You also need to look at the capacity the wheelbarrow can actually carry – which is normally measured in litres. All wheelbarrows are going to be designed differently to maximise the space and capacity that they can carry, so check for the size that you are actually getting.
We found that they range from as little as 60 litres up to around 150 litres. Most will be around 90 to 110 litres and we would say this is a reasonable size for most jobs that you will be completing around the garden or allotment.
TOP TIP: As we mentioned above, make sure to consider the actual weight that you are going to be able to carry! It is all well and good getting a garden wheelbarrow with a large capacity but if you are going to be carrying heavy items and can only manage with the wheelbarrow half full then this could just be a waste of space and money!
Build Materials
The next thing you need to think about is exactly what your garden wheelbarrow is actually made from. The frame is almost always going to be made from metal as this is going to be strong, durable and weather resistant, but for the bucket itself you will have a choice of either plastic or metal. Metal is going to be your strongest material but also your heaviest so will increase the maximum weight that you are having to lift. Plastic will be much lighter and also more weather resistant (apart from discolouring) however it isn't nearly as strong so could crack or break if you are too heavy handed or try to overfill it with heavy items like stones and bricks.
When deciding on the build material you also need to think about what you are going to be carrying in the wheelbarrow! If you are working on a building job or a stable yard (where there is the potential for working with more corrosive substances) then you may be better opting for plastic as this is going to be less damaged by horse waste, concrete, etc.
TOP TIP: If you decide to opt for a metal tub then we would always recommend opting for galvanised metal as this will offer much more protection from rust and wear over time. However, you will still find yourself having to paint the tub if you are really wanting it to last.
Tyres
The tyres on your wheelbarrow are another important component – there are so many different types and they really can make or break the experience that you have with your wheelbarrow. The two main types that you have to choose from are pneumatic or solid, both have positives depending on what you are looking for…
Pneumatic tyres can puncture (although in saying that we have had only one puncture in the whole time of owning wheelbarrows – which has been a while), but they are going to offer you a much more comfortable experience as they will be able to absorb and reduce some of the impact of bumps and raises in your garden, or whatever area you are working. With solid tyres, you are safe from the risk of them puncturing but you do have to bear in mind that they will have no "give" so you are going to feel every undulation in the ground when you are moving around. Equally, if you are pulling your wheelbarrow up or down steps then this is going to add to the effort that you are having to put in! There are "puncture proof" pneumatic tyres that can be purchased so if this is something that is bothering you then this may be a good option!
Once you have decided on the type of tyre you need to decide whether you are wanting one tyre or two. Obviously opting for two tyres is going to offer a much more central point of gravity so you will find it easier to balance your wheelbarrow when moving it from one place to another. This can also make it easier to tip, particularly if you have a heavier load. However, one wheel is going to be easier to maneuver around the garden and weave in and out of bedding areas (providing you aren't trying to juggle a heavy load!).
NOTE: You can now also opt for a ball instead of a standard wheel tyre on the front of your wheelbarrow. These tend to be more expensive and larger but offer you more increased movement when you are transporting your wheelbarrow as you can change direction immediately.
Best Budget – Arboria Wheelbarrow
Last update on 2022-11-15 / Images from Amazon Product Advertising API / As an Amazon Associate I earn from qualifying purchases
What You Need to Know About The Best Garden Wheelbarrows
Now that you know the essential things you need to consider before buying ANY wheelbarrow, here are those extra things you need to think about if you are wanting the BEST wheelbarrow!
Wheelbarrow Liner -If you are going to be moving smaller bits of garden waste, straw and hay, or building dust and debris then it may be worth considering purchasing a wheelbarrow liner. You fill the wheelbarrow just like normal but then secure the liner around the contents so that it cannot blow everywhere or fall out all over the garden after all the hard work that you have put in. If you are serious about keeping your garden or the area that you are working clean and tidy then this is definitely an additional purchase you need to make.
Canteen wheelbarrow – If you are like me and have other things that need carrying around with you as well as the wheelbarrow itself then this could definitely be the best option for you. A canteen wheelbarrow has an extra section underneath the tub which allows you to transport tools and gardening equipment with you when you are moving to a different part of the garden…without you having to put them in the wheelbarrow itself with all the debris and waste!
Motorised wheelbarrow – If you are seriously wanting the best garden wheelbarrow that money can buy then look out for a motorised model! These only have a small engine but they allow you to transport seriously heavy loads with much greater ease as they are doing the work for you. They are also fantastic for if you have to get your load up a steep hill regularly as they will take a lot of the pressure off your back. Here are some of the best motorised wheelbarrows.
Removable tub – If you think you might need to transport bigger objects regularly then it may be worth looking for a wheelbarrow with a removable tub and level framed chassis – this allows you to use the wheelbarrow as a trolley for those occasions when you aren't wanting to use it as a wheelbarrow.
Colour – It sounds simple but make sure to go for a dark coloured wheelbarrow that isn't going to show up the dirt as much if you are conscious about things like that – so many wheelbarrows come in bright colours that are just going to make the dirt stand out more!
Handle grip – Look out for plastic or rubber handle grips as these are going to be long lasting but also warmer and softer than just holding onto the metal handles. You will also find many of the best garden wheelbarrows have handles that are replaceable, so that if they become worn or damaged over time you can replace these without having to replace the whole wheelbarrow.
Stuck for what to do with your old wheelbarrow? Why not turn it into a wheelbarrow planter! We have found some great ideas and options!
Best of the Rest
Last update on 2022-11-15 / Images from Amazon Product Advertising API / As an Amazon Associate I earn from qualifying purchases
Last update on 2022-11-15 / Images from Amazon Product Advertising API / As an Amazon Associate I earn from qualifying purchases
VonHaus Wheelbarrow 78L – Wheel Barrow Garden Cart – Heavy Duty Multi Use for Tools, Waste, Plants, Leaves, Transporting – Two Wheeled Pneumatic Tyres, Steel Frame, Soft Grip Handle – 2 Year Warranty
HEAVY DUTY - Made from a sturdy coated steel frame and robust plastic tray, this wheelbarrow is resistant to the elements, suitable for all gardens and build sites
LARGE CAPACITY - 78L Capacity, perfect for lifting and transporting garden essentials such as compost, gravel and sand, and indoor use.
EASY TO USE- Dual pneumatic wheel design increases stability, soft grippy rubber handles increase comfort and functionality.
GREAT GIFT IDEA - Multifunctional and adaptable, for the autumn leaves or the winter snow, make sure you have this handy barrow during all seasons for those essential occasions
DIMENSIONS - Length 125cm, Width 70cm, Height 65cm. 2 year manufacturer warranty
Last update on 2022-11-15 / Images from Amazon Product Advertising API / As an Amazon Associate I earn from qualifying purchases
Frequently Asked Questions
What can I do about a wheelbarrow tyre puncture?
You can get puncture repair kits that will work on garden wheelbarrow tyres so this is definitely going to be your cheapest and quickest solution. However, depending on the amount of weight that your garden wheelbarrows are carrying you could find it isn't a long term solution. However, tyres on wheelbarrows are very easy to replace, simply measure the size of your current tyre, order a new one and then unscrew the bolts to replace!
How should I maintain my garden wheelbarrow?
If you are wanting to get the most out of your garden wheelbarrow then it is important that you maintain it regularly to keep it in good condition. We would always recommend washing down your wheelbarrow with a hosepipe after use as this is going to stop it from rotting and becoming stained. You should also pump up the pressure on your tyre/s occasionally as this will help the ease at which your wheelbarrow moves around and extend the life of the wheel. Finally, it is a good idea to treat/paint the metal parts of your wheelbarrow once a year to avoid any rust or damage developing.
What size of wheelbarrow do I need?
The capacity of most wheelbarrows is measured in litres. A standard wheelbarrow will hold between 85 and 100 litres in a flat load, however there are larger models that will be able to carry more, up to around 150 litres. Bear in mind that bigger wheelbarrows are going to be harder and heavier to move around!
Performance

Features

Ergonomics

Value