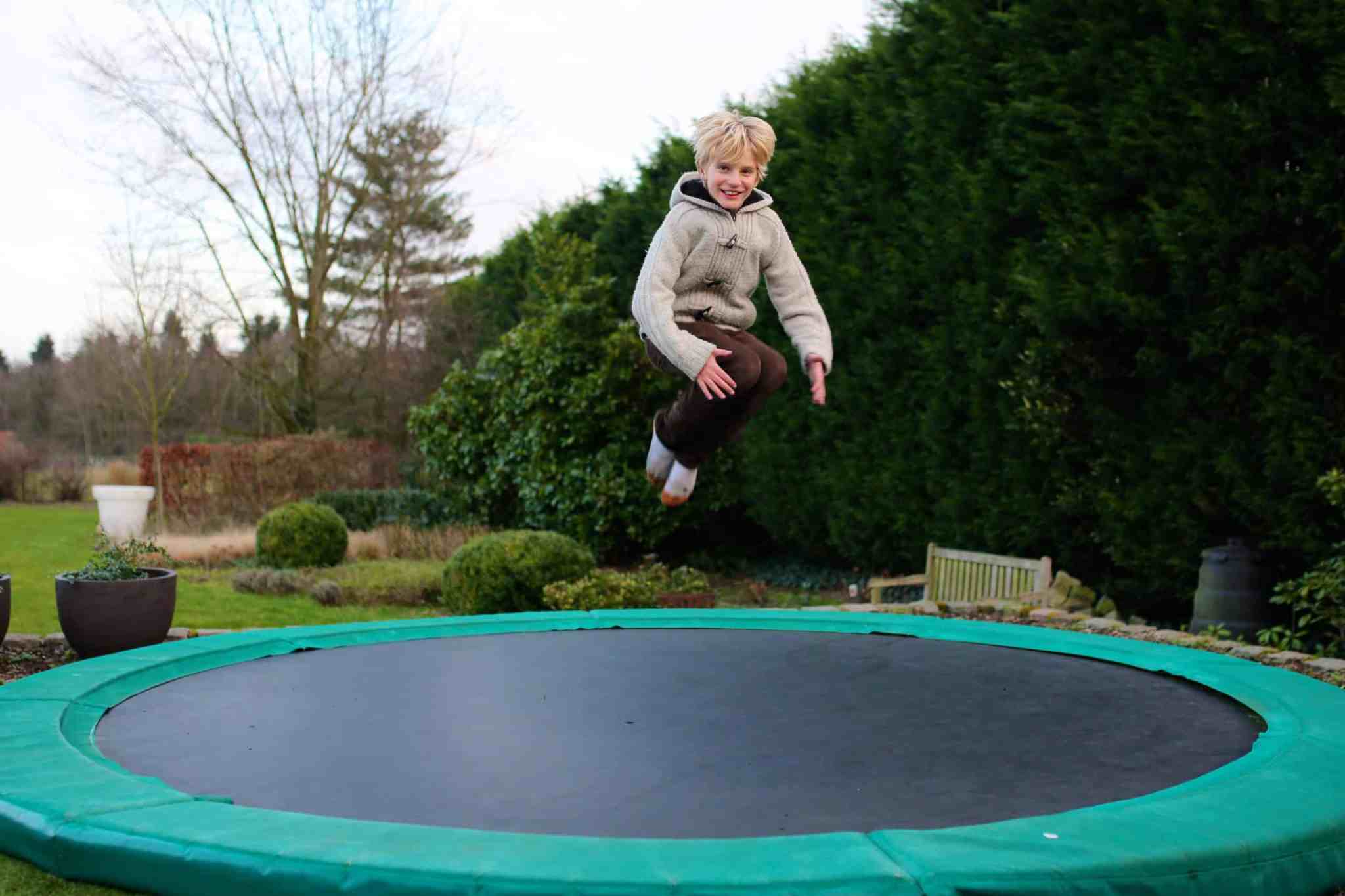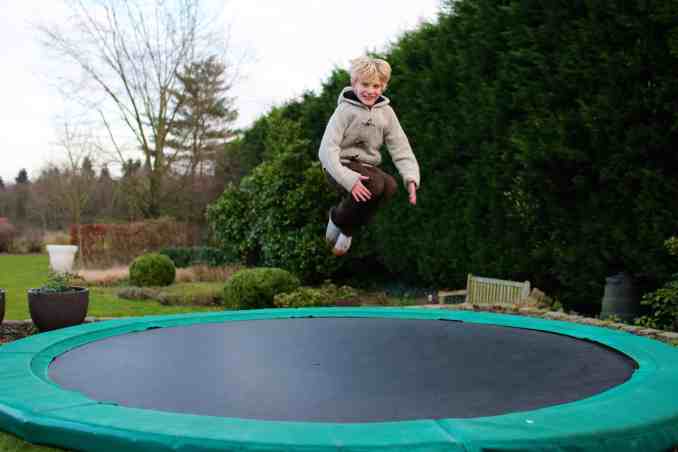 A kids trampoline can be a fantastic edition to any garden! They will provide hours of entertainment for young kids and big kids alike – plus any adults that want to have a bounce as well! As well as being fun, they can also provide an excellent form of exercise. They have the benefit of increasing muscle strength, balance and coordination – without your children even realising what they are doing. Not only this….but for adults that are feeling like they need a bit of a workout (or maybe just some fun!)…you can benefit from it as well. A kid's trampoline really is going to be a perfect gift for all the family, and one that will last for many years.
But, there are some risks involved with trampolining, which makes it essential that you purchase a good quality model that is going to be right for you, your children and the area that it is going to be situated. Therefore we created this article to include the aspects that you must know about before you buy, plus some of the best kids trampolines on the market at the moment, to save you the hassle of having to look!
Best Pick – ZERO GRAVITY Ultima 5 Rectangular Barrel Trampoline
ZERO GRAVITY Ultima 5 Rectangular Barrel Trampoline in 3 Sizes. High Specification with Safety Enclosure Netting and Ladder (10ft x 7ft)
For over 10 years Zero Gravity has been synonymous with high specification, quality trampolines. During this time they have shied away from the cheaper end of the market as it was impossible to produce a safe high performance rectangular trampoline at such a low price. For 2 years they have worked on producing a design that gives the bounce performance of a rectangular trampoline whithout compromising safety and yet at an affordable price. Introducing the Zero Gravity Ultima 5 trampoline...
Why not buy a cheaper round trampoline? Its simple if you want to go to great heights then a rectangular trampoline really does give a much better bounce. This trampoline is not for the very young but for the experienced trampolinist who has outgrown their round trampoline and wants to extend their trampolining skills.
All Zero Gravity Ultima 5 trampolines feature a state of the art safety enclosure. A netting sited directly on the edge of the jumping surface supported by arced uprights improve safety in the event of a fall, whilst a wired top ring retains the shape and structure of the netting.
The safety padding's top surface is made from PVC rather than cheaper, inferior PE giving a quality look and feel that unlike PE will not disintegrate under UV light. SAFETY IS OF THE UTTERMOST IMPORTANCE so inside the padding you'll find 20mm thick EPE foam protecting your child against the steel frame.
CUSTOMER SERVICE IS KEY to Zero Gravity Trampolines success. Although we believe the assembly guide supplied with this trampoline is one of the best available, should you have any questions while building your trampoline please feel free to call the Zero Gravity support line and one of their knowledgeable staff will be only to pleased to help.
Last update on 2021-09-16 / Images from Amazon Product Advertising API / As an Amazon Associate I earn from qualifying purchases
In A Hurry?
We understand that children don't always want to wait for things – and neither do many adults! So if your children (or you!) have set your sights on purchasing a kids trampoline then this is the part of the article you need to read. We have included all the crucial features you need to look out for if you are in a hurry when buying your trampoline!
Size
It goes without saying that size matters – and this is the first thing that you need to think about before purchasing a kids trampoline. The first thing that you really need to consider is the size of the garden/backyard that your trampoline is going to be housed in. Ideally you don't want a trampoline that is going to take up the full space, as this leaves no space for you – as the adult – to relax and your kids to run around and let off some more steam! Not only this, but squeezing a large kids trampoline into a smaller space could be dangerous if the children were to fall off the sides.
SAFETY TIP: We would always recommend leaving a 1-2 metre gap around the outside of your trampoline away from any walls or hard surfaces just in case! Accidents can happen so it is better to be on the safe side!
You also need to consider the size of the trampoline for the age of your children…obviously you want to make a purchase that is going to last a number of years, which would suggest you need to buy a larger trampoline. But, this does mean that if you have younger children you are probably going to have to be prepared to get on the trampoline with them! A larger trampoline is also going to allow you to bounce higher, so will be better suited to older children.
Trampoline diameters ranged from between 1.4 metres to 4 metres. Anything under 2 metres is going to be best suited to children under 5 years old, whereas children between 6 and 10 will be okay with trampolines up to 3.5 metres. Older children or adults will be fine with any size of trampoline that you are interested in!
It is also worth considering the height of your trampoline. Larger trampolines need to be a reasonable height off the ground so that there is space underneath for the trampoline to flex and move, but obviously the higher off the ground…the further the drop. So try and find a combination that works well for the age of children that will be using the trampoline! If you include the safety net, some trampolines can be over 8ft in height – so will be taking up a fair bit of your garden!
Materials
The materials that make up kids' trampolines are going to impact on how safe and stable they are, plus will impact on their durability.
Make sure that your trampoline has strong springs with a sturdy coil as this is what will create the most bounce – and help to ensure that you are going to bounce back to the centre if you edge over to one side by mistake! You also want to make sure that you opt for a model with as many springs as possible (and ones that are spaced out evenly) as this will help to make the trampoline as safe as possible.
Next is the material that is used for the matting. The springs of your trampoline must be covered to avoid any injuries and this is best achieved with polypropylene to add a spongy soft layer on top of the hard springs. Matting tends to come in different thicknesses….20mm is the standard thickness, but there are models that go up to just over 30mm thickness if you are wanting that extra protection.
The most common material that is used for the frame is hot-dipped galvanised steel. This is going to be plenty strong enough to be able to withstand the constant pressure from the bouncing!
Shape
Although the most common shape of kids' trampoline is circular, there are actually many different shapes to choose from, which works really well for people with different sized gardens as you can guarantee you are going to be able to find one to fit your space.
We found various shapes including; ovals, rectangular and octagonal, so make sure to think about the shape of your garden and the space that you are wanting to use for your trampoline. If you have a child that is wanting to take part in gymnastic lessons – or just enjoys testing out some shapes then opt for a rectangular trampoline as this will offer more space for tricks. Be warned though that due to the uneven weighting in the springs you do have to make sure you have more control on take-off and landing.
Netting
Some kids' trampolines automatically come with a safety net around the outside, but for some this is an additional cost that you will have to fork out for. Although we appreciate this isn't always ideal, it is something that we would STRONGLY recommend. Having a net around the outside of your trampoline will save you from a hundred heart attacks whilst you watch your children jump and flip and (more seriously) could save them from a dangerous accident.
It is important that this netting is high enough to "catch" children if they bounce against the sides. You also need to make sure that the material is going to be strong enough to save older children (or adults). This is usually achieved by using aluminium or steel rods in 4 corners, with netting then attached. Make sure that these come with strong fastenings that will be able to take the weight of you crashing into them at a funny angle!
Weight capacity
All trampolines are going to have a maximum weight capacity. It would be very unlikely that a single adult or child would exceed that capacity, but you also tend to find that a trampoline is more fun if more people are involved! This is when it is important to consider the maximum weight capacity. A larger trampoline is usually going to have a larger weight capacity, so therefore can hold more people at once.
SAFETY TIP: Make sure not to exceed the weight capacity as this can damage the netting and springs which could lead to accidents.
Best Budget –
Sale
Galt Toys, Folding Trampoline, Kids Trampoline, Ages 3 Years Plus
Junior trampoline with easy grip handle encourages children to exercise and keep fit
Suitable for indoor and outdoor use with tough weatherproof mat
The handle screws off and legs fold down for easy storage
Padded cover around the mat provides extra safety and prevents children stepping on bungee cord
Maximum weight 25 kg (55 pounds). Suitable from age 3 years up
Last update on 2021-09-16 / Images from Amazon Product Advertising API / As an Amazon Associate I earn from qualifying purchases
Additional Features
Now that you know the main aspects you need to think about before purchasing a kids trampoline, here are some of the things you need to consider if you are wanting the best kids trampoline for your money…
Zip or velcro closing – If you opt for a design with safety netting then you are going to need to choose between either a zip or velcro fastening for the door. We would always recommend opting for a zip as this is going to last longer and provide a more secure closing. This means that if children bounce against this part of the trampoline then there will be no weak points for them to slip through…but also it saves any animals from sneaking onto the trampoline from the outside (which is actually more common than you would think).
Support handle – If you are looking for a trampoline for younger children and toddlers then it may be worth looking for a smaller model with a safety handle. This will give your children something to balance on when jumping until they become more confident and stable.
Ladder – It is worth checking whether your kids trampoline comes with a ladder to climb up or whether you have to hoist yourself onto the trampoline. This is going to impact on how independent your children can be when using the trampoline at a younger age.
Foldaway trampolines – If you are wanting a kids trampoline that doesn't have to take up space in your garden all the time then look out for a foldaway trampoline. These are great for if you often use your garden for entertaining, or just if you want to pack your trampoline away over winter months to extend its life expectancy and keep it protected.
Above ground vs in ground trampolines – Most trampolines that you look at buying are going to be above ground trampolines, so they have to be a certain distance off the ground to ensure safe bouncing. However, you can now purchase in-ground trampolines, which require you to dig into the ground and then the trampoline "sits" into the space. There are many benefits to these, as they won't obstruct the view of the garden nearly as much, and children are at ground level so less chance of accidents. However, you have to know that you are going to want your trampoline to be around for a long time if you are willing to dig that hole!
Assembly – It is worth checking how your trampoline is going to arrive! Many will need at least some basic tools to be erected and quite possibly two people so this is important to check for before you buy.
Shoe storage – To save shoes going missing (or getting covered in mud) consider purchasing a mesh shoe storage. This can be hooked onto the side of the trampoline ready for when your children get on or off.
Protective cover – If your trampoline is going to be left out all through the year then it may be worth considering a protective trampoline cover (particularly for those winter months). This will make sure that your trampoline is not exposed to the elements and stop a build up of leaves that will eventually turn to mush and dirt. Then you can simply remove the cover come summer!
Anchor kit – If your trampoline is in a part of the garden that can be particularly windy then it may be worth considering an anchor kit. This will secure your trampoline to the floor in multiple places so that it is going to be more stable.
Best of the Rest
Charles Bentley Monster Children's 12ft Trampoline with Safety Net Enclosure
Features : Safety net, EPE foam padding, Galvanised steel frame
Includes : 1x trampoline, 1x safety net, 4x legs, 8x enclosure poles
Material : Galvanised steel legs, UV resistant polypropylene fabric, Expanded polythene foam, UV resistant polyester safety net
Dimensions : Diameter: 360cm, Total height (including net): 250cm, Trampoline height (ground to top of jumping mat): 80cm
Weight : 50kg, Max user weight: 150kg, Colour : Black
Last update on 2021-09-16 / Images from Amazon Product Advertising API / As an Amazon Associate I earn from qualifying purchases
Oypla 55" Kids First Trampoline with Safety Net Enclosure & Red Cover Garden Outdoors
Official Oypla Branded Product - Brand New Free UK Delivery
Diameter: 55" - Mat Height: 14" - Overall Height: 50"
Steel galvanized inside and out for rust free protection and increased strength
Enclosure designed to keep the user within a safe area whilst using the trampoline, thus reducing the risk of falling
Thick foam pads cover the springs and frame providing safe cushioning
Last update on 2021-09-16 / Images from Amazon Product Advertising API / As an Amazon Associate I earn from qualifying purchases
Frequently Asked Questions
What warranty comes with a kids trampoline?
We would recommend looking for a kids trampoline with at least a 3 year warranty, although the best kids trampolines will actually come with upwards of a 5 year warranty. It is worth checking exactly what is covered under the warranty though as many trampoline warranties won't include the main matting or the springs.
Can I get spare parts for my kids trampoline?
Yes, there are many manufacturers that will offer spare parts such as matting patches, replacement springs or new netting. It is important to check whether you will have to get products specific to your trampoline or whether you can buy generic, as sometimes buying parts that aren't compatible will affect the safety of your trampoline.
Performance

Features

Ergonomics

Value