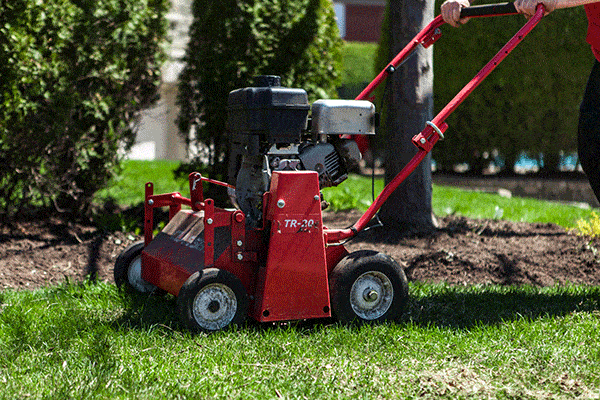 In theory, your lawn should be one of the easier aspects of your garden to look after, however, this is rarely the case! From bare patches to yellow looking grass or even just patches that have died altogether – it can be difficult to get to the root of the problem! A lawn aerator could be exactly what your lawn needs. If you think about it when was the last time you fully ventilated and aerated your lawn? Chances are (if you are anything like me) it has been quite a while!
The purpose of lawn aerators is to penetrate your soil, leaving holes to allow air and water to drain into the ground. As it will be able to drain deeper it can be picked up by the roots and used to make your grass bigger, bolder and stronger. We openly acknowledge that there are plenty of fertilisers available on the market that can benefit your lawn, but to give these a fighting chance of doing what they are made for, they need to be able to get deep into the soil – which is difficult if the lawn hasn't been aerated for a long time!
Best Pick – Greenworks G40DT35
Last update on 2022-06-27 / Images from Amazon Product Advertising API / As an Amazon Associate I earn from qualifying purchases
If you have already started looking at lawn aerators online then you will understand what a complicated world they can be! There are so many different varieties of lawn aerator, plus different features that need to be weighed up before making your purchase! The Best Lawn Aerator Buyer's Guide will help you get your head around all of these different factors, and even suggest some of the best lawn aerators that we have found on the market at the moment.
Only Got 5 Minutes?
Aerating your lawn is unfortunately not a quick fix – it takes time to get your lawn looking just right! But this is even more reason to get the job started as soon as possible so that you can then reap the benefits of your lawn aerator purchase sooner rather than later! Keep reading for all of the main features that you need to look out for when buying the best lawn aerator for you (and your garden!).

What Type of Lawn Aerators is Right For Me?
There are various different types of lawn aerators available; roller spike aerators, hollowed tine aerators, shoe spikes and forks/rakes.
Roller spike aerators are the most common type of lawn aerators as they greatly reduce the amount of work that you have to put in. They are pushed along the lawn, causing the roller to rotate and dig into the ground. They can be found in both manual and powered models, with manual models being suited for smaller gardens and electric/petrol models being better for large gardens.
Hollowed tine aerators are different in that they aren't pushed along but are pushed into the soil around your lawn so you force the holes into the ground yourself. Hollowed tine aerators, therefore, require a lot more effort than other models, but they are also cheaper!
Spike shoes and forks are the cheapest of all the options, but are only really suited for much smaller gardens as they will take a lot longer to use!
Blade Width
The width of the blade roller or strip normally varies between 20cm and 40cm depending on the model. This is a massive difference but bigger isn't always better, as if you have a smaller garden then you may want a smaller width so that you can access more tight to reach awkward places. Equally, if you have a large garden that is just one big open space, then the bigger the blade strip width the larger the area that you will be able to cover in one go.
Blades
The blades are used to actually penetrate the ground and form the holes, and are sometimes otherwise known as "knives". Lawn aerators will have different numbers of holes but remember the more blades, the more holes that you will have in your lawn, which allows more space for water, air and nutrients to get deep into the soil.
Look at what material the knives are made out of, as they will need to be decent quality if they are going to get through hard and compacted soil. Equally, if you know that the ground in your garden has lots of stones then you will need to choose strong blades too. If you are working in softer ground then this is something that won't be quite as important.
Lastly, consider the size of the actual, the thicker they are the bigger the holes that they will create in the ground – great for the health of your lawn but not so much for the look of your lawn straight after it has been done!
Best Budget – Draper 83983 Rolling Lawn Aerator
Last update on 2022-05-29 / Images from Amazon Product Advertising API / As an Amazon Associate I earn from qualifying purchases
Powered Models
We would hazard a guess that most homeowners are going to be best suited to a manual lawn aerator. Yes, you have the hard work of having to push the aerator across your lawn but they are cheaper, with little maintenance and upkeep costs. But if you have a larger garden then you may want some help getting that aerator from one side of the garden to the other – enter electric or petrol lawn aerators!
Electric models are cheaper than petrol aerators, will need less maintenance and you are also not having to top them up with fuel regularly. However, you do need to be close to mains electricity which can be difficult for larger gardens and you have the safety aspect to consider with the wire trailing across the garden!
Petrol models are more expensive, but in the initial cost but also with the maintenance and fuel. But they tend to have a much longer lifespan, so will be better value for money in the long run! They are also cordless so better for large gardens!
Lawn Aerator Weight
You are going to be moving your tool to and from your shed or garage, plus around your garden, so choosing one that is not too heavy is important! Harrowing tine aerators are lighter than roller spikes but this is because they have to be lifted in and out of the soil with every move, so they HAVE to be lighter to make them usable! Roller spike aerators are heavier but remember you are only pushing this along the ground so will have much less fatigue when working. Roller spike aerators usually range between 3kg and 6kg, with hallowed tine models being a lot lighter, and petrol models being a lot heavier!
Penetration Depth
The penetration depth is how deep your blades will push into the ground. Most gardening experts will say that you are wanting a lawn aerator to penetrate between 1 to 2 inches, but different models will go to different depths so make sure to check for this. Some electric or petrol models will actually have adjustable depths so you can tailor it to your garden – as they are all different!
Garden Size
As we briefly mentioned above, the size of your garden will affect the size of lawn aerator that is best for you. A large garden will obviously be better with a larger lawn aerator as you will be able to cover more ground in the same amount of time. However, a smaller lawn aerator will be better in a smaller garden as it will be easier to fit into smaller spaces and gaps.
Assembly
Some lawn scarifiers will be assembled already, or won't need any assembling at all (such as harrowing tine models). This will save you a lot of time but can mean that they are less flexible in terms of their storage options. Some will need piecing together so make sure to check how difficult or easy this is to do before purchasing!
Also consider how easy the lawn aerator is to store away, as they can be large and will take up a lot of space if they cannot be unassembled between uses!
What Does a Lawn Aerator Do?
Now that you know the different features of a lawn aerator, you need to understand how they all work together to actually benefit your lawn – let's be honest that's the reason why you are buying one in the first place!
It is a lawn aerator's job to pierce holes into the top few layers of soil on your lawn – usually with a rotating roller that spikes into the ground. However, there are other methods as we have seen above. You need enough holes to be created on your lawn for air, water and nutrients to seep into the holes and reach the roots that are feeding your grass. By aerating your lawn your roots will then grow even deeper into the soil, allowing them to pick up more water and nutrients, and therefore your grass will be in better condition than ever before!
If your lawn has not been aerated for some time, then the water and nutrients will struggle to pass down through the compacted soil, so will often either sit on the top of your grass (damaging it even further) or will soak down but only into the first layer of soil (nowhere near where the roots are that actually need it).
Another use for a lawn aerator is for when you are reseeding your garden. Using a lawn aerator before spreading your seeds will make them much more likely to germinate.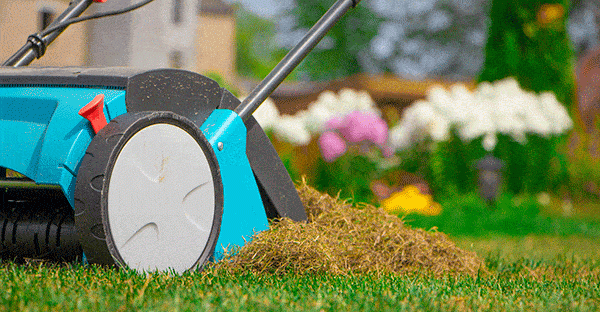 How to Get the Best From Your Lawn Aerator
Look after your lawn aerator – make sure that you remove any soil from the knives after each use and rinse off any dirt or mud.
Work your lawn aerator over your grass twice if it has been a long time since the job was last done and your soil is more compacted. If you have softer soil then you may be able to get away with only doing it once!
Water your lawn after aeration.
Consider using a fertiliser after you have used your lawn aeration for maximum growth.
If you have a roller model, make sure to oil this occasionally, plus any other parts before it is put away in storage.
What is the Difference Between Aerators or Scarifiers?
Aerators and scarifiers are two words that are often interlinked and mixed up when considering lawn maintenance!
They are both there to help you create a healthy and lovely looking lawn but in completely different ways! Aerators, as we now know, pierce holes in the soil to increase water, air and nutrients being soaked up by the roots, whereas a scarifier rakes away thatch on the actual grass layer of the lawn to promote fresh grass growth.
There are manufacturers who have now created aerator and scarifier combined so that you can do both jobs in one go, or at least use one machine and just change the settings. They do cost more than other aerators but in our opinion are worth considering as they will save you a lot of time and money in the long run!
Best Of The Rest
Last update on 2022-06-27 / Images from Amazon Product Advertising API / As an Amazon Associate I earn from qualifying purchases
Last update on 2022-06-27 / Images from Amazon Product Advertising API / As an Amazon Associate I earn from qualifying purchases
Last update on 2022-06-27 / Images from Amazon Product Advertising API / As an Amazon Associate I earn from qualifying purchases
Frequently Asked Questions
How often should my lawn be aerated?
A lawn should be aerated around twice a year -once at the start of Spring and again towards the end of Autumn. Any more than this and you may find it doing more damage than good!
What warranty will usually come with a lawn aerator?
Most aerators come with a 2-year warranty, any less than this and you will be wanting to check the quality of the parts to make sure they are going to last! Remember you are only using your aerator around twice a year – so that means a 2-year warranty is essentially covering you for 4/5 uses of your aerator!
How will I know if my lawn needs aerating?
There are some key things to watch out for as signs that your lawn is in need of aerating…if you are finding that your lawn is waterlogged after it rains if your soil is compacted so much that you cannot push something small (such as a pencil) into the ground or if you have thin areas of grass.