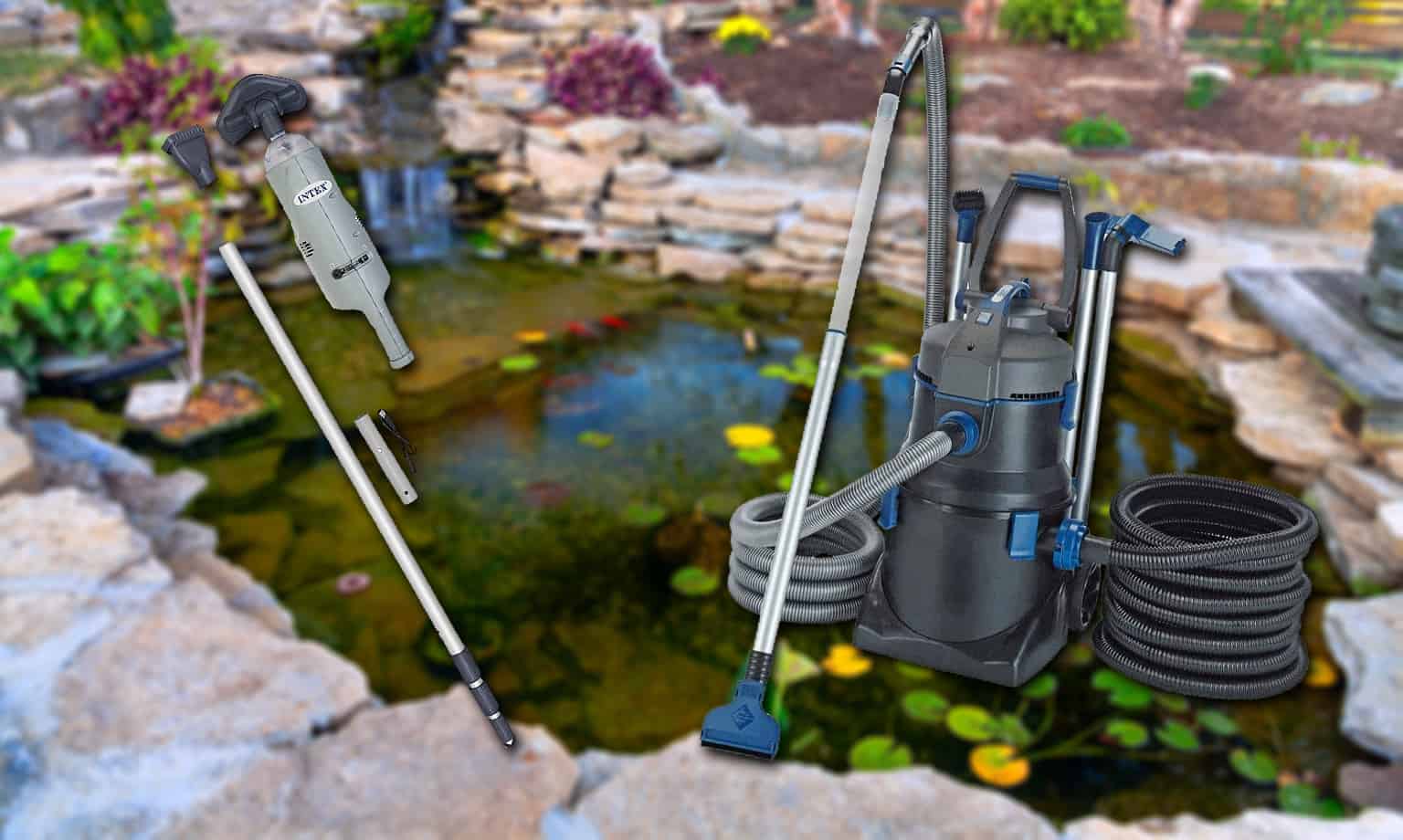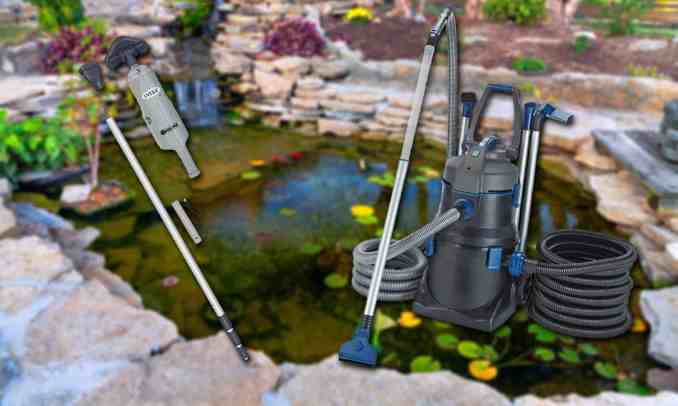 It doesn't matter what size your pond is or where it is positioned, it is going to need cleaning regularly if you want to keep it looking its best! Many people purchase filters and fish that are there to help clean your pond and keep it well maintained but actually even with filters and fish you are still going to need to clean your pond by hand! This is important if you are wanting to keep algae, dirt and debris to a minimum so that your pond not only looks its best but also provides a suitable environment for any fish that may call your pond their home.
However, the actual process of cleaning your pond can be time consuming, dirty, hard work and just generally not a pleasant job! Generally you will have the option of trying to use a net to fish out floating debris and then various other tools to scrape algae from the sides and bottoms of the pond! Sometimes you may even find that your only option is to drain it which is less than ideal!
A pond vacuum is the perfect solution for this problem! It will make cleaning your pond so much more simple and less time consuming, leaving you free to actually enjoy your pond and the garden surrounding it. Pond vacuums pretty much do as the name suggests, by vacuuming all the debris and rubbish in your pond so that you don't have to. If this sounds like exactly what you need then keep reading for some of the best pond vacuums and their features!
Best Pick – Oase Pondovac 5
Last update on 2022-05-22 / Images from Amazon Product Advertising API / As an Amazon Associate I earn from qualifying purchases
In A Hurry?
For anyone whose pond is looking rather neglected, or if you have invested considerable hours in getting your pond to look JUST right, then you are going to need a pond vacuum and quickly so that your pond can get the treatment it deserves!
How Does A Pond Vacuum Work?
We understand that you are probably wondering about how a pond vacuum actually works – when we first saw them we thought the same – surely all the water just gets sucked in the vacuum and then you are left with an empty pond? But, there is actually much more to it than that!
Pond vacuums work by suctioning water up a hose into the vacuum, where it then passes through a filter (or two) to remove any debris or algae that is dirtying your waters. At this point, the clean water is then pushed back through an output hose and back into your pond. This makes them incredibly easy to use and also gives you the benefit of your pond never being too low on water!
Once you have finished vacuuming your pond, you then simply have to empty your filter (like you would with a standard vacuum) to empty out the waste that has been collected.
Power
The first thing that you need to think about when looking to purchase your pond vacuum is whether you want a manual pond vacuum or an electric pond vacuum.
A hand-pumped, manual pond vacuum is going to be cheaper to purchase and cheaper to run so it is great for if you are working on a budget. They also tend to be smaller which makes them more portable and lighter to move between your shed and the pond itself when you are cleaning. We also like that the hand-pump allows you complete control over when and where you are suctioning, so they can be considered safer, particularly if you have unsuspecting fish in the pond!
However, there are downsides to a manual pond vacuum, which will be solved by purchasing an electric model! The main downside is that you are still going to be doing all of the suctioning yourself – so although they are still going to be MASSIVELY easier and more effective than not having one, you are still going to have to do a lot of the labour yourself!
The solution for this is an electric pond vacuum! Powered by mains electric you are going to have to consider the cable length to make sure that you are close enough to a plug socket but this is really the only downside to these models! They are powerful, super effective in the amount of debris that they can collect and reduce the amount of effort that you have to put in considerably! They are designed with an electric motor which suctions the water up into the filter tank and then pushes it back down the outpipe and back into your pond. Not only will they reduce the amount of effort that you have to put in but they will also work much quicker as they will keep suctioning until you switch them off!
Suction Depth and Power
Once you have decided on whether you are wanting to purchase a manual or electric pond vacuum, the next thing you need to look out for is the suction depth and the suction power. There are a number of factors that will impact on this but it is one of the most essential features to consider as if the suction depth isn't going to be deep enough for your pond then your pond vacuum will be ineffective in doing it's job!
The hose length needs to be long enough to reach the deepest parts of your pond and we would actually recommend looking for a hose length slightly longer than that if possible, as it will make your life much easier when cleaning your pond as you won't need to move around your pond as frequently. We found suction hoses tended to range from between 12ft up to nearly 30ft which is a considerable difference!
But sadly it isn't quite as simple as just that! You also need to check for the maximum suction depth – the hose length can be deceptive as you will think that this is how deep your pond vacuum will work but actually that is dependent on the strength of the motor itself, not the length of the hose! Suction depths ranged from around 6ft up to just over 20ft depending on the power of the model. This proves the point that it isn't just the length of the hose, as some models with a hose length of 18ft actually only had a suction depth of 9ft!
Your suction depth will normally be determined by the power of your pond vacuum and the flow rate that is offered. Greater power and greater flow rate means that your pond vacuum will be able to suction up more water (and more importantly debris) in one cycle of your pond. It also means that it will be able to suction at a much lower level which is perfect for anyone with a deeper pond.
TOP TIP: Although we would normally recommend going for the most power for your budget, pond vacuums can actually be quite expensive to run. So we would definitely still recommend going for slightly more power than you think you need in case your pond gets particularly dirty, but maybe don't just go for the most powerful you can find if you don't need it!
Single or Dual Chamber
As we mentioned above, the best way to make your pond vacuum both time effective and cost effective is if it can clean your pond in one sweep around your pond. Less powerful pond vacuums will leave you having to go round your pond two or possibly even three times if your pond is particularly dirty.
A large factor in how effective your pond vacuum will be is whether it is a single or dual chamber model! Single chamber pond vacuums will be more than effective enough for smaller ponds. They work by suctioning an amount of water into the chambers cleaning it and then feeding it back out again – before continuing the process again slightly further round your pond. As you can imagine, this will be a considerably slower process than if your pond vacuum can suction, clean and discharge all at the same time! This is what you will be able to expect from a dual chamber model. These models will continuously suction, clean and discharge water as they move through the chambers so will be considerably more effective – although this does mean that they are going to be more expensive.
Portability
Pond vacuums, particularly the electric models, are going to be reasonably heavy so you will need to think about how easy it is going to be to move around your garden. Most are going to range between 30lbs and 80lbs which is quite a weight to move around – particularly if you are having to travel over grass to get to your pond.
Look out for models that come on heavy duty wheels that are going to be able to tackle all terrains. We particularly like models that have breaks on the wheels so that you don't need to worry about the tank of your pond vacuum moving around if your garden is on an incline! It is also worth looking for whether your pond vacuum has various handles to make it easy to move around your garden or lift if required.
Best Budget – S-Union Pool Jet Vacuum Cleaner
Last update on 2022-05-22 / Images from Amazon Product Advertising API / As an Amazon Associate I earn from qualifying purchases
The Best Pond Vacuum Features
Now that you know the main differences separating pond vacuums, you can start to think about the features that make the best pond vacuums stand out from the rest! These are going to help you to get the best clean of your pond and also affect the usability of your vacuum.
Discharge hose – Although not quite as important as the suction hose, it is definitely worth looking at the length of your discharge hose. We found them ranging from around 6ft up to over 30ft.
Build Materials – Make sure to check the quality of the materials that have been used, particularly for the hoses as these are going to be the most exposed to wear and at risk of damage. Some will be made from plastics whereas higher end models will be made from aluminium which is going to be more durable. We quite like hoses that are made from transparent plastic as this will allow you to see the difference in your water as it travels back into your pond.
Adjustable suction – Look out for pond vacuums that will allow you to adjust the suction rate, this is great to allow for a strong but careful clean of your pond as the suction rate can be lowered around water plants or the edges of your pond.
Cool down rate – Some pond vacuums will need a certain amount of time to "cool down" whilst they are being used, which is obviously going to increase the amount of time it takes for you to clean your pond. This ranged from around 3 minutes up to 8 minutes.
Attachments – Some of the best pond vacuums will come with different attachments to help you along the cleaning process. Most, as standard, will come with a wide nozzle to allow for easy suction, but some also come with a scrubbing head to allow you remove tough algae from the sides of your pond.
Best of the Rest
Last update on 2022-05-22 / Images from Amazon Product Advertising API / As an Amazon Associate I earn from qualifying purchases
Last update on 2022-05-22 / Images from Amazon Product Advertising API / As an Amazon Associate I earn from qualifying purchases
Last update on 2022-05-22 / Images from Amazon Product Advertising API / As an Amazon Associate I earn from qualifying purchases
Frequently Asked Questions
What warranty comes with a pond vacuum?
Pond vacuum warranties range from around 1 year up to 4 years depending on the manufacturer and build quality. However, this will rarely include the filter as this would be seen as a "general wear and tear" part.
Can you use a pond vacuum if you have fish in your pond?
This really depends on the type of pond, fish and pond vacuum that you have. Many pond vacuum manufacturers will state that they are safe to be used with fish but you would definitely have to be very careful and consider a mesh to put over the nozzle of your pond vacuum. You also need to consider that cleaning your pond could change the pH levels in your water which could be harmful for some more sensitive fish species!
How often should I clean my pond?
Obviously this depends on if there is any wildlife in your pond, the size of your pond and the amount of debris that it collects. But if you are going to clean your pond we would normally recommend doing one deep clean a year – with possibly a couple of other "touch up" cleans in between.