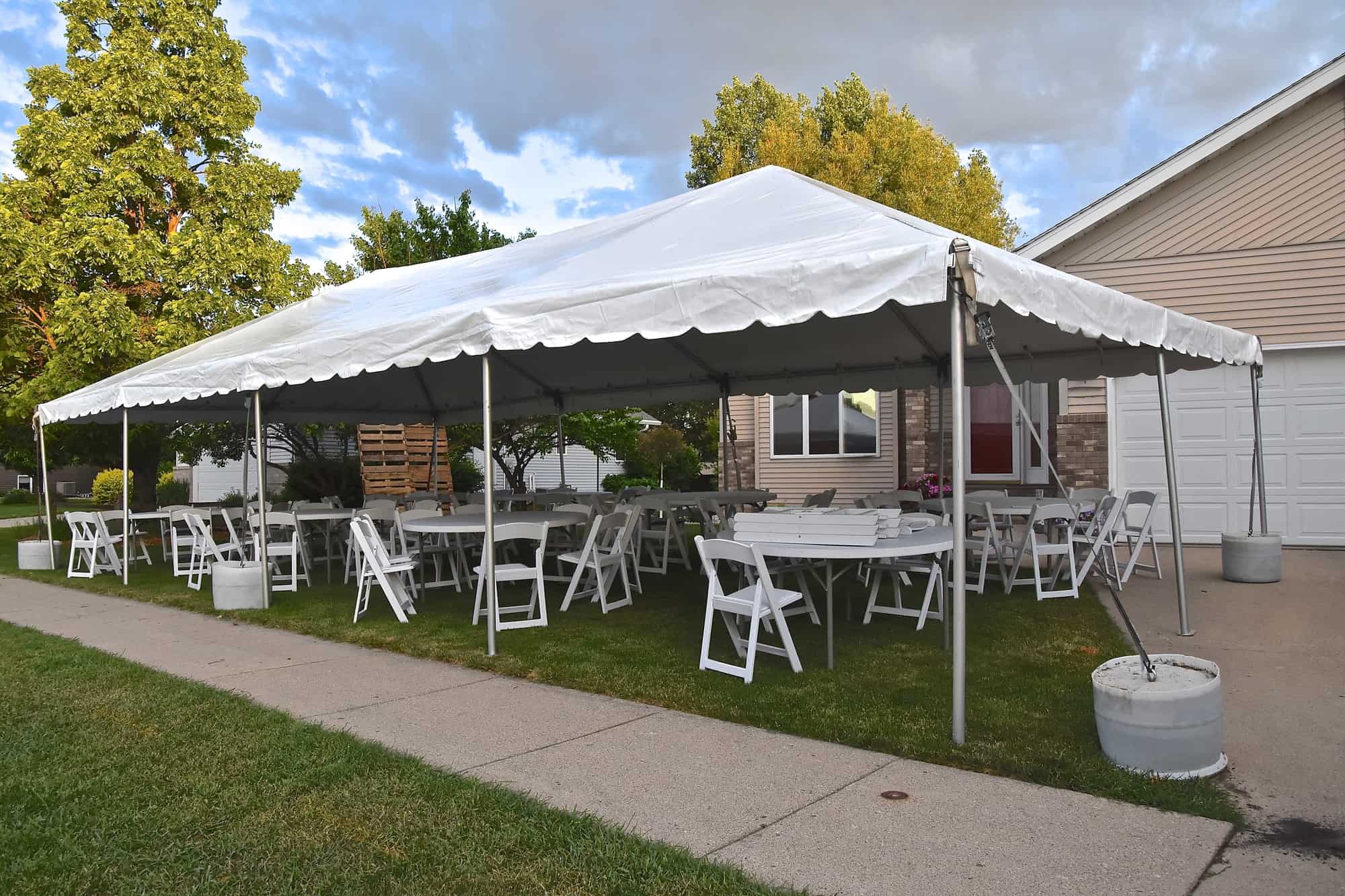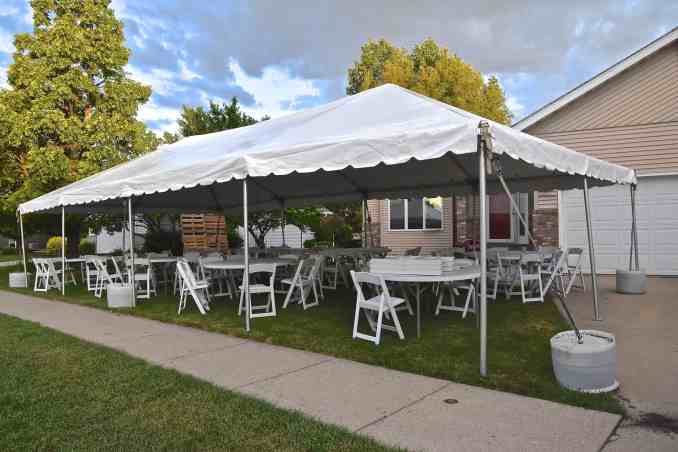 Having the option to spend more time in your gardens through the summer months can feel like such a treat. Being able to get out in the fresh air more, try different activities with your children, socialise with friends and just spend time in your garden is what summer is all about. However, living in the UK means that you can't always rely on the Great British weather to make that dream a reality! In actual fact, our summers tend to involve setting up a BBQ, to then have to quickly rush inside to eat it whilst dodging a rain shower, or purchasing garden toys for your children but then having to use them in your living room! Thankfully, we have found the solution so that you don't have to tolerate this any longer……a pop up gazebo!
A standard gazebo is going to be a permanent feature in your garden once it has been erected – which may be what you want. But what about if you are actually wanting to get some sun onto your patio? Or if you are wanting to be able to pack your gazebo away throughout the winter months? Or just have the flexibility to move your gazebo from one place to another? If this sounds familiar then you need a pop up gazebo – lightweight, durable, practical and waterproof – a pop up gazebo is going to be there for you when you need it…but easily packed away when you don't.
It's worth mentioning at this point that pop up gazebos don't just have to be used in a garden – they can prove invaluable for market stall owners, work tents, catering events, sports clubs, camping, trade stands etc.
Best Pick – Outsunny 6m x 3m Garden Gazebo
Last update on 2021-08-21 / Images from Amazon Product Advertising API / As an Amazon Associate I earn from qualifying purchases
In A Hurry?
If you are new to the world of outdoor gazebos, or maybe you aren't sure of the size and build material that you need, then keep reading this part of the article. Designed for anyone that is in a hurry to buy the best pop up gazebo, but also wanting one that is going to last, we have included some of the best pop up gazebos around and given you information on what you need to look for when buying.
Erecting your Pop Up Gazebo
The first thing that we need to look at when considering pop up gazebos is how they are actually built. It would be wrong to think that they are going to "pop up" in the same way that some small tents or children's playhouses might – so we need to mention that right at the start! The reason pop up gazebos get their name is because they are so much easier to erect than more permanent structure gazebos made from wood or other stronger materials. So although we have to disappoint you with the fact that they don't just pop up – they are still going to be nice and easy for you to build, providing you choose the right one!
Most pop up gazebos are going to come with a simple metal structure made of metal (and sometimes plastic too). This structure can either be connected together or may even come with telescopic legs. Telescopic legs are great for storage as well as being easy to build because they will fold into themselves reducing the legs down to a much smaller size. Some will also allow you to vary the height of your pop up gazebo using these styles of legs!
We would definitely recommend checking whether the roof of your pop up gazebo is made out of one structure or a few parts combined. The ones that are going to be easiest to erect are made out of one simple structure that concertinas in on itself when it is not in use. This will allow you to simply "pull" the structure out from its centre and then push it back in again when you are packing it away.
TOP TIP: Make sure to check whether you are going to need any tools to build your pop-up gazebo. The best models are going to be able to click into place and not require any extra tools as this will make the build process even easier. Models that use nuts and bolts are usually going to be sturdier options but only if the fastenings are made out of strong metals.
Build Materials
The next thing that you need to check for is the quality of materials that the gazebo is made from. As we mentioned briefly above – you will usually find that the main structure of your pop up gazebo is made from metal – usually steel or aluminium – this is to make sure that the frame is going to be durable and also strong enough to hold the cover of the material. We would recommend looking out for powder coated metal as this will be less likely to scratch and rust if exposed to wet weather – helping your gazebo to look like new for even longer. Steel is quite often going to be your cheaper choice, whereas aluminium is going to be lighter! You need to strike a balance between portability and strength….a thicker frame with legs that are around 50mm in diameter are going to be able to stand up against much stronger weather conditions than a frame with legs around 30mm in diameter. The thinner the frame the more chance you have of it bending and buckling in adverse weather!
You will often find that plastic has been used for some parts of the structure of a pop up gazebo – usually to reduce the overall weight so that your gazebo is more portable. This is not a problem, but could affect the stability of the overall structure depending on their positionings. Make sure that if plastic IS used, it is heavy duty plastic that is used to support the joints rather than just to replace them. There are some models that use plastic for the full structure – these will often be considerably lighter and cheaper but are only really for temporary use as they do not have the durability and strength to tackle stronger winds or adverse weather!
Once you have decided on the frame that is right for you, you need to consider the material that is going to make the "skin" of your gazebo. The two main cover materials that you will find are polyester and PVC, both have their pros and cons…
Polyester
+ A denser, thicker weave is going to be much more durable and help to resist tears or rips
+ Reasonably priced
– Not waterproof on its own so is going to need a waterproof coating to increase water resistance. This will usually be either PU or PVC.
– Can leak in at the seams where the material has been joined together.
PVC
+ Plastic-type material so it is going to be more naturally waterproof, therefore offering a higher level of protection
+ Thicker material so can be seen to be more resistant to rips and tears but you can find plucks in this fabric
– Much heavier material than polyester so not as easy to lift onto the roof of your structure
– Thicker material so usually harder to fold up and pack away
– Can break down over time but this is only after a number of years.
TOP TIP: Make sure to check whether your pop up gazebo is water resistant or waterproof. A water resistant cover is not going to protect from rainwater 100% so is not suitable for if you have perishable items underneath.
Size
The build materials that you opt for are largely going to impact on the size options that are available to you. If you are wanting a larger pop up gazebo then you are going to need a stronger, more durable frame that can hold it!
When looking at the size of pop up gazebos that you have to choose from, you need to consider the space that you have available and what you are planning on using your gazebo for! Remember to consider that you probably don't want your gazebo to jutt straight up against the perimeter of your property or your garden as this could cause any rainfall to either travel down the wall of your house or into your neighbours garden!
Sizes range from around 2m x 2m up to 4m x 8m but there is a wide range in between too so you will be able to find a size that is just right for what you are looking for.
Best Budget – Dawsons Living Waterproof Premium Garden Gazebo
Last update on 2021-08-21 / Images from Amazon Product Advertising API / As an Amazon Associate I earn from qualifying purchases
The Best Pop Up Gazebos
If you are wanting a pop up gazebo that is going to last and keep you protected from the elements come what may then these are the features that you need to be looking out for. We sourced the best pop up gazebos and looked out for the features that they had in common and here is what we found…
Spring mechanism in the peak of your roof – Some pop up gazebos have a centre pole for the middle of the structure and these are going to have a flexible spring on the top. The main benefit of this is that it allows some movement in the wind so that there is less chance of your cover ripping.
Storage – It is definitely worth looking at what options you have to store your gazebo when it is not in use. Some don't come with any storage options, whereas others come with storage bags but that are so small you can be sure you won't be fitting the whole gazebo into it! Look out for models with sizable, rip-proof bags that are going to be able to keep your gazebo safe when it is not in use.
Side sheets – This really comes down to personal preference but it is worth looking for models where you have the option of adding side sheets to your gazebo. This will just add that extra level of protection from the elements and will allow you to use your gazebo no matter what the weather. Some panels are plain but others will come with "windows" and "doors" so it is worth shopping around to see what is best for you.
Heat/plastic sealed seams – The main weak point on a pop up gazebo is going to be the seams. Look out for seams that are heat or plastic sealed, or double layered, as this will help to improve their waterproof qualities
Floor secures – If you are wanting your gazebo to stay on the floor then you are going to need to secure it there! Look out for the types of ties and fastenings that come with the gazebo and check whether these are going to be compatible with the ground surface that you have around you.
Best of the Rest
Last update on 2021-08-21 / Images from Amazon Product Advertising API / As an Amazon Associate I earn from qualifying purchases
Last update on 2021-08-21 / Images from Amazon Product Advertising API / As an Amazon Associate I earn from qualifying purchases
Last update on 2021-08-21 / Images from Amazon Product Advertising API / As an Amazon Associate I earn from qualifying purchases
Frequently Asked Questions
Should my pop up gazebo be fireproof?
This really depends on what you are planning on using your pop up gazebo for. If you are planning on having it situated close to a BBQ, or are a tradesperson wanting to use it for a market stall etc then we would definitely recommend you check the safety standards and as a minimum opt for one that is going to meet BS7837:1996. This doesn't mean that your gazebo will be fireproof but it means regulations in the fact that it will burn slower so be easier to extinguish.
How will I know how waterproof my pop up gazebo is?
If it is important to you that your pop up gazebo is going to be waterproof then make sure to check both the denier rating and the hydrostatic head rating. The denier rating doesn't link directly to the waterproof qualities, but it does affect how tightly woven the material is, which is obviously going to impact on durability and the water that can get in. We would recommend a denier score of 500d or above. The hydrostatic head is the waterproof rating and if you are wanting a truly waterproof option then make sure to go for 5000 or above.