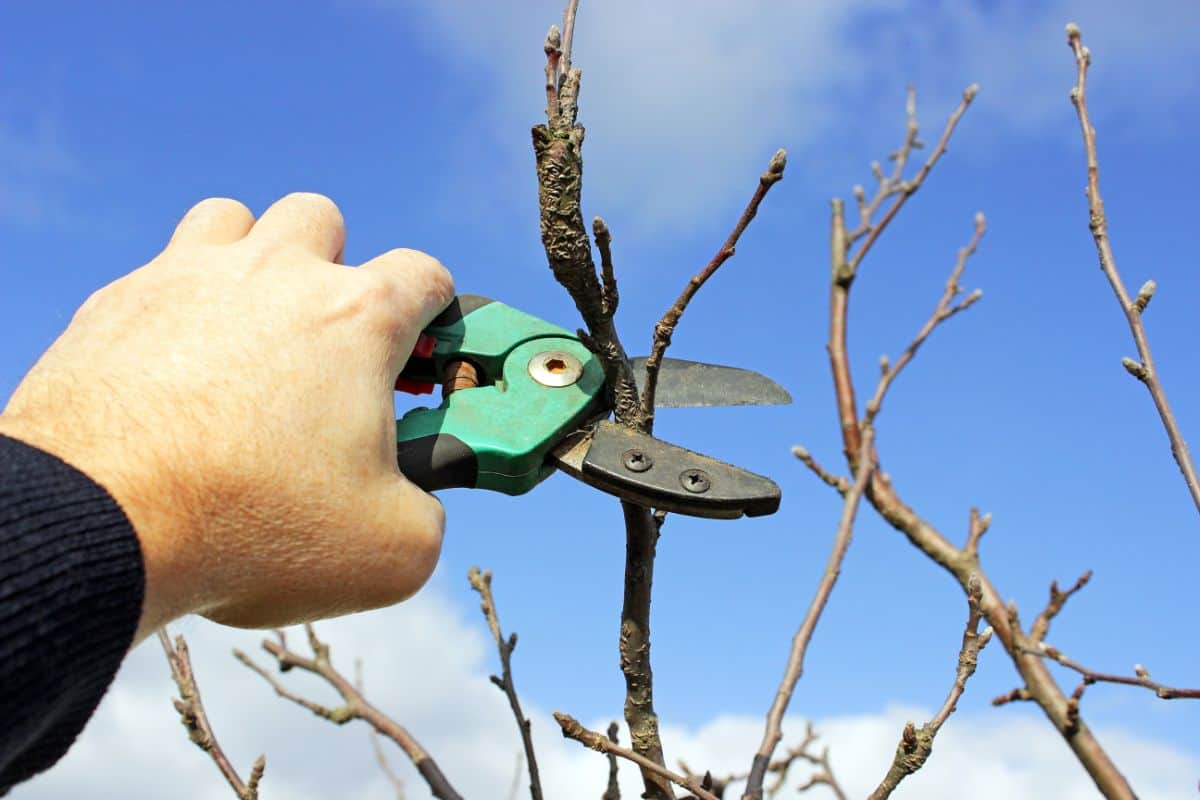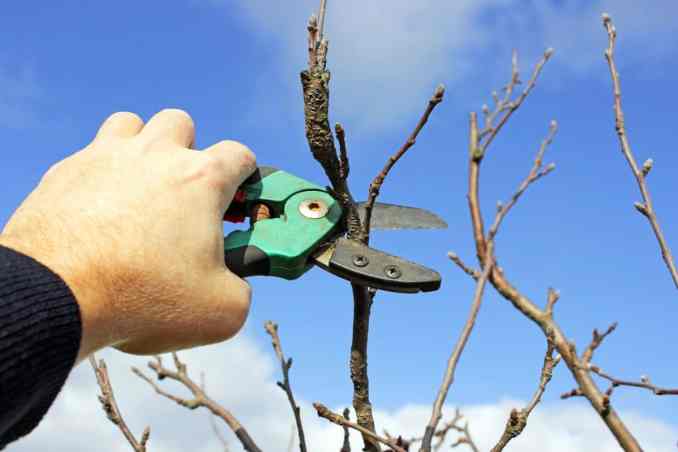 You're standing by your hedgeline, eyeing up the opposition. You know what you want those unruly, untidy, overgrown rose bushes and shrubs to look like but to undertake such a transformation single-handedly using a pair of kitchen scissors seems like a formidable task, and not one which you're overly keen in undertaking.
Best Pick – Secateurs
Sale
Last update on 2022-05-29 / Images from Amazon Product Advertising API / As an Amazon Associate I earn from qualifying purchases
Secateurs, also known as pruning shears, are quite simply put, scissors for plants. The best secateurs will be well-made, sharp and strong, capable of pruning thick stems, branches and shrubs whilst being reassuringly robust, well balanced and comfortable to use. A good pair of steel blades will make pruning your bushes feel easy, even when carrying out heavy-duty cutting tasks; they'll give you an enjoyable cutting experience which feels precise, clean and direct.
Only got 5 minutes
Power up your pruning skills with a strong, sharp pair of secateurs – a gardening essential no green-fingered enthusiast should be without!
Types
The two main types of mechanism used in secateurs are anvil and crosscut (also known as bypass).
| | |
| --- | --- |
| Crosscut/bypass | Anvil |
| Best for pruning live stemsSuitable for use on delicate, living plants and saplingsA well-made, sharp pair of crosscut secateurs should also be suitable for tidying fully-grown shrubs and, in some cases, tree branches Makes sharp, precise cutsSliding blades work in a scissor-like actionNot always suitable for people who are left-handed as most are designed to be used with a right-handed action | Best for heavy-duty tidying work including e.g. removing dead wood or tidying up thick tree branches or thick-stemmed plants 'Cut and crush' action – when pressure is applied, the top blade bites down onto the base plateNot suitable for pruning live stems due to the pressure exerted when the blade comes into contact with the lower plate; live plant tissue is likely to be damaged If used on soft stems, blades need to be kept sharp to ensure a clean, precise cut |
Secateurs which use the crosscut mechanism (also known as the bypass mechanism) tend to be the most popular choice as they offer a clean, sharp cut and can be used on live stems without the worry of bruising the plant tissue.
How to choose the best secateurs
The main choice when it comes to choosing secateurs is deciding between the anvil or crosscut/bypass actions, and whether you're opting for a ratchet. Once you're clear on those, you can narrow down your search by comparing the additional features.
Desirable features
An ergonomic handle reduces the risk of hand and wrist fatigue
Wire cutting notch on the blade
Brightly coloured so easy to locate amongst garden greenery
Can be operated one-handed due to central safety catch feature
On-the-go blade sharpening option
Safety catch which keeps the blades closed when not in use
Supplied with spare components e.g. spare spring(s)
Handle loop with/without wristband attachment
A closed-loop handle can make stiff secateurs easier to open
A rotating lower handle that turns as you close your fingers will reduce the chance of hand/wrist/arm strain
Secateur constructed from lightweight plastics or aluminium will be lighter and so easier to use for prolonged periods
Best Budget – Secateurs
Sale
Last update on 2022-05-29 / Images from Amazon Product Advertising API / As an Amazon Associate I earn from qualifying purchases
Sharp & Strong
The sharper the blade, the stronger the cut.
The sharper the blade, the less force you need to exert as the steel is doing the hard work for you! This means less pressure on your hands and wrists so less chance of muscle strain. Cutting with a blunt blade is also potentially harmful as it increases the likelihood of fungal infection and/or insect damage to otherwise healthy plants and shrubs.
A build-up of sticky sap and general garden muck can affect the quality of the cut you can achieve with your secateurs and cause the blades to jam. To keep secateurs working effectively and to help keep them in tip-top condition, you should clean the blades of your secateurs after every few uses with wire wool or a wire brush, followed by a wipe with an oily rag.
In addition, good-quality, strong steel should mean you're less likely to have to consider secateurs with a 'ratchet' mechanism – the use of an extra spring to make cutting easier. This involves cutting in stages – the ratchet gradually closes the blade over the course of a couple of squeezes, useful for particularly heavy-duty cutting or for those of us with small hands! It's worth remembering though that, as with any device, the more moving parts and components, the more chance there is of mechanical failure so ideally, the simpler you keep your secateurs, the better.
Maintenance
Sharpen your secateurs as soon as you suspect the blades are becoming blunt (blunt blades can damage live stems by not cutting cleanly).
After use, wipe over the blades to remove sap deposits which can clog and jam the blades.
Clean your secateurs regularly with soapy water, make sure they're properly dry, and give the mechanism a spray with lubricant before putting them away.
If you've been cutting back diseased foliage, disinfect the blades thoroughly to avoid contaminating healthy plants.
Best of the Rest
Greenco Ratchet Secateurs Gardening, Heavy Duty Ergonomic Garden Hand Pruners, Life Time Warranty, Carbon Stainless Steel Non Stick Coated Sharp Blade Pruning Shears, Red
PROFESSIONAL SECATEURS. Ratchening mechanism garden shears; maximizes leverage for increased pruning power; 46% less effort; maximum cutting capacity of 1 inch diamater
HARDENED STAINLESS STEEL BODY. With state of the art steel upper blade 2.5mm SK5 high carbon steel non-stick coated blade will stay sharper for longer
ERGONIMIC DESIGN. With high comfortable locking mechanism; easy grip handles; fits for gardeners with weak hands, hand fatigue, carpal tunnel or arthritis; also for left handed gardeners
HYBRID TECHNOLOGY. Ratcheting and bypass mechanism pruner combined (Details section)
LIFETIME WARRANTY. 100% money back gardener satisfaction guarantee; We are here for you 24/10
Last update on 2022-05-29 / Images from Amazon Product Advertising API / As an Amazon Associate I earn from qualifying purchases
MAXPOWER Garden Secateurs 200mm/8, Bypass Secateurs Pruning Scissors Shears Bypass Hand Pruner Gardening Clippers with 20mm Cutting Diameter
🔨【Specification of Pruning Shears】- Ideal use for light branches of trees, rose bush, shrubs and hedges. cut plants and branches up to 20mm diameter - Length is 200mm - Weight is 254 g.
🔨 【Sharp Blade】- Sharp blades of this Pruning Shears Tree Trimmers make you cut the branches and flowers clean, precise and easy effortlessly.
🔨 【Application】- This Hand Pruners Garden Secateurs can be used for garden pruning or fruit tree care.
🔨 【Easy to Cut】- Perfect power transmission through a secure spring mechanism with less force, which makes it easier for persons with smaller or weaker hands.
🔨【Non-Slip Handle Design】- Ergonomic arch-shaped design Pruners. non-slip for a comfortable grip and fast cutting.💗
Last update on 2022-05-29 / Images from Amazon Product Advertising API / As an Amazon Associate I earn from qualifying purchases
Last update on 2022-05-29 / Images from Amazon Product Advertising API / As an Amazon Associate I earn from qualifying purchases
Frequently Asked Questions
Do secateurs come in different sizes?
Secateurs are available in different sizes. It's important to consider the size as how smoothly the contraption can be manoeuvred one-handed will impact the efficiency of the cut. If you've got big hands, don't just assume you'll need the largest pair you can find as the length of the handles is just as important as the size of the blades. It's definitely worth taking a minute to read the product description to see if/which different sizes are available.
How do I cut with secateurs?
Cutting with secateurs is all about consistency – avoid twisting the blades; hold them straight and apply even pressure. For tough cuts, try to cut diagonally rather than vertically. Only cut materials for which secateurs were intended – garden foliage and in some cases, wood.
Try not to cut wire, metal, stone, plastic or any other hard material as this can damage the edges of the blade.