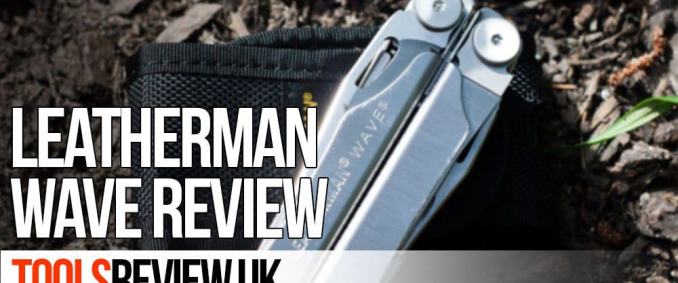 Leatherman Wave Review
The Leatherman Wave Multi-Tool is not only the flagship product of Leatherman, but also sets the standard for Multi-Tools.
Anyone who loves fixing things will tell you that multi-tools are one of the best things that ever happened to their craft. Multi-tools are known for their portability, convenience of use and ability to combine many tools in one. The Leatherman Wave sets the standard!
Owning one ensures you're always prepared for the unexpected loose screw or unopened bottle. When it comes to such tools, the Leatherman brand is a force to be reckoned with. This brand is a pioneer in the multi-tool production business and has produced many of them throughout the years.
One of the brand's best products in this category is undoubtedly the Leatherman Wave. In this review, we will give you a thorough rundown on this popular tool.
LEATHERMAN Wave Plus - The multi-tool for any task, 18 multipurpose tools with lockable blades for camping, DIY and outdoor adventures made in the USA in stainless steel
The Wave Plus is the only multi-tool you will need, filled with the essential tools for any task, be that car work or home improvements, the Wave Plus is easy-to-use with outside-accessible features
This durable multi-tool features replaceable wire cutters, regular and needlenose pliers, a powerful 7.37 cm lockable 420HC stainless steel blade and a 420HC serrated knife
Leatherman multi-tools come with everything you need for all jobs around the house or for setting a campsite; including can and bottle openers, wood and metal files and large and small driver bits
Whether at home or out and about, the Leatherman Wave Plus has all the tools you need for a day of hard labour, exploring the wild and then relaxing by a fire with a well-deserved drink
Items delivered: 1 x Leatherman Wave Plus multi-tool, stainless steel multifunctional tool and sheath with 18 tools built-in, one hand operable for indoors and outdoors
Last update on 2022-05-22 / Images from Amazon Product Advertising API / As an Amazon Associate I earn from qualifying purchases
Key features
This Leatherman multi-tool is characterized by a stainless steel body. However, its most redeeming quality is that it can be deployed using one hand. Here are the other features of this tool.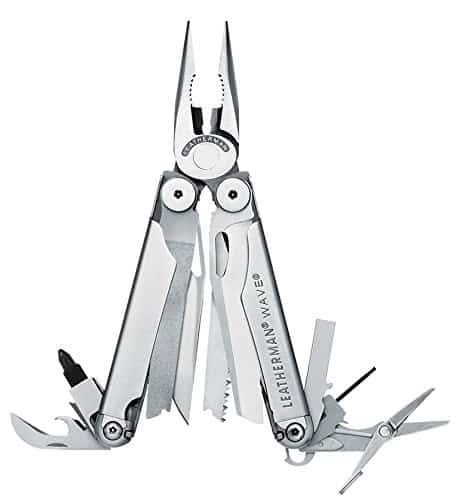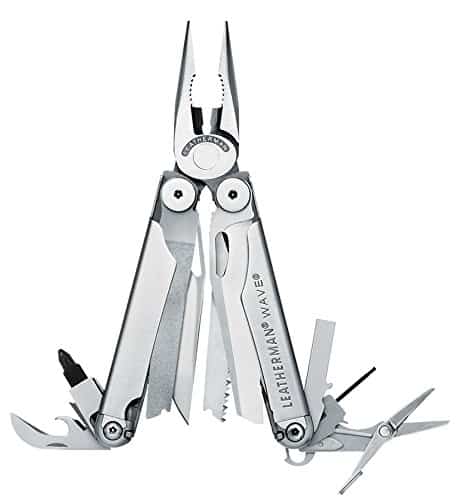 Needlenose pliers
Regular pliers
Replaceable Soft wire cutters
Serrate knife blades (420HC)
Plain edge knife blades (420HC)
Replaceable Hard wire cutters
Bottle opener
Can opener
Wood/metal file
Diamond coated file
8-inch ruler
Saw
Medium Screwdriver
Large bit driver
Small bit driver
Spring action scissors
Electrical crimper
Wire stripper
The Pro's
Due to its assortment of features, the Leatherman Wave comes with a host of pros. First of all, it's light, weighing in at only 8.5 oz. It's also small in size, measuring only 4 inches. This makes it more portable than other multi-tools in the market.
Additionally, there are four easy to use tools that are easily accessible from the outside of the Leatherman multi-tool. These tools include the two types of knives, the file, and the saw. The knives are already sharp upon purchase. In fact, the plain edge one can even perform some basic woodwork.
Although the knives can be deployed using one hand, it takes two to deploy the saw and file. All these tools lock easily into place for safety reasons. As if that isn't enough, you will find that the pliers of this multi-tool are also easy to use.
This is due to their rounded handles that ensure a solid grip. These handles also make it particularly easy to use the wire cutters. Also, the tools that are on the inside of the Leatherman Wave are well designed and lock up in place.
They, however, require a substantial amount of effort to be deployed. You will be interested in learning that the Leatherman Wave's 420HC blades are known to have a high edge retention. This makes them highly durable. Another valuable quality of this multi-tool is that it allows you to replace worn out Phillips and Flathead bits easily.
Interestingly, although the multi-tool is rigid and strong, it comes with adjustable security Torx bolts which allow you to adjust the tension of the pliers and other tools. This ensures that operations remain smooth and unhitched.
This multi-tool also comes with a 25-year warranty and Leatherman are good to their word, if there are any issues with your Leatherman Wave they sort it out through one of their service centre's no problem.
Con's
Although the Leatherman Wave is very popular and efficient, it also has several weak points. To start us off, you can't replace the wire cutters. This is highly inconvenient. Additionally, it doesn't come with a corkscrew, unlike the Leatherman Juice CS4 which is smaller.
Another off-putting quality is that the bits of the small bit driver wear out easily. On top of that, it is difficult to lock the scissors of this multi-tool in the case that you're using a lanyard. When using the pliers, you will also experience some pinching if you have large hands or are performing heavy duty tasks.
To avoid this inconvenience, you would be better off with the Leatherman Surge (picture above) which is one of Leatherman's largest multi-tools. It also has more features than the Leatherman Wave.
Verdict
In my opinion, the Leatherman Wave is a great multi-tool. It manages the difficult feat of combining 17 features into a small compact size. In general, it gives you good value for your money. Whether you're always on the move or love spending your time fixing things around the house, you could use one of these multi-tools.
Conclusion
Ultimately, the Leatherman Wave has far more positives than negatives. Coupled with its reasonable price, it proves to be a worthy choice of multi-tool. It's no wonder that it is one of the most popular and most reviewed Leatherman tools.
The fact that it's rigid, strong, durable and versatile is a huge selling point of this compact Leatherman Wave multi-tool.
Did you enjoy this review? Why not take a look at some of our other reviews. You may like our review of stove fans.
LEATHERMAN Wave Plus - The multi-tool for any task, 18 multipurpose tools with lockable blades for camping, DIY and outdoor adventures made in the USA in stainless steel
The Wave Plus is the only multi-tool you will need, filled with the essential tools for any task, be that car work or home improvements, the Wave Plus is easy-to-use with outside-accessible features
This durable multi-tool features replaceable wire cutters, regular and needlenose pliers, a powerful 7.37 cm lockable 420HC stainless steel blade and a 420HC serrated knife
Leatherman multi-tools come with everything you need for all jobs around the house or for setting a campsite; including can and bottle openers, wood and metal files and large and small driver bits
Whether at home or out and about, the Leatherman Wave Plus has all the tools you need for a day of hard labour, exploring the wild and then relaxing by a fire with a well-deserved drink
Items delivered: 1 x Leatherman Wave Plus multi-tool, stainless steel multifunctional tool and sheath with 18 tools built-in, one hand operable for indoors and outdoors
Last update on 2022-05-22 / Images from Amazon Product Advertising API / As an Amazon Associate I earn from qualifying purchases
Last update on 2022-05-22 / Images from Amazon Product Advertising API / As an Amazon Associate I earn from qualifying purchases
Performance

Features

Ergonomics

Value