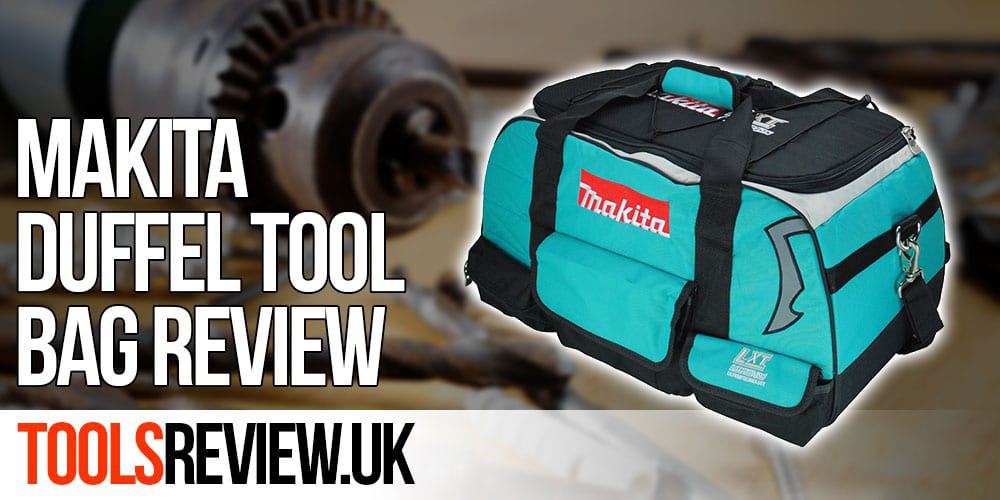 Makita Tool Bag Review
This Makita Tool Bag is the largest one available and fits a wide range of tools, chargers, batteries and accessories.
MAKITA 831278-2 Tool Bag for LXT400
Suitable to hold 4 different LXT tools depending on size of tool.
Multiple Interior and Exterior pockets for tools and accessories
Rugged Ballistic Nylon construction
Velcro Exterior pockets
Adjustable Bungie cord on top for added storage
Last update on 2022-06-08 / Images from Amazon Product Advertising API / As an Amazon Associate I earn from qualifying purchases
We are massive fans of Makita here at Tools Review and yet again they don't disappoint even when it comes to tool bags! Makita do offer sets of tools which feature their cordless angle grinder, impact wrench, combi drill, torch, jigsaw, several batteries and a fast charger all contained in a Makita Tool Bag. However if like us you acquire your tools over a period of time, purchasing them as and when you need them you don't get the bag!
You end up in a situation where you either have the Makita Macpac range of blow moulded plastic tool boxes with each individual tool in, a charger and battery. Or sometimes the canvas bags that contain the impact wrench and combi drill sets in, with a charger and battery in. Either way you have a lot of bags and boxes, aren't quite sure what is in what and you tend to find you don't have the one to hand or with you that you require.
So we found this Makita Tool Bag for sale on Amazon that comes in at less than £30! They do offer a few different sizes, but this one is the biggest and gives you the most scope for fitting all of your Makita power tools inside. It says on the description that it fits 4 tools inside depending on the size of the tools. In ours we have the impact driver, combi drill, jigsaw, circular saw, torch, 5 batteries, two chargers and a bit set. To be honest I am sure we could fit another tool or two inside should we wish.
Storage
The inside and outside comes with various pockets, some featuring velcro. It is great for keeping accessories, batteries, etc separate from your tools. It also has a bungie cord on top of the bag for extra storage should you want to secure something to the top of it, such as a small length of timber or a spirit level.
The Makita Tool Bag itself is very impressive, with the combined weight of the Makita power tools, batteries, chargers and accessories it feels very substantial and in no danger of breaking, ripping or giving under the load. It is made of a very touch fabric and will stand up well to being placed on van or garage floors and knocked about a bit.
All in all we think the Makita Tool Bag is fantastic, it keeps all of your Makita Power Tools together, protects them and is very convenient for both storage and carrying of the tools.
You can find the Makita Cordless Kit below, this kit features the bag in the review, the impact driver, combi drill, sds drill, jigsaw, circular saw, torch, 3x4Ah batteries and a twin fast charger. If you haven't already started your Makita tool adventure you could buy the set together instead.
Last update on 2022-06-08 / Images from Amazon Product Advertising API / As an Amazon Associate I earn from qualifying purchases
When working up ladders, you want as many hands holding on as possible! Whilst you will have to use tools and hold items while you are up there, why not take the torch out of the equation? We have reviewed a fantastic Rechargeable LED head lamp in one of our other reviews.
MAKITA 831278-2 Tool Bag for LXT400
Suitable to hold 4 different LXT tools depending on size of tool.
Multiple Interior and Exterior pockets for tools and accessories
Rugged Ballistic Nylon construction
Velcro Exterior pockets
Adjustable Bungie cord on top for added storage
Last update on 2022-06-08 / Images from Amazon Product Advertising API / As an Amazon Associate I earn from qualifying purchases
Performance

Features

Ergonomics

Value