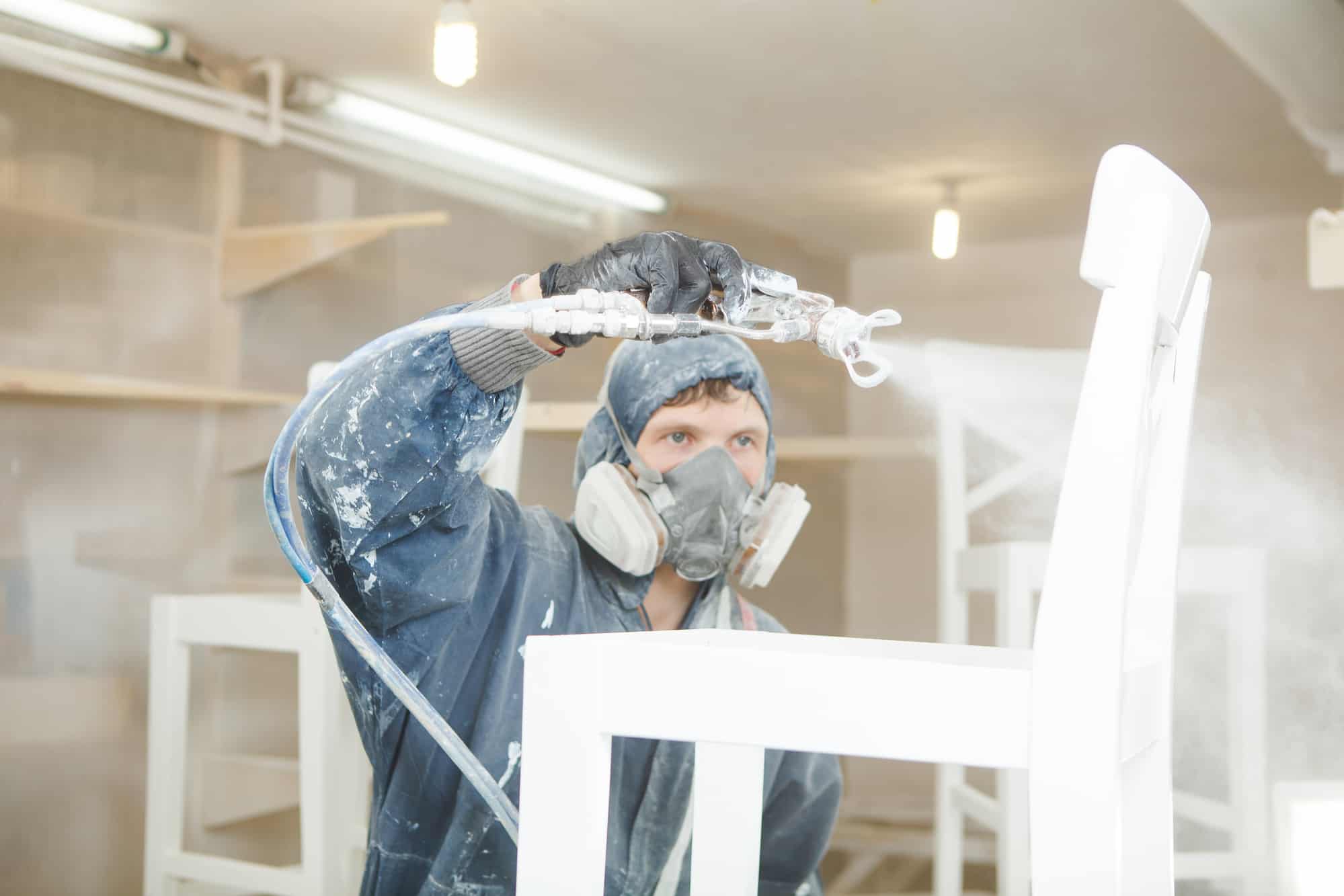 If you are looking to move up a level in your painting jobs then an airless paint sprayer is without a doubt the way to go! Painting with a brush or a roller takes a massive amount of time and effort for even the smallest of jobs – time which could be much better spent cracking on with other DIY jobs, or even better, just relaxing to enjoy the finished job! Not only this, but an airless paint sprayer will allow you to cover surfaces evenly and smoothly, leaving a more professional finish and reducing the amount of paint wastage!
Airless paint sprayers are on average 4 times faster than manual painting and can be up to twice as fast as other paint sprayers, but they never sacrifice on the finish that they provide. Plus because they don't rely on additional airflow to push the paint out of the nozzle they are more portable and more reliable, plus there is no chance of air mixing with the paint. If you are going to do a job, you may as well do it properly, and the best airless paint sprayer will get the job done quickly, professionally and leave everyone else jealous of your new tool!
Keep reading for some of the best airless paint sprayers that we have found and exactly what we look for when we are making such an important purchase.
Best Pick – Wagner Airless ControlPro 250 R Paint Sprayer
Last update on 2021-09-06 / Images from Amazon Product Advertising API / As an Amazon Associate I earn from qualifying purchases
Only Got 5 Minutes?
Airless paint sprayers work by releasing high pressure from their hydraulic pumps. This pressure then forces the paint through a vent and evenly onto the surface that you are working with. This type of painting is admittedly far more technical than just using a brush or a roller, but well worth the technicalities that are involved! But, to ensure that you make the right purchase, it is important to understand each of the different parts and features that come together to make this technical painting method work! We've put all those main features here in one place for you to read through, plus some of our best airless paint sprayers that we would recommend!
Airless Paint Sprayer Features
Here are some of the main airless paint sprayer features that you will need to consider before purchasing the best paint sprayer you can find!
Power
Airless paint sprayers are powered by either electric or gas. Electric models tend to be cheaper both to purchase and with the overall running costs, as you are saved from having to purchase bottles of gas! However, gas models will offer you more power, meaning that you usually have more paint speed and power. Not just this, but if you are wanting to use your airless paint sprayer outside, which tends to be the case, then a gas model will allow you to take your airless paint sprayer wherever needs painting – whether you are near mains electricity or not!
You also need to consider the horsepower that is offered by your airless paint sprayer. This will determine how fast your paint sprayer can suction up the paint and therefore the power and speed that it can offer when spraying the paint. More power not only means a faster spraying time, but also that the paint can be expelled with more force, reducing the waste spray that is found on the floor afterwards – which lets be honest no one wants!
We found that most of the better airless paint sprayers on the market offered around 0.5 horsepower, however the best paint sprayers were working at around 0.7 and above, with much more competitive spraying abilities.
TOP TIP: It is important to look for a model that offers "adjustable power" or "adjustable speed" – these are essentially the same thing but advertised differently depending on the brand so don't be fooled.
Suctioning
It is crucial that you check over each model to identify exactly how the paint is suctioned into the machine and out of the nozzle. Some work with flexible suctioning devices that allow you to drop them directly into the tub of paint to then suction the paint up. This saves you having to move the paint into a different container and reduces clean up time afterwards.
The rate of suction will depend on the power of the machine (as discussed above) however, some filters and motors will be more powerful than others, regardless of the horse power, so it is worth considering the design of the suction tool.
NOTE: Remember to consider HOW the suctioning machine is collecting the paint. If it is with a fixed, long rod then you need to make sure there will be a way for it to still work when the paint levels are getting low – otherwise you will find yourself constantly wasting the bottom quarter of your tub of paint! Annoying and definitely not cost effective!
Capabilities
Different airless paint sprayers will be able to handle different levels of work and most manufacturers advertise this clearly – this is important because if you opt for a lower powered model that advertises it can work at around 300 gallons a year and you are doing double this, you often find that the motor will struggle to cope and could end up breaking! Plus it is unlikely that you will be covered for this in your warranty! Most are advertised in "gallons per year", so the amount of work that a paint sprayer can take over the year without putting too much strain on the parts.
To make it a little easier to work out…..two gallons of paint will cover around 800 square feet (the average size of a small living room). So if you choose a model that can work at 300 gallons a year then you have enough to paint roughly 120,000 square foot.
Another aspect that you need to consider when looking at the capabilities of the machine is the flow rate that is offered. This is the amount of paint that will be able to be forced from the nozzle, almost always measured in PSI (pounds per square inch). Flow rates vary quite considerably in airless paint sprayers so it is important to check for this before making you purchase. We found models from anything as little as 1000PSI, all the way up to 3000PSI. We would recommend opting for at least around 1600PSI if you have a moderate sized area that you are needing to paint!
TOP TIP: Check that your airless paint sprayer can offer enough power to work on uneven surfaces as well. Some paint sprayers find it difficult to cover uneven surfaces effectively so this is crucial to look for if you are going to be working with things such as fence panels!
Paint Type
Some airless paint sprayers will be able to spray unthinned paint, which allows you to achieve a professional, thick coverage with the first coat. However, less powerful airless paint sprayers will require the paint to be thinned for them to be able to work effectively. This will greatly add to the time it takes to complete the job, not just because you will need to thin the paint first, but also because you will often have to do two coats to achieve the same finish.
Paint Gun
The paint gun is just as essential as the main machine, as this is the part that you are going to be controlling and holding throughout the job. Look for models that offer "high efficiency" spraying – these have specially designed nozzles and guns that can reduce overspray by up to 55% – literally reducing you paint costs by half! It is also worth looking for features such as a tip guard and reversible spray tips to both avoid any paint clogging and remove any paint clogging that does occur.
It is also important to look for paint guns that are ergonomically designed with comfort grips and easy to use triggers. These features will affect how long you are able to work with your paint gun for before needing to break off – massively affecting the time that it takes you to get the job done!
Portability
It goes without saying that your airless paint sprayer is going to need to be portable. Firstly, you are going to need somewhere to store it when it is not being used, but also you need to be able to carry it up and down stairs and inside and outside, depending on the area that you are painting. Manufacturers have created some different ways to make this easier for you whilst you are working:
Cart design – Some paint sprayers are built in a "cart-like" design, so that they can be wheeled around and then removed from the cart, if necessary, when you get to the area that you are painting. These are quick and easy to move around, but can make it more difficult to lift if you are carrying the machine upstairs.
Handles – Many paint sprayers are designed with comfort grip handles to allow for easy lifting.
Wheels – If you are opting for a wheeled option, then make sure to choose ones with good quality wheels, but also wheels that have breaks so that the machine can be then fixed into place when you get to where you are going to be working!
Best Budget – DEWINNER Airless Feed Electric Sprayer
Paint Spray Gun,DEWINNER Electric Sprayer, Wood Metal Wall Celling Metal, Airless Feed, 3Nozzles, 2PC Containers Detachable,Interior Exterior Usage
3 SPRAY MODES & 3 NOZZLE SIZES: 3 different spray modes (vertical / horizontal / circular) for different spray needs. 3 nozzles, 1.0mm is good for thin paint(grey), 1.8 mm nozzle is ideal for thin paints(black), such as stains and polyurethane; 2.5mm(red) nozzle for high viscosity paint, such as low viscosity latex paint, primer, milk and chalk type paint
2 REMOVABLE PAINT CONTAINERS: Equipped with 2 removable 800ml containers, good for exchange. All parts of the spary paint gun are removable for easy cleaning. Back foam pad, dust and moisture proof to guarantee sprayer motor's life longer.
1 BUTTON DETATCH & ERGONOMIC DESIGN: 1 button to detach sprayer head and body, convenient for clean. Grip zone ergonomic design provides optimum grip in the user comfort.
WIDE APPLICATION: Suitable for spraying alcohol and other disinfectants liquid during COVDI-19. The maximum spray flow can reach 1000ml/min.With the best distance (10 ~ 25 CM), the 550W paint sprayer is suitable for the painting project for your home, such as auto parts, appliance parts, steel furniture, wood products, etc.
TECHNICAL SPECIFICATIONS:550W. Rated speed:32000RMP. Air flow: 160L/Min. Paint flow:100-200ml/min.Wire Length:1.8m. Viscosity: 8-12s
Last update on 2021-09-06 / Images from Amazon Product Advertising API / As an Amazon Associate I earn from qualifying purchases
Extra Features to Consider
Here are some of the extra features that we found on only the best airless paint sprayers available at the moment! If you are really wanting to optimise your purchase then these are some of the best features to look out for.
Adjustable spray speed – This is a key features to look for as it will allow you to adjust not just the thickness of the paint that you spray over a surface but also the speed at which you have to move the gun (because the speed of the paint coming out of the gun will be increased or reduced). This allows for you to quickly cover empty walls, or take more time over more detailed, smaller areas.
Easy pump replacement – If you are going to be working with different colours of paint on the same job, then you need to opt for a model that has easy pump replacement methods that don't require tools. This means that you will be able to switch up between different pumps quickly and efficiently whilst you are working.
Hose length – The length of hose that comes with your airless paint sprayer will affect how easily and quickly you can get the job done. A shorter hose is going to stop you reaching those high up places, and mean that you have to stop to move the machine every few minutes. Some paint sprayers come with hoses in excess of 50m, meaning that you can cover some serious surface area before needing to break off!
Power flush adaptor – allows you to literally flush through the system using a simple garden hose to get your airless paint sprayer ready for the next job!
Storage – Some well designed paint sprayers come with inbuilt storage. This is perfect for when you are packing away your tool as you will be able to keep all of the smaller parts safe and in one place, so they are ready for when you next need them.
Best of the Rest
Sale
Terratek 18V Max Cordless Electric Spray Gun Fence Sprayer, 700ml Paint Container, HVLP Hand Held Spray Gun (18V Cordless Spray Gun)
Terratek 18V Max Cordless Electric Spray Gun Fence Sprayer, 700ml Paint Container, HVLP Hand Held Spray Gun (18V Cordless Spray Gun)
The Paint Sprayer is Lightweight yet powerful at only 2.3kgs, For an extra 18V Max battery search B00DRD2GXQ in the search bar.
The cordless Spray gun has a spraying distance of 20-25cm, Spraying Width 20-30cm. Paint flow – 100-200ml/min, 1 hr fast charge, Container capacity 800ml
1 hour quick charge, the Fence Sprayer features a commercial grade industrial strength motor, Can be used with a wide variety of paints, stains, coatings such as decking and fence stains, Latex, sealers (lacquer sanding sealer, clear sealer), varnishes, wood preservatives, enamels, oil (gloss, oil stain, oil based primer, oil enamel), Water based paints (emulsions) ,automotive paints and smooth masonry paint.
2 YEAR GUARANTEE: For your peace of mind we offer a 24 month guarantee on our 18V Cordless Fence Paint Sprayer, HVLP Spray Gun
Last update on 2021-09-06 / Images from Amazon Product Advertising API / As an Amazon Associate I earn from qualifying purchases
Sale
INGCO Cordless Paint Sprayer (Battery and Charger not Included) Lithium-Ion Fence Paint Sprayer Electric Paint Spray Gun for Walls, Ceilings, Fencings 20V 800ML 40DIN-s (Body Only) CSGLI2001
Good design: cordless hand-held design, easy to carry and operate; Pure copper nozzle and core, not easy to rust; pure copper motor, strong power and long life; air inlet dustproof sponge, effectively protect the motor
Function: stepless speed regulation,three spray modes, convenient and easy to use; voltage:20V; spraying pressure: 0.1-0.2Bar; maximum flow rate: 600ml/min; maximum viscosity: 40DIN-s; container capacity: 800ml
Easy to use: efficient heat dissipation vents to meet long-term use; 1.1kg lightweight gun with rubber-covered handle, not tired for a long time use; compatible with any brand of paint. Easy to use and clean
Application: It is used for wall, wood and metal paint-internal and external use. Perfectly dyed smooth surfaces on tables, chairs, fences, interior walls, handicrafts, etc.
Included components: Battery and charger not included. 1x cordless spray gun (bare unit), 1x sticky cup, 1x cleaning needle, 1x instruction manual, color box packaging.
Last update on 2021-09-06 / Images from Amazon Product Advertising API / As an Amazon Associate I earn from qualifying purchases
HAUPON TM-71, 1100ml Paint Sprayer with Less Thinner Required, Volume Controllable Electric Spray Gun, Comes with 3 Sizes of Spray Tips, Spray Tool Use with Any Paint, Stain and Varnish
【STRONG POWER MOTOR】The 450W motor allows TM-71 spray a precise spray pattern and creating the smooth and superior finish. Spray, paint, oil, stain, enamel, lacquer, texture, and airbrush coating materials with less dilution.
【3 SPRAY PATTERNS & INTERCHANGEABLE NOZZLE SIZES】3 different spray patterns (vertical/ horizontal/ circular) can be chosen in different spray need; interchangeable nozzle sizes (3 included, Ø1.5mm, Ø2.5mm and Ø4.0mm) design allows it easily spray with variety of paints.
【SPRAY WIDER AND FASTER】2 choice of air caps make TM-71 spray wider and increase work efficiency ( BLACK air cap for fine spray pattern, BLUE for wider spray pattern)
【ADJUSTABLE FLOW CONTROL AND LAGER CAPACITY】Precisely regulate your paint output by adjusting the flow control knob on the sprayer to get different paint output, suitable for edges, corners and broad interior surfaces of various work and DIY projects. 38 fluid ounce (1100c.c.) container for larger painting projects. Save your refilling time.
【BRONZE SPRAY TIP TECHNOLOGY】 By using bronze spray tip and nozzle, HAUPON TM-71 paint sprayer provides excellent performance over plastic one. Compared to plastic, the bronze nozzles and spray tips have better corrosion and wear resistances, enhancing a consistent and precision spray pattern
Last update on 2021-09-06 / Images from Amazon Product Advertising API / As an Amazon Associate I earn from qualifying purchases
Frequently Asked Questions
What warranty can I get with an airless paint sprayer?
Warranties for airless paint sprayers range between 1 year up to 4 years, depending on the model. One thing that it is important to remember is the capabilities that the machine claims to have. If you are working above and beyond this then it is unlikely your machine will be covered under warranty.
Do I need to get my airless paint sprayer serviced?
If you are wanting to get the best from your airless paint sprayer then it is recommended that you get the machine serviced once a year – depending on the amount of painting that you are completing of course. This allows for the machine to be thoroughly cleaned and any paint debris removed, plus filters and vents to be replaced.
What paint can I use with an airless paint sprayer?
Most airless paint sprayers will work with latex style paints, but it is important to check with each manufacturer as some models will require thinned paint and others will be able to work with a wider variety.
Performance

Features

Ergonomics

Value