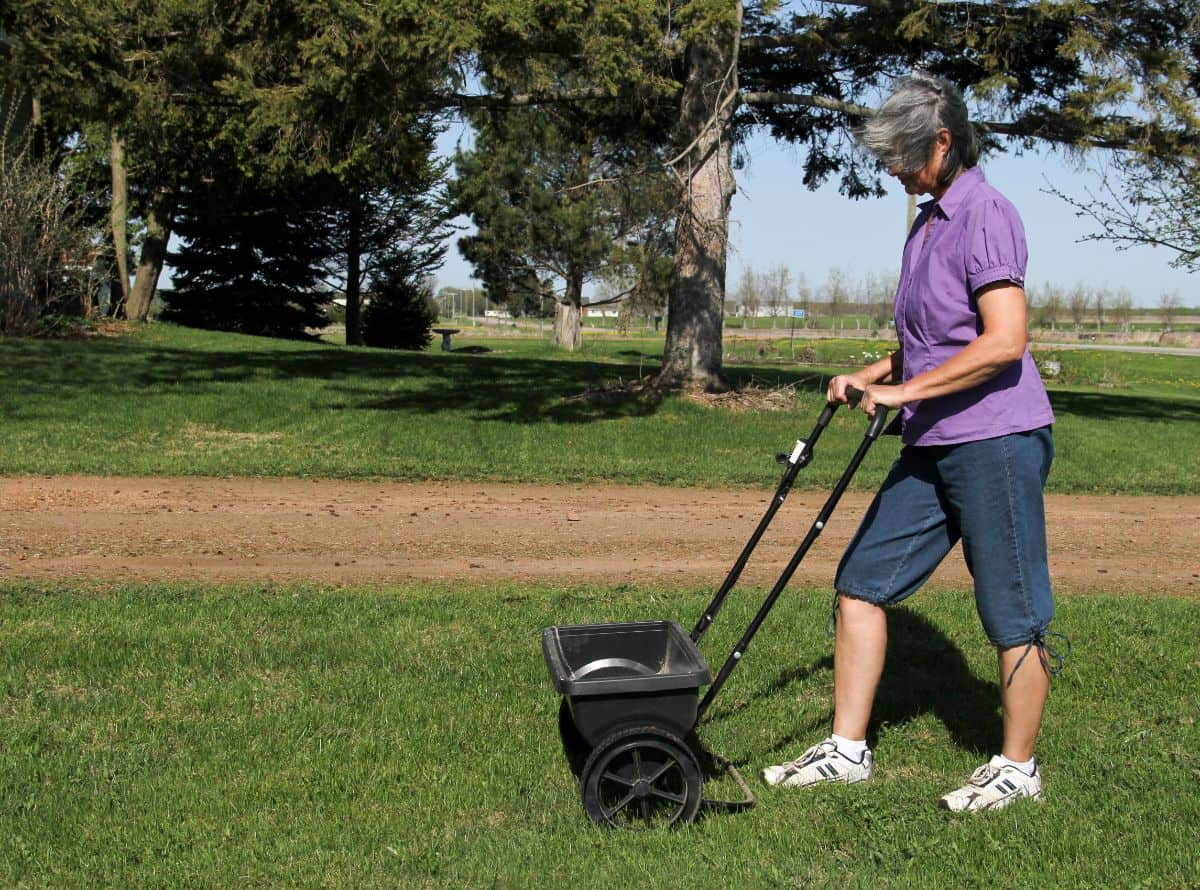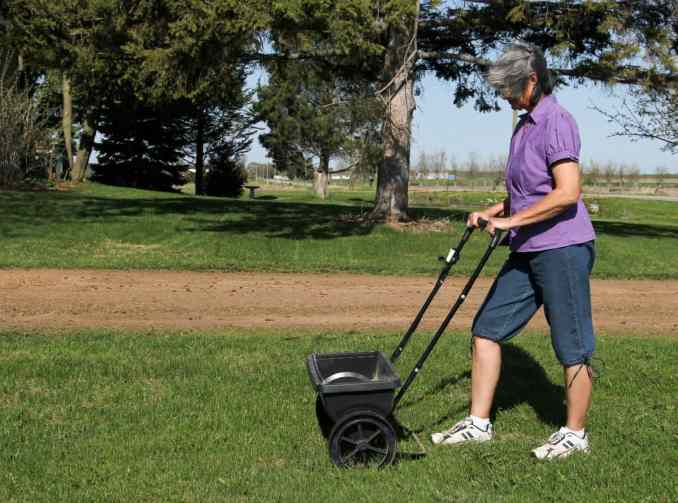 Maintaining a quality lawn is a demanding and, at times, seemingly endless task. It involves hard work, accurate timing and suitable weather conditions, along with the precise application of decent grass seed and rich fertilisers.
Best Pick – Lawn Spreader
Sale
Last update on 2022-06-24 / Images from Amazon Product Advertising API / As an Amazon Associate I earn from qualifying purchases
A lawn spreader is a garden tool which distributes grass products ensuring even and thorough coverage. Lawn spreaders are reasonably priced and widely available online. Used correctly, they'll save you time and encourage the growth of a healthy, vibrant, attractive turf.
Only got 5 minutes
The best lawn spreaders will have an adjustable spread rate setting to ensure the right amount of lawn product is distributed.
The rate is determined by the type and strength of the product; too much is wasteful and could damage your lawn; too little and you risk under-application and disappointing results.
A decent lawn spreader will distribute uniformly and in accurate amounts, whilst applying the recommended volume for the area you're covering.
Top 3 lawn spreader features to look out for
Durability: heavy-duty polypropylene hopper and tubular steel, rust-proof, weather-resistant handles
Capacity; Generous hopper capacity of at least 10kg
Portability: Wheels, around 8 to 10 inches, preferably pneumatic
Types of lawn spreader
When choosing the best type of lawn spreader for you and your garden, the size of the area you intended on distributing seed and fertiliser over is the most important factor you'll need to consider. There are two types of lawn spreader for you to choose between: drop and rotary.
Drop Vs Rotary
Similarities
Push-powered
Feature a heavyweight plastic or lightweight steel hopper
Handle-mounted gauge and flow lever allows easy setting of distribution rate
Rotary lawn spreaders
A decent rotary spreader with a generous hopper capacity will allow you to distribute seed and fertiliser over a greater area without having to stop and repeatedly refill.
| | |
| --- | --- |
| Pros | Cons |
| Ideal for covering medium to large areasQuick distribution due to the flinging motion produced by the spinning distribution disc Speed of distribution is controlled by pushing pace and the size of the hopper outlet Feature a range of adjustable distribution settings | Product is not as accurate or evenly distributed as with a drop spreaderCan be difficult to maneuver in tight areas and over undulating ground |
Drop lawn spreaders
A drop lawn spreader is a simple, push-powered mobile device – basically a large plastic or lightweight steel container 'hopper' on wheels – which dispenses a trail of product as the spreader is in motion.
| | |
| --- | --- |
| Pros | Cons |
| Good for small lawns Controlled spread pattern Speed of distribution isncontrolled by your pace Best for manoeuvring around irregular-shaped lawns or ones with garden features | Requires accurate spreading lines otherwise can result in striping due to the controlled manner of distribution |
Uses of a lawn spreader
Re-seeding with a lawn spreader
Choose a quality grass seed mix that's the same* or at least similar to your existing lawn.
*You can use a different seed type, which may be the only option if you don't know or can't get hold of your current grass type, but aim to get the closest match you can so that once grown, the new turf blends in with the rest of your lawn.
Cut the existing lawn and remove the clippings.
Aerate the lawn and apply a thin layer of compost
Distribute the seed using your lawn spreader.
Water the seeds once a day, or 2-3 times a day in particularly hot weather.
Once the seeds germinate, distribute fertiliser using your lawn spreader and continue to water generously until the new grass is well established.
Move the lawn once the grass is around 6cm in height.
Fertilising with a lawn spreader
Plan to fertilise your lawn directly after mowing and avoid particularly hot conditions – moisture needs to be present in the soil in order for the nutrients to be fully absorbed.
Consult the lawn product packaging for guidance on the amount of fertiliser needed.
Close the flow lever and dial in the recommended spread rate for the product you're using before filling the hopper.
Load the fertiliser into the hopper on a hard surface in case of spillages
Lightly water the treated areas to 'seal' in the fertiliser
After feeding, avoid mowing for at least 72 hours to allow the nutrients to fully penetrate the lawn.
Best Budget – Lawn Spreader
dirty pro tools™ 55 lbs Professional rotary spreader lawn fertiliser grass weed seed grit feeder
Spread width up to 3 meters, uick and easy application of lawn care treatments over large areas with each strip
Large wide wheels making it easier to use on sloping lawns, large 55 lbs in weight not volume capacity
Wheels 20 cms high strength poly plastic, Heavy duty self lubricating nylon gear
Variable settings Heavy duty self lubricating nylon gear, ideal for dispersing a variety of grass seeds granules and during the winter season
Last update on 2022-06-24 / Images from Amazon Product Advertising API / As an Amazon Associate I earn from qualifying purchases
Desirable features of a lawn spreader
| | |
| --- | --- |
| Feature | Benefit |
| Multiple settings | Different lawn products will need dispensing at different rates and you don't want to have to make-do with a setting that's somewhere in between. For optimum results, lawn products need to be applied at the rate recommended by the manufacturer so you want a lawn spreader that has a decent range of settings for you to work with. |
| Compact design | A lawn spreader is practical but it isn't the most attractive garden tool! You want a compact design, preferably one with a folding push-handle, that can be packed away and stored in your shed or garage until its needed. Particularly if you have a small garden, you don't want to waste time and energy pushing around a ridiculously large hopper so choose a model that's be cleverly designed to be compact and lightweight but still with a generous hopper capacity. |
| Pneumatic tyres | If you're pushing a lawn spreader, the last thing you want is tyres that make the job harder than it needs to be. Pneumatic tyres are unlikely to get stuck and cope well when the ground is undulating or wet. |
| Can be used with melting/antifreeze products | Some lawn spreaders are compatible with melting products. This is useful if you have areas you need to thaw out when the temperature outside just simply won't allow it! |
| Lightweight yet durable | Lawn spreading is a manual task – the majority of spreaders for domestic gardens are push-powered. You want a spreader that's been manufactured using materials that are durable yet lightweight, such as aluminum or polypropylene plastic. |
| Factory calibrated | Some entry-level lawn spreaders may require calibration before use; choosing a model which has been factory calibrated will save you the job, meaning your spreader is immediately ready to go. |
| Generous hopper capacity | The capacity of a lawn spreader is determined by the size of the hopper. You don't want to be having to stop after every line, needing to refill. You want a lawn spreader with a hopper capacity that's best suited to the size of the area you intend on treating. |
| Solid construction | A stable, robust steel frame; heavy-duty plastic or aluminium hopper; and pneumatic tyres should mean you have a lawn spreader that will last, but one which can be pushed relatively easily. |
| Rust-proof and weather resistant | Particularly important if you plan on storing your lawn spreader outside. It's worth checking what measures the manufacturer has taken when it comes to weather-resistance as warm, moist days are optimum growing conditions and you want to be able to use your spreader without worrying about rust. |
| Easy-clean | As you're likely to be using a range of lawn products in your lawn spreader, you'll need to clean it between uses. You want a spreader you can hose off and lightly lubricate without any hassle. |
| Smartphone holder | It's 2020. I don't think we need to elaborate on this one! |
| Lengthy, inclusive manufacturer's warranty | You want peace of mind that worst case scenario, you're covered for repair and replacement within a set period from the date of purchase. Remember to check if you need to activate your warranty online – this varies depending on the manufacturer. There is often the option to extend the guarantee once the initial period of cover expires. |
Looking after your lawn spreader
After use, your lawn spreader will benefit from a little TLC in order to maximise functionality and longevity. Using a garden hose, clean down the hopper, wheels and frame. Hold and release the flow lever back and forth several times whilst cleaning and be sure to rinse off the shut-off plate inside the hopper. Allow the lawn spreader to dry thoroughly and then lightly lubricate using a water-displacing solvent in order to protect all the inner components; axle bushings and gears. It's worth keeping in mind that it's best to avoid heavier lubricants that contain Teflon or silicone as they are likely to form a barrier when it comes to cleaning, potentially sealing in corrosive chemicals present in some fertilisers.
Best of the Rest
Last update on 2022-06-24 / Images from Amazon Product Advertising API / As an Amazon Associate I earn from qualifying purchases
Last update on 2022-06-24 / Images from Amazon Product Advertising API / As an Amazon Associate I earn from qualifying purchases
Woodside 12L Garden Lawn Seed/Fertiliser Spreader Grass Weed Feed Salt Gritter
GARDEN LAWN SPREADER – The Woodside 12L Garden Lawn Spreader is a handy tool allowing ease in spreading seeds around your lawn.
DURABLE – This item is made to be strong, sturdy and smooth running with large 19cm diameter wheels.
FUNCTIONAL – Its professional finish allows this item to be perfect for both private and commercial use. It also comes with a built-in baffle plate which acts as a filter to help to take the load off the spreading shaft.
VERSATILE – This 12-litre spreader comes complete with a 10-stage controllable spread rate giving you full control and allows you to spread seeds, fertiliser, salt, sand etc.
SPECIFICATIONS – Size: L: 55cm x D: 17cm x H: 22cm. Handle height: 109cm. Colour: Green. Material: Plastic. Capacity: 12L. Weight: 2kg.
Last update on 2022-06-24 / Images from Amazon Product Advertising API / As an Amazon Associate I earn from qualifying purchases
Frequently Asked Questions
Which type of lawn spreader is best for a big garden?
If you have a big garden, the best type of lawn spreader is a rotary lawn spreader. The faster you push, the quicker the distribution disc will spin, increasing the distance that the lawn product will cover. Choose a model with a decent hopper capacity then you can sow across a large area without having to stop and refill.
Why use a lawn spreader?
A lawn spreader is used to distribute grass seed and fertiliser evenly. It not only reduces waste, it takes much less time than sowing seed or fertiliser by hand; it's also much safer as the spread is controlled, meaning there's less risk of potentially harmful fertilisers coming into contact with children or pets.