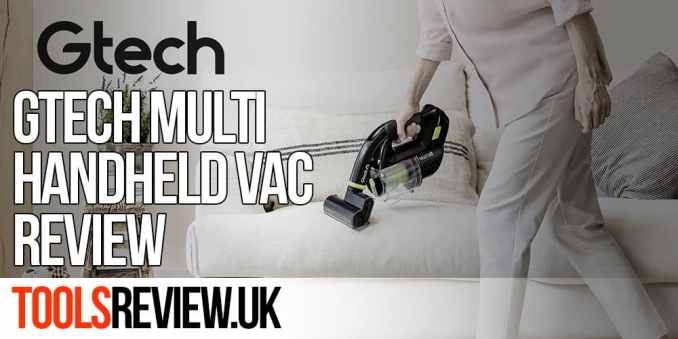 Gtech Multi Overview
The Gtech Multi is the counterpart to the Gtech Air Ram. Gtech does an offer when you buy directly from them where you save £50 if you buy the Multi and Air Ram together. To be perfectly honest you need the two.
The Air Ram doesn't come with any tools or attachments, it's simply an upright cordless vacuum cleaner and there is no way of the multi being upright. This all sounds like a bad start and incredibly negative looking at the products individually.
However, wait for it. Couple the two products together and you have the most amazing set of cleaning devices you could wish for! Instead of making a vacuum cleaner that tries to be everything, good at being an upright, good at getting in hard to reach places, something that is fairly heavy, etc.
Gtech has instead decided to create two distinctly different products that are in their own way very special. You can see what we think of the Gtech Air Ram in our dedicated review, but for now, let's get down to business! What do we think of the Gtech Multi and why will you love it?
Last update on 2023-05-15 / Images from Amazon Product Advertising API / As an Amazon Associate I earn from qualifying purchases
When you first look at the Gtech Multi, it looks just like any other cordless vacuum cleaner. It charges in 4 hours and gives you 30 minutes of run time, so what's the big deal? Well, yet again Gtech have gone and raised the bar with cordless vacuum cleaners!
The Gtech Multi has integrated headlights much like the AirRam, this allows for you to spot dirt that you would miss with a conventional vacuum cleaner. It also makes full use of the Gtech dirt compression technology to store a whole lot of dirt in its tiny capsule. Emptying is simple, doesn't make a mess of the floor or you and it simply slides into the bin.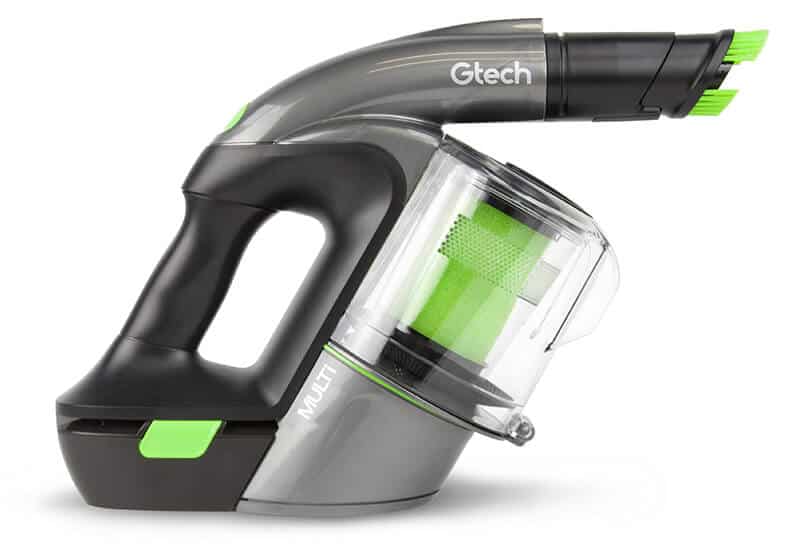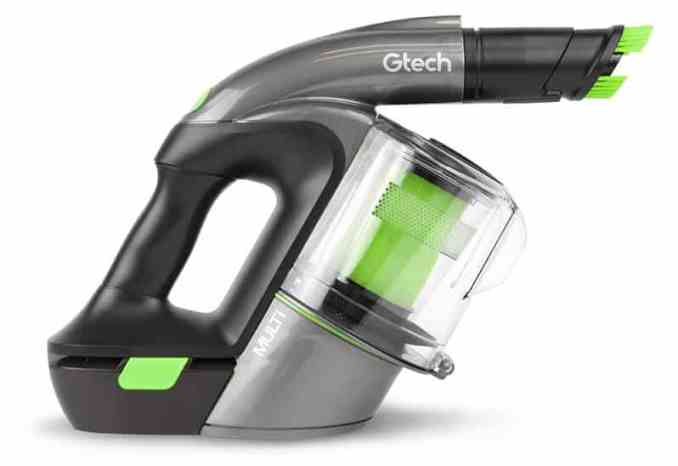 The Gtech Multi comes with several attachments straight out of the box. It has an extension bar that allows you to either reach the floor from stood up, this is handy for getting into hard to reach places. It is also particularly useful should you want to vacuum up high, maybe a curtain rail or bookshelf.
This is another feature that you don't expect from a handheld cordless vacuum cleaner, normally you can only vacuum where you can reach. It also has inbuilt storage on the bottom of the vacuum's body to store the crevice tool.
The best feature by far in my eyes is the power brush head, this appears like a standard tool that you could vacuum stairs, car mats, etc with. However, the power brush as its name implies is mechanically driven by the Gtech Multi. It agitates the dirt with each pass, getting more dirt up with each pass, this also reduces the amount of pressure you need to apply.
Positives
We loved the following about the Gtech Multi;
2 Year warranty
30 Day money back guarantee
Power brush attachment
Negatives
A few niggles about the Gtech Multi
Faster charge time would be nice
30 minute run time could be longer
A wall mount would be a nice addition
Last update on 2023-05-15 / Images from Amazon Product Advertising API / As an Amazon Associate I earn from qualifying purchases
Who are Gtech?
Gtech are a British based company founded in 2001 by Nick Grey. They offer fantastic customer service and a 30-day money back guarantee on all of their products purchased from them.
When Gtwaswere based in the founders home in Worcester they managed to develop the worlds first cordless power sweeper. This trend has continued into some of the countries favourite cordless items.
The High Points
The Gtech Multi is one of the most versatile cordless handheld vacuum cleaners on the market today, with it's range of attachments, features including the integrated headlights, 4 hour charge time and 30 minute run time it really is an amazing cordless vacuum cleaner. Below you will find some of it's key features:
High performance cleaning
30 Minute run time
4 Hour charge
Multi brush attachment for agitating carpet
Extension bar to reach hard to reach areas
On board tool storage
Integrated headlights
2 year warranty
30 day money back guarantee
Car cleaning accessories
Last update on 2023-05-15 / Images from Amazon Product Advertising API / As an Amazon Associate I earn from qualifying purchases
The accessories that you get with the Gtech Multi are brilliant and probably all you would ever need for cleaning your house top to bottom! They have the standard range of accessories included as with most vacuum cleaners, but the multi also has the extension bar and power brush. One thing that I have always thought whether it be the Gtech, Dyson or any other brand of vacuum cleaner is, cleaning a car is hard work, tools don't fit, the car is an awkward shape and it is near impossible to clean the car thoroughly!
Gtech have come up with a solution to the problem, enter the Gtech Multi car accessory kit! It comes with three accessories, a soft brush tool which is great for plastics and surfaces you want to clean without scratching.
This is great for anything to do with the dash, radio, steering wheel etc. It also has a smaller upholstery tool which is designed for the sizes and gaps you find on a car. But the best device in the kit, the reason to buy the kit and why other manufacturers have never thought of it before is the flexible crevice tool!
As you can see from the image, it fits down the sides of seats, into the storage that's built into most car doors. You can't get standard crevice tools into this space and this is the tool you need!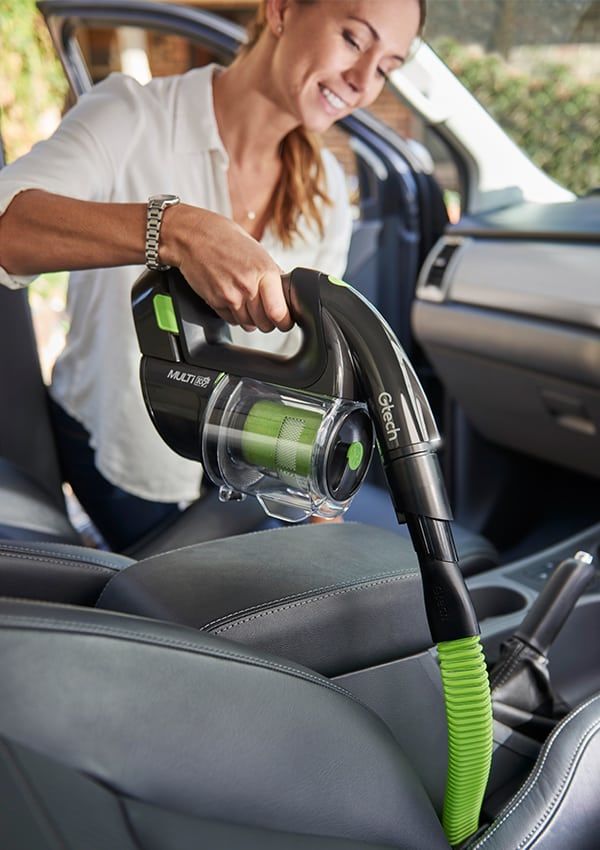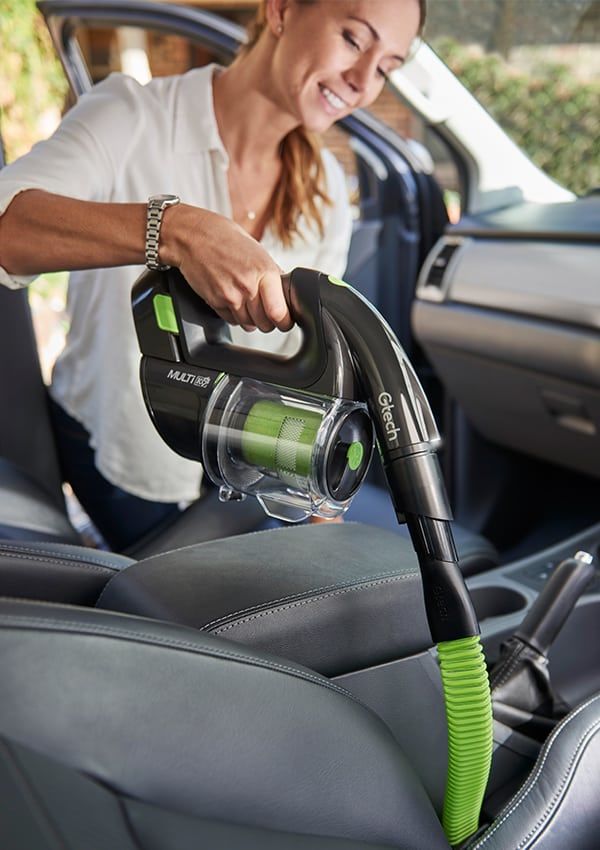 The whole kit comes in a soft case to keep everything together.
You can purchase this set off Amazon for just short of £50! A little dear for me, whilst it's good, it's not that good! Instead if you are purchasing the Gtech Multi direct from Gtech with the links above, you get the option to add on the car kit for an additional £25! An absolute bargain if you ask me and a must when purchasing the Gtech Multi!
Performance

Features

Ergonomics

Value