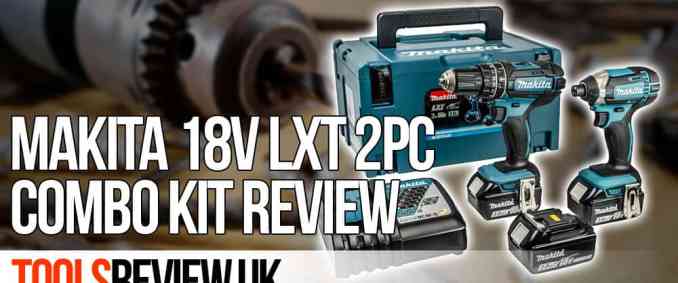 The Makita DLX2131JX1 is the ideal Makita kit for someone starting out with Makita, or in need of the batteries and charger too.
It can be such an inconvenience to buy a body-only tool and then have to go searching for a battery. Some people already have a collection of tools from Makita and so have plenty of batteries and chargers at the ready. This is great as buying a body only tools can be much cheaper. But, what if you are moving to a new brand or starting your tool collection? A product such as the Makita DLX2131JX1 is just the ticket!
Last update on 2022-10-01 / Images from Amazon Product Advertising API / As an Amazon Associate I earn from qualifying purchases
Contents of the Makita DLX2131JX1
This kit contains the following items:
The DHP482Z combi-drill
The DTD152Z impact driver
Three18V BL1830 3Ah Li-ion batteries
The DC18RC compact charger
MAKPAC connector case.
It's worth noting that it's possible to get versions of this kit with 4Ah and 5Ah batteries. To learn more about the Makita DLX2131JX1 and its features you should watch the video below.
Features of the Makita DHP482Z combi-drill
This Makita combo drill is a popular general-purpose combi-drill. It comes with several features. Here are some of them
Screwdriver mode
Drilling mode
Hammer mode
Forward/reverse switch
21 Torque settings in screwdriver mode
2-speed variable speed trigger
Standard 13mm keyless chuck
Ergonomic rubber grip
Intelligent trigger
Electric brake
LED job light
Carbon brushes
Features of the Makita DTD152Z impact driver
This impact driver is very popular and comes with a variety of helpful features like the ones listed below.
Ergonomic rubber grip
Electric brake
Forward/reverse switch
Intelligent trigger
LED job light
One touch bit installation
Variable speed trigger
Positives of the Makita DLX2131JX1 set
The Makita DLX2131JX1 kit comes with a lot of strong points. First of all, both tools in this set come with the ergonomic shape and rubberized grip that is typical to Makita tools. This quality makes them comfortable therefore reducing the chances of fatigue.
They both also come with LED job lights that illuminate your workspace. This makes it easy to work in dark areas. Additionally, they both come with intelligent triggers. An intelligent trigger works in such a way that the more you press it down, the higher the speed of the tool.
Still, on the topic of speed, the Makita DHP482Z comes with a 2-speed variable speed trigger which enables you to transition from one speed to another seamlessly. Another redeeming quality of this Makita combi-drill is that it comes with three modes; screwdriver mode, drilling mode and hammering mode.
The availability of different modes adds to the versatility of this Makita combi-drill. It's also worth noting that once the screwdriver mode is engaged, this Makita combi-drill offers 21 torque settings. This gives you control over your machine.
Another selling point of the Makita DLX2131JX1 lies in the impressive torque of the Makita DTD152Z. It boasts of a maximum torque of 165 Nm, a step up from the torque of the Makita DTD146Z.
The DTD152Z also has a variable speed trigger that gives you control over speed. This allows you to work at speeds of up to 2900 revolutions per minute. It is also not lost on us how amazing it is that the Makita DLX2131 comes with three powerful Li-ion batteries and a charger.
These batteries are known for lightweight nature, shock absorbing skills and smart charging technology. On the other hand, the charger is mainly known for its cooling system. All in all, these items are really high quality.
To top it all off, all items in the Makita DLX2131JX1 are encased in a Makita connector case which is strong and durable. This greatly simplifies their storage and transportation.
Negatives of the Makita DLX2131JX1 set
Although the Makita combi-drill included in the Makita DLX2131JX1 kit is an upgrade of the DTD146Z, it doesn't come with a battery indicator like its predecessor. Additionally, this Makita combi-drill is not powerful enough to handle some heavy duty tasks.
For such tasks, it's better to go for a more powerful tool such as the Makita DHP458Z.
Verdict
The Makita DLX2131JX1 is a pretty impressive kit. It conveniently provides you with versatile, durable and efficient tools. Although this kit may be a bit expensive, it's definitely worth every penny
Accessories compatible with the Makita DLX2131JX1
Last update on 2022-10-02 / Images from Amazon Product Advertising API / As an Amazon Associate I earn from qualifying purchases
There are several accessories which are compatible with the Makita DLX2131JX1. One of the most popular ones is the Makita 98C263 Drilling and Driving Accessory Kit. This kit contains 101 pieces, 55 of which are screwdriver bits.
These pieces come in a strong carrying case for easy storage and transportation.
Conclusion
Whether you're dealing with home-based projects or big outdoor undertakings, the Makita DLX2131JX1 will definitely come in handy. Ultimately, the Makita DLX2131JX1 is a perfect representation of what the Makita brand is all about; incorporating cutting-edge technology into a functional yet comfortable package
Last update on 2022-10-01 / Images from Amazon Product Advertising API / As an Amazon Associate I earn from qualifying purchases
Did you enjoy this review? Why not take a look at some of our other reviews. You may like our Stove Fan review.
Ratings