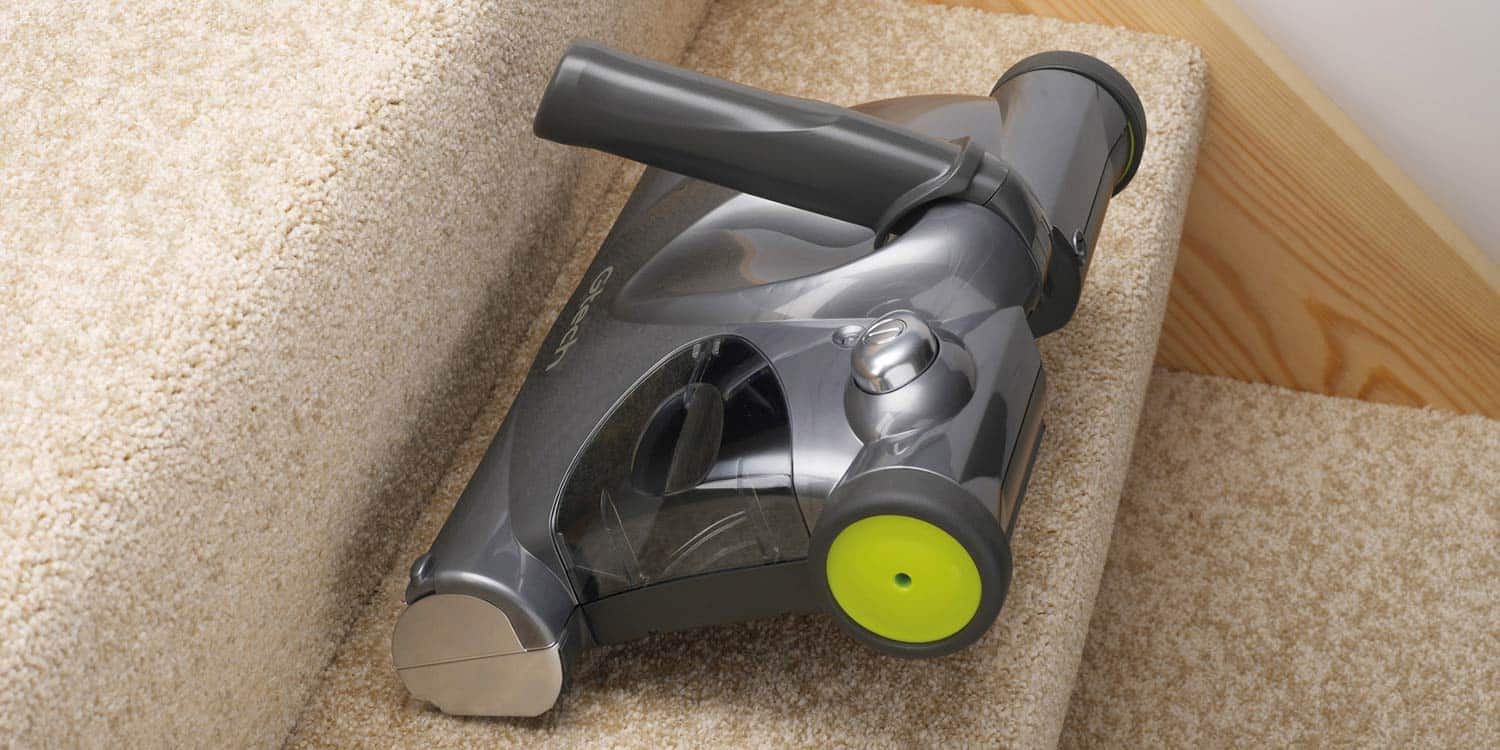 In this review, we take a look at the Gtech SW22 Power Sweeper, can you replace your vacuum with one of these?
A power sweeper is an alternative to your standard vacuum cleaner – it is designed to sweep and suck up day to day dust and debris from your carpet and floors. The GTech SW22 definitely brings this traditional tool up to date, with all the traditional benefits that the original tool had to offer, combined with the many benefits and features that all GTech products have to offer.
GTech SW22 Power Sweeper – The Lowdown
Pros
It has a high voltage (7.4V) for such a basic device which offers great power and suction.
Advanced manoeuvrability due to its ultra-lightweight and cordless nature.
Features a telescopic handle that gives you more control.
Has an eco-fast charging stand and docking station.
Gives you longer run-time compared to most vacuums.
Cons
Isn't suitable for heavy-duty cleaning.
Has a rather small dust tray.
Gtech Lithium Power Sweeper SW22
7.4V
Eco fast charge station
Telescopic handle
Model number: SW22
Note : For any technical assistance please reach out to Gtech customer service helpline number - 01905 345891
Last update on 2023-03-04 / Images from Amazon Product Advertising API / As an Amazon Associate I earn from qualifying purchases
GTech SW22 – Product Overview
The Gtech SW22 power sweeper needs to be looked at for what it is. If you stand it next to the Gtech Air Ram or a Dyson V8, there is no comparison. But it isn't trying to be a vacuum cleaner. It is lightweight, nimble and offers great suction to keep your house tidy in between a full clean that you would expect from a vacuum cleaner.
Thanks to its telescopic handle, you can use one hand to move it back and forth easily, without much effort required. The long handle is flexible and offers a low-profile, allowing you to access hard-to-reach areas, under sofas, etc.
It also features the Gtech patented edge brush to enable easier collection of larger particles. Quite helpful if you have kids running around the house making a mess.
The power sweeper can be adapted in several ways, making it longer with the telescopic pole, removing the pole to make it easier to clean stairs, as well as the duster attachment which can be fitted to the telescopic pole.
So how exactly does it work?
The Gtech SW22 is pretty to assemble, once it has been assembled charge it up, power it on and away you go.
The on/off button is located on the main sweeper and can be pushed using your foot. While using the sweeper it has a small light that helps you monitor the battery usage. Green indicates that the tool is fully charged, orange indicates 20% of charge remaining, and red alerts you that the battery is virtually flat.
For normal cleaning, the power sweeper is simply pushed flat over the floor using moderate speed. In the event of a deep clean, it is recommended to lift up the handle to lower the brush bar into the surface, increasing proximity.
The sweeper houses the dust tray, which can be removed by pinching and pulling it. Simply empty the tray, give it a quick rinse and slide it back inside. It is much easier to empty and clean compared to dust bags and collection chambers on traditional vacuums thanks to its size and ease of removal.
When cleaning delicate areas, it is advised to remove the telescopic handle first and attach the duster for light cleaning. Alternatively, you could transform it into a handheld tool for stair cleaning.
Lastly, when it needs charging (you get about a 2 hour run time) you need to do the following. Simply plug the sweeper into the eco-charge stand and ensuring that the terminals connect accordingly. You will be able to monitor the charging through the displayed colours on the sweeper. Red when charging starts, yellow when halfway charged, and green when fully charged.
GTech Power Sweeper Technical Specifications
Battery run time
Most customers tend to value battery life more than anything else, making it a common deal-breaker. How good is the battery in this sweeper? Can it last long enough to see you through a thorough clean?
The SW22 power sweeper is designed to increase efficiency and to work faster where a manual sweeper can't suffice. For this reason, it is powered by lithium-ion batteries which are in-built and have an impressive runtime of 120 minutes. For a complete charge, you would have to wait 3 hours, which is realistic for a run-time of 120 minutes. However, you can still use it after 30 minutes of charging.
At a voltage of 7.4V and 1W, it seems a really decent offering from Gtech, considering most power sweepers have lower power and less runtime.
Whilst the power sweeper is not meant for heavy-duty cleaning, these battery capabilities make it a definite contender in a home setting.
Size and Weight
One of the perks of this sweeper is its weight and compact design. It is a bit longer than the normal broom and has a weight of 1.4kg/3.0lbs.
When using the handheld mode, without the telescopic handle the weight is reduced to around 1kg, making it nice and light for use on stairs. No one wants a bulky sweeper when moving around the house, so that's a thumbs up for the SW22.
Noise
The less noise any cleaning gadget produces the better. However, it all depends on how powerful the motor is. For this lithium-ion power sweeper, you should expect a noise level of around 60-65 decibels. Since there are no options on the sweeper to adjust the power, the noise level is consistent.
Warranty
Gtech's SW22 sweeper has a 30-day guarantee which allows users to return the product and get a full refund, or get a new sweeper instead. This is how confident Gtech are in their products and how much you will like them! This only works if the sweeper is registered with Gtech within 30 days of purchase.
The Gtech SW22 also comes with a 12-month manufacturer warranty. For something that is likely to be used around the home daily, it's good peace of mind.
Comparable products
Vacuum Cleaners
Comparing the SW22 power sweeper with some of the top vacuums is where most people go wrong. You have to understand that a power sweeper is not a vacuum. Vacuum cleaners are great for a weekly deep clean or removing dirt that is tough to remove. A power sweeper can be used to keep on top of cleaning daily, keeping everywhere fresh and clean whilst being lightweight and nimble.
Most cordless vacuums on the market today have typical run times between 20 and 30 minutes. The Gtech SW22 weighs in at the 2-hour mark.
Compared to a vacuum, it is a cost-effective option and does basic cleaning well. If you are thinking that possibly a vacuum is actually the better option for you, then why not check out our review of the GTech Multi Cordless Vacuum or the GTech Air Ram MK2.
Gtech Lithium Power Sweeper SW22
7.4V
Eco fast charge station
Telescopic handle
Model number: SW22
Note : For any technical assistance please reach out to Gtech customer service helpline number - 01905 345891
Last update on 2023-03-04 / Images from Amazon Product Advertising API / As an Amazon Associate I earn from qualifying purchases
Frequently Asked Questions
If I have a carpet sweeper do I need a vacuum cleaner?
In the main, a carpet sweeper isn't a replacement for a vacuum cleaner. The power and features of the Gtech SW22 are great and it is very handy, but it isn't designed to be a replacement for a vacuum cleaner. To keep your floors and carpets clean a vacuum cleaner is still required.
Is the Gtech SW22 any better than a manual carpet sweeper?
Yes, the suction that is delivered from the electric motor helps drive dirt from the carpet pile and is great for sucking up dirt and rubbish from a hard floor.
Can the Gtech SW22 be used on hard floors as well as carpet?
Yes! Although the power sweeper is designed for carpet there is no reason why it cannot be used for hard floors as well. It will offer enough suction to collect up any dust and debris.
Performance

Features

Ergonomics

Value